Hey folks, Harry here... A new contributor contacted me wanting to provide early looks at some cool flicks that some of us in the States have to wait years for it seems. The first film he's decided to review is Stephen Chow's JOURNEY TO THE WEST: CONQUERING THE DEMONS, a film that looks like it is speeding of the rails in the best possible way. So, without further pomp, here's Lcworld: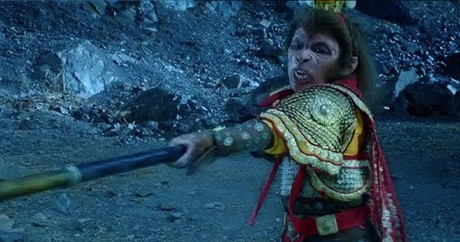 Journey To The West : Conquering The Demons.

4 1/2 stars out of 5

Stephen Chow's latest is wacky and scary fun.

I saw the TV commercials and trailers and thought : what a piece of sh*t, is this the kind of movie Stephen Chow, who directed and starred in Shaolin Soccer, Kung Fu Hustle, CJ7, all good movies, is making now? Boy was I wrong. Never have I seen a movie trailer that I thought was sh*t and the movie turns out to be so much fun (except Robocop-but that's a classic on another level.).

Stephen Chow had so smartly kept the good stuff in the movie. The movie far surpassed my expectations. I went to see it simply because of good word of mouth and it opened Huge(I think the biggest ever). Also news was going around that this movie scared 7-8 year old children and made them cry in the theaters. Yes, there are parts of this movie that are intense, violent, bloody. Not what people expect from comedy king and family entertainment star Stephen Chow. But there are also children laughing. So warning : not suitable for kids under... 10 ? PG? PG13?

This looks and feel like a good old Hong Kong movie. I love it. Sadly, the once exciting Hong Kong movie industry is a shadow of it's former self. With most productions moving to China now.

Stephen Chow unfortunately does not appear in this movie at all. He directed, worked on the screenplay and co-produced it. Had a younger Chow starred as the male lead this movie would have been even better. Shu Qi is pretty as always and the entire cast are all good.

The classic story of Journey to the West is given a new twist. In the hundreds years old story the Monkey King was imprisoned by Bhuddha for wreaking havoc. He must seek redemption with Piggy, Sandy monk to help Tang Seng on his journey to seek enlightenment. I won't give away the story of this movie. But I will say that I was very satisfied and that if you like Hong Kong movies or Stephen Chow's movie, you must go to the theater to see it.

Also the 3D stereoscopic effects were well done.

I might add that the Monkey King in the movie is not what most people expect but not untrue to literature. He's been trapped 500 years and he's mad as hell ! The Taiwanese actor that played him is the best in the movie. He played every nuance. Also Monkey King only change to one other form despite having the ability to change to 72 forms in the book(not including human form).

For once I think a good dubbing is actually better than subtitles because there is so much going on in the screen and reading the subtitles takes your eyes away from the action. This movie deserves(and probably will get) a USA (or worldwide) theatrical release.