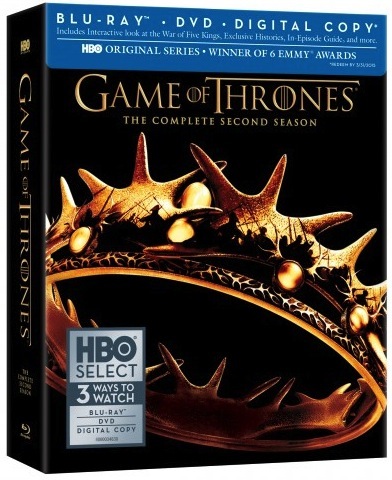 The Kidd here...
Winter is heading our way once again with the third season of GAME OF THRONES set to premiere on HBO Sunday night, March 31... but you know you're going to want to catch up on all the happenings of a great second season first before you venture back into Westeros for those new episodes on the horizon.
Tomorrow, HBO Home Entertainment releases GAME OF THRONES: The Complete Second Season, and, if you choose to buy it
, I suggest you hurry, as Amazon currently has a hell of a deal to get it at 63% off the list price. However, if you think you've got a little bit of luck on your side, you might want to take your shot at winning one of FIVE copies of GAME OF THRONES: The Complete Second Season that I'm putting up for grabs starting tonight.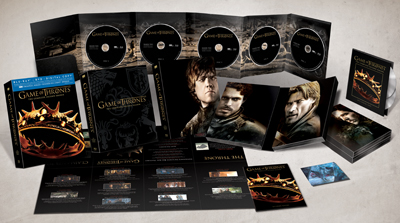 Beginning at 12:01 a.m. EST on Tuesday, February 19, I'll start accepting your emails for nearly 24 hours to win one of these Blu-ray box sets. I have pre-selected five random times throughout the day, and, if your email comes to closest to that one of those designated moments, then winter is coming to your doorstep.
UPDATE: Okay, this has been awhile coming amidst all the hustle and bustle lately, but the five winners of the GAME OF THRONES: The Complete Second Season Blu-ray box sets were plucked from the all the entries that were sent in, and here they are:
Ammy Fajardo
Adam Farley
Thomas McElroy
Robby Richardson
Paul Roybal
Their decision to take a chance on blind luck has paid off, and their reward is winter coming to their home Blu-ray collection. Congrats to them, and thanks to everyone for participating. Also, thanks to HBO Home Entertainment for setting this up with us.
-Billy Donnelly
"The Infamous Billy The Kidd"
Follow me on Twitter.
Like me on Facebook.