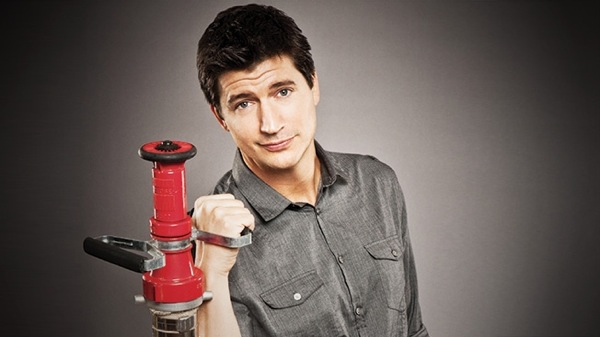 Last year's run of BURNING LOVE was a hilariously spot-on spoof of ABC's frighteningly durable THE BACHELOR. And while a dating show might seem like low hanging fruit, creator Ken Marino assembled such a ridiculously talented ensemble that the show ultimately worked both as parody and as a compellingly whacked-out narrative in its own right. Like any random season of THE BACHELOR, you couldn't wait to see how this bizarre, soul-sullying competition would resolve itself. Even better, you could gawk at the mayhem guilt-free, knowing that the materialistic cretins cavorting for your lurid pleasure weren't being sent back out into the real world.
Though Marino and company nailed much of what's awful about these shows, they couldn't possibly hit every target in one season. And there was still big game lurking out there in the elephantine form of THE BACHELOR's equally odious sister show, THE BACHELORETTE.
Well, Happy Valentine's Day, because here come the potential grooms.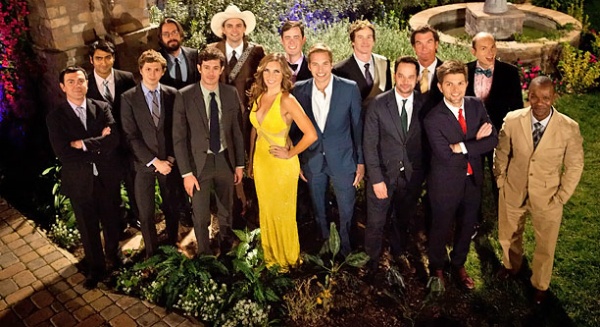 What better way to seduce the special someone in your life than to curl up with a freezer-chilled bottle of Andre, a little Al Green and the first two episodes of BURNING LOVE Season Two?
If you thought last season's cast was amazing, check out the murderer's row of romeos Marino's recruited this year: Adam Scott, Michael Cera, Paul Scheer, Rob Huebel, Nick Kroll, Adam Brody, Colin Hanks, Jerry O'Connell, Martin Starr, Joe Lo Truglio, Kumail Nanjiani, Ryan Hansen, Brandon Johnson and Nick Thune. All fucked up in their own way, and all competing for the hand of Ms. June Diane Raphael.
And while the guys are amazing, Raphael is the reason to watch this season. As the insecure and rapaciously superficial Julie Gristlewhite, Raphael embodies all the worst aspects of every single BACHELORETTE "star". She makes snap judgments based on appearances, commits fully to the hottest bachelor (Hansen) the minute he walks out of the limo, and comes off as... culturally oblivious, if not outright racist. Like many Upright Citizens Brigade members, Raphael has been a secret weapon in movies and TV for years, so this showcase is long overdue. For the first six episodes, Julie is a spectacularly pathetic creature, but then something doesn't quite break her way in Episode 5. I've only seen the first six, but it could be that Julie grows a little as a human being from that point forward. Or she'll just collapse into a heap of unabashed awfulness. Either way, it's going to fun to watch.
The first two episodes are embedded below. For future episodes, check out BURNING LOVE's official page at Yahoo! And if you missed BURNING LOVE Season One, E! will begin re-airing it on February 25th.
Faithfully submitted,
Mr. Beaks