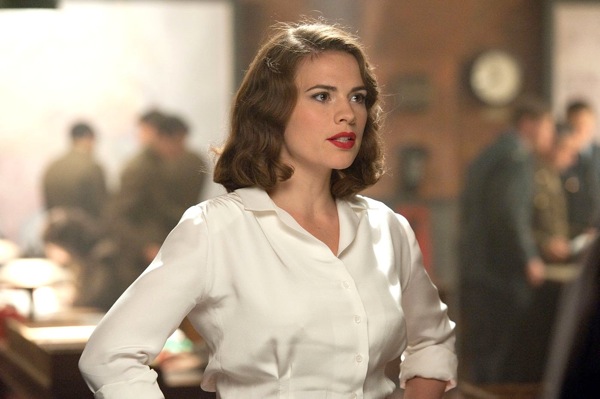 Beaks here...
CAPTAIN AMERICA: THE WINTER SOLDIER will take place after the events of THE AVENGERS, which would seem to preclude Hayley Atwell returning as Steve Rogers's WWII-era flame Peggy Carter. Atwell confirmed her non-involvement last month in an interview with Time Out, and that, it seemed, was that.
Or not. At today's press junket for JACK THE GIANT SLAYER, the delightful Stanley Tucci let slip to Collider that Atwell will be returning for a flashback scene. Tucci's correct that she'll be returning, but will it be a flashback? In an earlier draft of THE AVENGERS, Joss Whedon wrote a lovely scene in which Rogers, struggling to adjust to the modern world, visits an elderly Carter at her apartment in New York City. Since we know THE WINTER SOLDIER will deal with deal with Rogers's readjustment, wouldn't it be nice to work that scene into the new film? Just a thought...
For the record, Tucci will not be returning as Dr. Abraham Erskine.
CAPTAIN AMERICA: THE WINTER SOLDIER hits theaters April 4, 2014.