Ahoy, squirts! Quint here with today's Behind the Scenes Picture.
We've got a good one for you today: a behind the scenes shot during the recording process on Walt Disney's very first animated feature (and the very first animated feature period) Snow White and the Seven Dwarfs.
Pictured below is a man by the name of Pinto Colvig, who was a cornerstone of early Disney characterization. He was probably most famous for voicing Goofy and Pluto, but today we're getting a look at him recording a song from Snow White and the Seven Dwarfs. He voiced both Grumpy and Sleepy, so your guess is as good as mine as to which dwarf he's singing for here. That's definetely more of a Grumpy-like face than Sleepy, so I'm going to guess Grumpy.
I love this shot and I hope you guys do, too. Thanks once again to the great Decaying Hollywood Mansions for providing the image.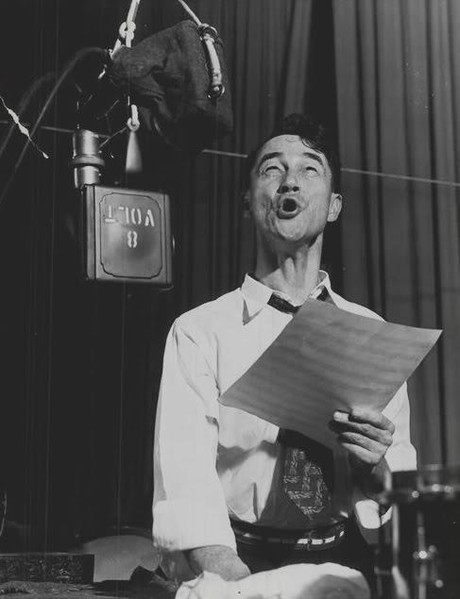 If you have a behind the scenes shot you'd like to submit to this column, you can email me at quint@aintitcool.com.
Tomorrow's pic is munstrous.
-Eric Vespe
"Quint"
quint@aintitcool.com
Follow Me On Twitter
I've got a lot of maintenance work to do on the previous BTS articles, but you can visit two pages worth of images (beware of some broken links thanks to the last server shift): Click here to visit Page One and Click here to visit Page Two