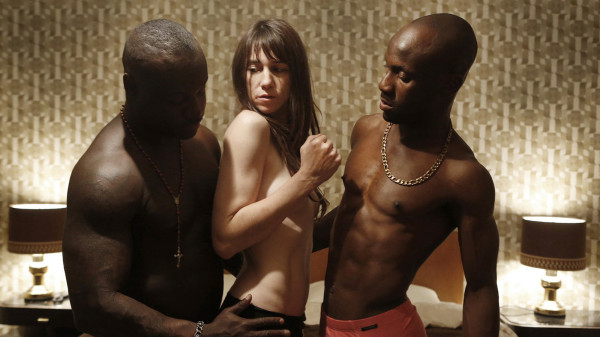 Beaks here...
You see, when a woman and two straight-up playas love each other very much, they check into a nondescript hotel room and admire each other's physiques. This is called foreplay. Then, after imbibing copious amounts of Veuve and smoking some high-grade kush, they get to the business of procreation. Thus, the miracle of life begins.
Indeed, Lars von Trier's latest, NYMPHOMANIAC, looks like an uplifting examination of romantic love in the 21st century. The official plot summary calls it a "two-part film about a woman's sexual awakening" - which is always, always a party (as seen above). The film stars Charlotte Gainsbourg, Willem Dafoe, Shia LaBeouf, Stellan Skarsgard, Connie Nielsen, Jamie Bell and Nicole Kidman. NYMPHOMANIAC will almost certainly premiere at this May's Cannes Film Festival, where, like von Trier's recent works, it will be greeted warmly. I'm sure he'll also have some inspiring things to say at the post-film press conference.
We'll probably get to see NYMPHOMANIAC later this year. If you're looking for something to get her/him in the mood for Valentine's Day this year, might I recommend Richard Brooks's lovely and lush LOOKING FOR MR. GOODBAR.