Ahoy, squirts! Quint here with today's Behind the Scenes Picture.
Who doesn't love The Omen? And by The Omen I mean the real movie, not the deadly dull remake.
Not to sound like those old fuddy duddy's, but I love how the people in '70s movies are characters, not playing character types, if that makes any sense. Gregory Peck is so damn good as Robert Thorne and his inner torment is sold so well that I even though I get pissed off at his hesitation at the end, my heart totally breaks for the guy.
The Omen is a masterful build of suspense and set pieces. Richard Donner was on fire at this early period of his career. The Omen feels like he's slamming his dick on the table and screaming at everyone to look at how big it is. It's so controlled, it's so precise and the you can feel his hand manipulating every aspect of the picture. It's a classic and for good reason.
Today's shot shows us Peck, Donner (sitting and looking strangely like Roddy Piper) and Patrick Troughton filming a scene in the film. Thanks to reader Mark Williams for sending this one along.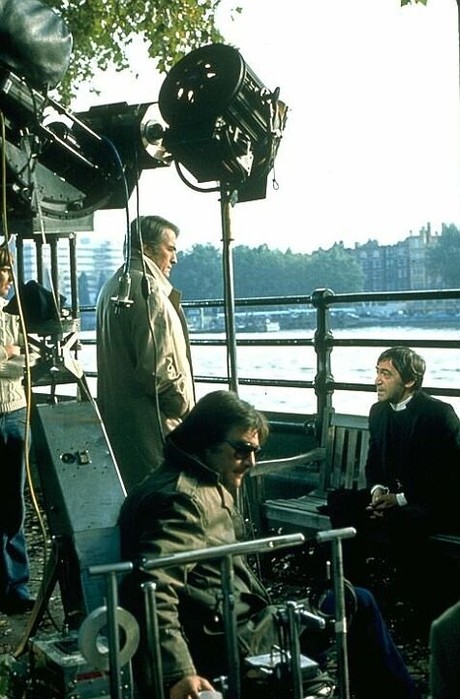 If you have a behind the scenes shot you'd like to submit to this column, you can email me at quint@aintitcool.com.
Tomorrow's pic is always angry.
-Eric Vespe
"Quint"
quint@aintitcool.com
Follow Me On Twitter
I've got a lot of maintenance work to do on the previous BTS articles, but you can visit two pages worth of images (beware of some broken links thanks to the last server shift): Click here to visit Page One and Click here to visit Page Two