Ahoy, squirts! Quint here with today's Behind the Scenes Picture.
Hitchcock's Rope is one of my favorites of his work. Not only is a good story told extremely well it's also a fascinating filmmaking exercise. Famous for giving the illusion of one long, continuous take, Hitchcock was forced to cut every 20 minutes as that's the max he could get out of the film in the camera, so he planned out hidden cuts at every 10 or so minutes. .
The amount of trust Hitch put in his actors to carry this story about two young joy-killers hiding their crime in plain sight is immense, particularly for Hitchcock who was a very visual storyteller and leaned on editing to build suspense just as much as the actors, set design and story.
He pulled it off, though, with much help from James Stewart, Farley Granger and John Dall.
Today's pic shows Hitch standing by the massive camera (which makes his accomplishment with Rope even that much more impressive when you realize the camera was the size of a small car) as they film one of the 10 long segments that make up the film.
Many thanks once again to Decaying Hollywood Mansions for this incredible shot.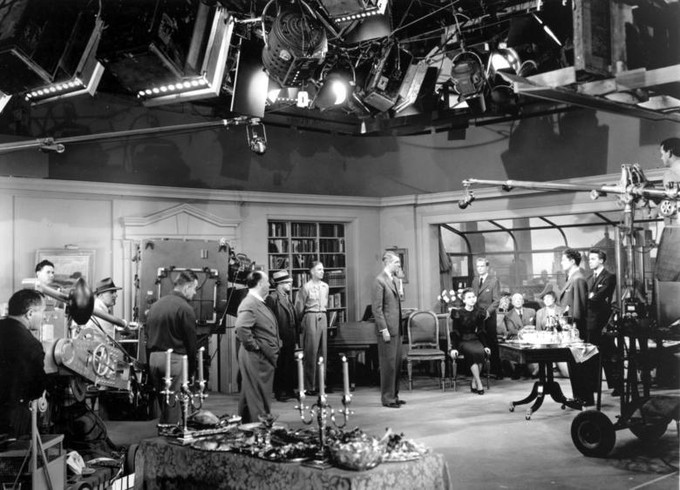 If you have a behind the scenes shot you'd like to submit to this column, you can email me at quint@aintitcool.com.
Tomorrow's pic has the mark of the devil.
-Eric Vespe
"Quint"
quint@aintitcool.com
Follow Me On Twitter
I've got a lot of maintenance work to do on the previous BTS articles, but you can visit two pages worth of images (beware of some broken links thanks to the last server shift): Click here to visit Page One and Click here to visit Page Two