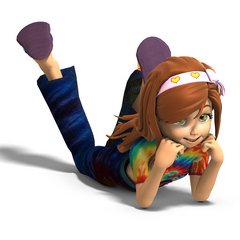 Beaks here...
We first learned of Pete Docter's UNTITLED PIXAR MOVIE THAT TAKES YOU INSIDE THE BRAIN at Disney's D23 convention in 2011. Since then, we've got the above picture of the girl whose brain we'll be exploring, and a clarification that the film will "told from the perspective of the emotions inside the mind of a little girl". That's about it.
Well, we've got a real gusher of information today: the official title! According to Coming Soon, the film will be called iNSIDE OUT.
I'm thrilled with Pixar's recent commitment to developing stories with female protagonists. What's especially nice about iNSIDE OUT is that it isn't another Princess movie; it's just about a young girl. I imagine we'll get a vivid depiction of the extreme mood swings most kids experience, which could make this a pretty wild movie. I'm a huge fan of Docter's previous efforts (MONSTERS INC. and UP), so this is definitely one to look forward to.
INSIDE OUT hits theaters on June 19, 2015.