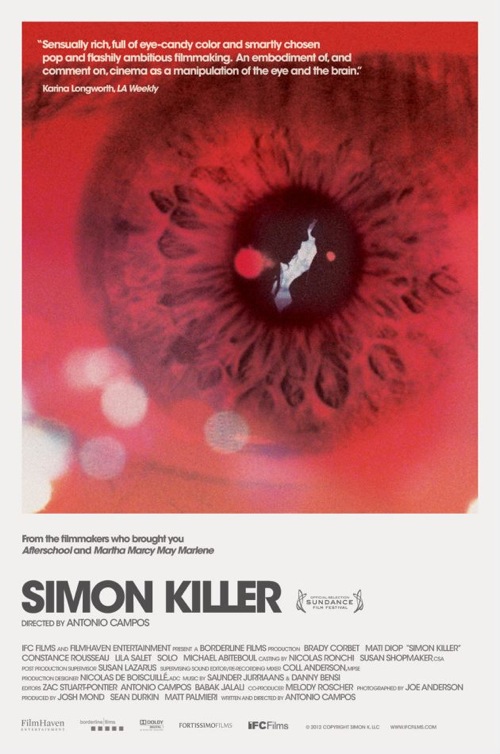 Beaks here...
SIMON KILLER is the the second feature from Antonio Campos. His first film, AFTERSCHOOL, is one of the most important films of the new century (and is currently available on Netflix Instant if you somehow missed it). SIMON KILLER may not be quite on that level, but it's hard to say having only seen it once. It's a moody, sexually frank character study of a young American who's fled to Paris to nurse his broken heart. There are obvious echoes of LAST TANGO IN PARIS here, but it's also infused with the quiet, isolated fury of TAXI DRIVER.
How do you convey this in a trailer? You can't, but this is a noble attempt:
.
SIMON KILLER is due out in theaters April 5th, 2013. It will hit VOD a week later.
Here's what I had to say about AFTERSCHOOL in 2009:
By the time I caught up with this debut feature from Antonio Campos, the twenty-four-year-old filmmaker's style was already being compared to Gus Van Sant, Frederick Wiseman and Stanley Kubrick. Curiously, some of these comparisons were negative. Was Campos harnessing the techniques of these great directors, or was he just ripping them off? Even if the latter was true, here's my problem with that charge: to effectively "rip off" a master like Wiseman or Van Sant, you have to be one hell of a technician in your own right. More than that, though, you have to be attuned to the hidden lyricism of life; you have to know what alienation or sorrow or regret - or the disconcerting absence of it all - feels like. Ideas can be plagiarized, but it's pretty damn impossible to pilfer whole aesthetics. This isn't like cheating on a term paper. So I don't understand, and am somewhat appalled by, the dismissal of Campos's AFTERSCHOOL, a stunningly-assured first film that, yes, does evince some technical swagger, but never to an overwhelmingly self-satisfied extent. Set at a boarding school somewhere on the East Coast, the film uses the accidental, caught-on-camera overdose of two popular girls (twin sisters, actually) as a jumping off point to get at the desensitization induced by the advent of streaming media. (There was a time when you had to know someone in television news to see the infamous Budd Dwyer "resignation"; now, it, and a thousand other sickening deaths, are readily available.) Campos's protagonist, a socially-awkward loner who spends most of his time watching extreme pornography and the like on YouTube, gets corralled into assembling the video "tribute" to the twins (as he was the last to see them alive), and proves a poor study in empathy. But this is true of most of his classmates - many of whom are medicated into placidity thanks to the school psychiatrist. There's a chance AFTERSCHOOL is actually better than this ranking, but there's also a chance that Campos states his theme so emphatically that repeat viewings may be less rewarding. Regardless, the craft, the many beautifully composed shots (this kid knows exactly where to place a camera and how long he can milk a take without calling attention to himself), and Campos's eloquence on a subject that has a tendency to invite finger-wagging will endure. And what a relief to see a young filmmaker who doesn't shoot for the edit.