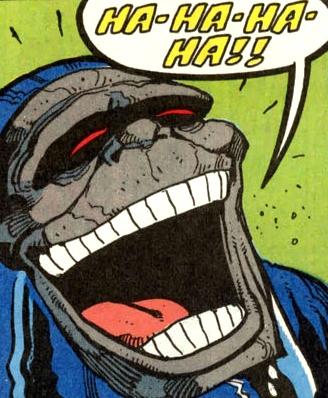 Beaks here...
Y'know, maybe this JUSTICE LEAGUE movie just doesn't want to be made.
According to Badass Digest kingpin Devin Faraci, multiple sources are telling him that the Will Beall (GANGSTER SQUAD) screenplay for JUSTICE LEAGUE has been tossed because it is awful. Beall's script reportedly had Batman, Superman, Wonder Woman, The Flash and Green Lantern taking on Darkseid, the Jack Kirby-created villain who wreaks havoc with his Omega Beam. Now, Faraci's sources are questioning whether the film will ever get made.
JUSTICE LEAGUE has been plagued by a long, uncertain development. There was the near-miss with director George Miller in 2007, which was almost rushed into production due to the impending WGA strike. And now there's the current iteration, which evidently won't move forward unless MAN OF STEEL is a massive hit. After the fizzling out of GREEN LANTERN and the conclusion of Christopher Nolan's Batman series, Warner Bros. and D.C. are basically stuck at square one with their answer to Marvel Studios' thriving series of superhero movies. The problem seems to be their desire to rush into JUSTICE LEAGUE without establishing its core five heroes with their own movies. Perhaps the scrapping of Beall's script is a sign that WB is finally taking a more measured approach to developing the big-screen D.C. brand.
Or maybe JUSTICE LEAGUE is Warner Bros' DON QUIXOTE.