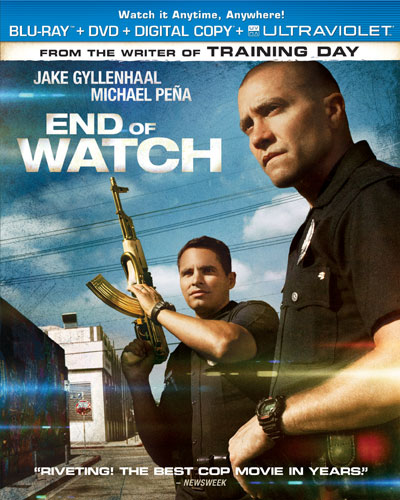 The Kidd here...
It's been busy days over here at the Ain't It Cool offices, as plenty of changes have gone done to bring you a better Ain't It Cool experience day in and day out. As a result, I've been so snowed under with other work that I haven't gotten a chance to find the winners of those END OF WATCH Blu-rays that were up for grabs a short time ago.
But fear not, faithful contestant participants... I have read through each and every one of your entries, and finally come upon the five deserving winners of these Combo Packs for one of my favorite films of last year.
Just one thing before I get into the victors though. What I asked for was your choice for most overlooked film in 2012, and what I got was a ton of responses naming DREDD. Now I get that it didn't exactly light the world on fire when it was in theatres, but it is doing quite well now that it's received a home release... and, if a significant majority finds it overlooked, can it really be all that overlooked? By mainstream audiences, maybe... but by those who'd really enjoy DREDD... I'm not quite so sure. Therefore, let's see what other much less seen flicks wound up making the cut here to decide the contest...
The insanely depraved, yet oh so delicious, early January film The Divide saw a limited release and soon got buried under the rest of 2012's blockbusters. At a time when the world wasn't sure if it would make it another year The Divide scraped up the grime from underneath humanity's fingernails and examined the depth of darkness with a microscope. It's brutal, it's raw, it's grimy, and it's honest in the sense that you're certain members of our species may sink this low if ever pushed this far. That's scary, plain and simple. Knowing there are humans capable of becoming a hairless, morality-drained, gas-mask-sex-having Milo Ventimiglia or Michael Eklund if the opportunity arose is sickening. It's a must watch if only to instill a strangely familiar fear in the viewer.



Fear and ugliness aside, this movie is beautiful in its dirtiness and bravely untethered in its unraveling. The cast is invested (aside from a sad Milla Jovovich-ian female protagonist), and this look into what happens when a small group of people are left to mingle and muddy the waters in a broken reality left me with a happy uneasiness on par with Blindness or Requiem for a Dream. Highly under-watched and deserving of more recognition in my opinion.
Andrew Hamm - PREMIUM RUSH
I thought about writing in about the merits of some very good movies of 2012 that were undeservedly ignored at the box office like DREDD and THE CABIN IN THE WOODS, but I feel that both of them were greatly appreciated by those that saw them and will find their audience over time. So, I picked something that went ignored by everyone and was almost instantly forgotten. While not a great movie, I feel it is undervalued by movie fans.

That film is PREMIUM RUSH.

I have always liked the work of David Koepp, particularly as a director. He has a knack for succinctly bringing an audience into the fold with his scripts by providing smart out-of-the-box sequences to explain complex ideas or experiences. Sequences like the animated interlude in JURASSIC PARK or the movie theater hypnosis from STIR OF ECHOES provide a lot of information in a short and involving way.

In PREMIUM RUSH, Koepp uses a video game style to bring us into the mindset of a NYC bike messenger. Every dangerous intersection or tricky bit of traffic is a moment where reality splits into a series of alternate endings as the hero watches himself play through each new challenge, resetting to a checkpoint whenever his life bar hits bottom. It's an inventive technique.

In the film's action scenes, Koepp shows the same kind of love for extreme close calls and fast pedalling that Hal Needham used to have for fast cars or Michael Bay has for monstrous explosions. It is a joy to see a movie that exploits an object to such degree as this one does for a bicycle.

But, my appreciation of the movie comes not from what it does new, but what it has that's old. This is a movie like RAD or ASPEN EXTREME, that were the staples of the mom and pop video store meccas to the children of the 80's. It would be right at home on the shelves where important films like GANDHI gathers dust next to the well-worn copies of GLEAMING THE CUBE. It is a type of nostalgia movie that Hollywood doesn't really make anymore. It is as lost in time in today's world. It has that intangible something that made those classic bad movies of the past so much fun.
Cameron Harrison - PARANORMAN
Much like the titular character, I felt like I was able to see and appreciate something that too many other people didn't: Paranorman. Not only does the film deftly walk a fine balance in making a kid's zombie movie, but I really feel is one that should be required viewing for all kids. The themes and lessons this movie expertly teaches about evil originating from the insecurities of fearful men, applying it both to religious intolerance and school bullying, are so important in this day and age.

The film speaks to kids, but without speaking down to them, without over explaining, almost teaching by example. This can be seen in the way a character's homosexuality is revealed in such a casual, inoffensive way. Or the revelation of just who the "evil" witch is. The film made me nostalgic for the past, while remaining hopeful for the future. A very difficult task. And Paranorman nails it. The film wasn't a total flop, but I did feel it got overlooked (even by me, not watching it until video) while Burton's Frankenweenie gobbled up all the press and attention. But I'm hopeful that video will allow this wonderful movie to rise from the grave and claim its place as the best kids movie of the year.
This film was so overlooked it's ridiculous, I truly hope it garners some serious cult following. It's not a film, it's a love letter to hockey. There's fantastic drama, great performances by one of the best sport film ensemble casts ever put together, and I don't think I've ever loved Liev Schreiber more. What I love most about this film, was that it wasn't about the top. It wasn't a Disney movie about winning the heart of the world. It was a low down, dirty, under appreciated level of Canadian hockey that fully delivered on laughs, heart, passion, friendship, teamwork, and most importantly…violence! Oh the violence! I was just at a hockey game in Minnesota and on the arena playback screen was a montage of violent hits, fights, etc. There was a shot of 2 guys beating the fuck out of each other, immediately followed by a shot of a 6 year old kid giddy with excitement. It's all part of the game, and Goon embraces it without any apologies. It's my most overlooked film of 2012.
My overlooked film of 2012 is Excision. I only ever saw reviews of this film on AICN, and I took a flier and bought the DVD. AnnaLynne McCord completely inhabits the body and mind of a young outcast girl, Pauline, changing not only her look, but digging deep into the psyche of this smart, but troubled girl. The film feels like an indie film, with a deadpan tone, and a tugging sense of sadness, as we watch a girl falling apart. But it also spikes into horror, ending in one of the blackest, bleakest endings you will ever see.

Pauline has a tough life. Her sister is dying, her mother and her do not get along, and her only ally is a father who is beaten down. And at school, her awkward, confrontational manner has branded her a pariah. Pauline is smart, and determined, as she initiates the most bizarre "first time" in motion picture history. Her approach to pregnancy is grounded in her interest in biology and in blood--but it is the solution is insane (and trauma for the guy.)

The film shares Pauline's fascination with bodily fluids--plot points and incidents revolve around such natural bodily functions. And as much as we want to root for this girl, we see her vivid fantasies, where her idealized self participates in bizarre surgeries and body modification. This cannot end well, and it does not. Excision will haunt and disturb you, and if there was justice, McCord would be up for awards.
There you have it. Five solid entries, five winners... that's how it's done.
Congrats to all our winners, thanks to everyone who participated, and, of course, thanks to Universal Studios Home Entertainment for setting this up with us.
-Billy Donnelly
"The Infamous Billy The Kidd"
Follow me on Twitter.
Like me on Facebook.