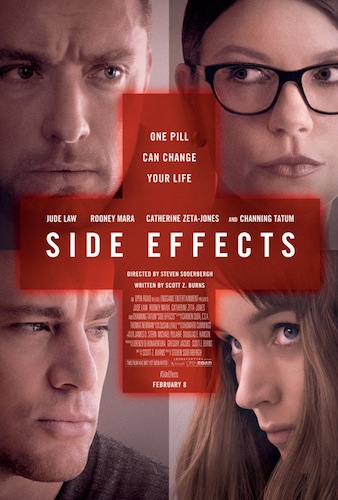 The Kidd here...
You've got a good one heading into theatres this weekend, in the form of SIDE EFFECTS, Steven Soderbergh's last film (at least that's what he claims), starring Rooney Mara, Jude Law, Channing Tatum and Catherine Zeta-Jones. They don't make smart adult fare like that much anymore, so if you want something a bit more thought-provoking than some of the garbage that's out there, SIDE EFFECTS is one you definitely want to set aside some time to see.
And just in time for the film's release, Open Road Films has set us up with something pretty sweet for you to want to add to your collection of cool stuff at home - a SIDE EFFECTS theatrical one sheet signed by Rooney Mara, Jude Law, Channing Tatum, Vinessa Shaw and Dr. Sasha Bardey.
I only have one of these bad boys, so if you want to be able to frame it and hang it from your wall, you're going to have to put in a bit of effort to earn it.
Since major parts of the film deal with the pharmaceutical industry, what I want you to do in order to take your best shot at claiming this for yourself is for you to make your own commercial for a fictional drug of your own creation. You're going to have to give me some idea of what the drug does, what its benefits are, while also running down a iist of its potential side effects. Upload it to YouTube, shoot it my way, and I'll take the best one of the bunch to get this poster send to.
UPDATE: Well, it's been quite a busy time around here as of late, which would explain why it's taken a bit longer than usual to get the winner posted up here. But really... after sifting through the entries that did come in, there was one pretty clear choice as to who was going to get this signed one sheet to hang up on their wall. So, let me not delay any further... here's your winner of the cast-signed SIDE EFFECTS poster:
Congratulations are in order for our triumphant victor on a job well done, and thanks once again to Open Road Films for this opportunity.
-Billy Donnelly
"The Infamous Billy The Kidd"
Follow me on Twitter.
Like me on Facebook.