Ahoy, squirts! Quint here with today's Behind the Scenes Picture.
Is it even possible that conversation will stay on Chinatown, which is undoubtedly a masterpiece, in the talkbacks? I doubt it. The only thing I'll say to that up front is there's the man and then there's his work. I can still enjoy reading Alice in Wonderland and listening to Great Balls of Fire without condoning the creepy shit the artists did.
How about we just take a minute to at least recognize just how whip smart Robert Towne's script is for Chinatown. A lot of people have tried to recapture that patented noir style of dialogue and most of them fail. Towne didn't, though. He got it right and we have this classic movie because of it.
Today's shot has Jack Nicholson using his go-to goofy photo thing where he sticks his tongue all the way out like a dog. Polanski's in the background also being goofy or caught in a weird moment. Enjoy the shot and do what you will in the talkbacks, but it will make my tiny cold heart swell a couple of sizes if the conversation could actually be on the brilliant movie and not the tabloid shit.
Many thanks once again to Decaying Hollywood Mansions for the shot.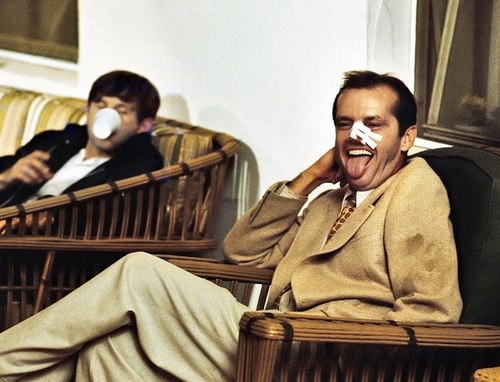 If you have a behind the scenes shot you'd like to submit to this column, you can email me at quint@aintitcool.com.
I don't know what other guys like, but I prefer tomorrow's pic.
-Eric Vespe
"Quint"
quint@aintitcool.com
Follow Me On Twitter
I've got a lot of maintenance work to do on the previous BTS articles, but you can visit two pages worth of images (beware of some broken links thanks to the last server shift): Click here to visit Page One and Click here to visit Page Two