She's totally stealing your thunder, JC!
Ahoy, squirts! Quint here. So, JustJared got the debut of the new poster for The Last Exorcism 2 and decided to make it super tiny and put their dinstinctive yellow border on it. But you can still get the gist of the image.
Ashley Bell is all possessed and shit again and instead of bending over into the shape of a 2 like the last poster she's striking up her best Jesus pose. The poster looks dirty and demon-y, so you gotta at least applaud them for getting the point across.
Here's the tiny picture. Enjoy!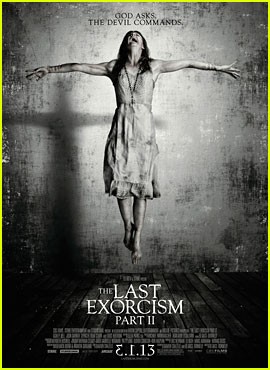 -Eric Vespe
"Quint"
quint@aintitcool.com
Follow Me On Twitter