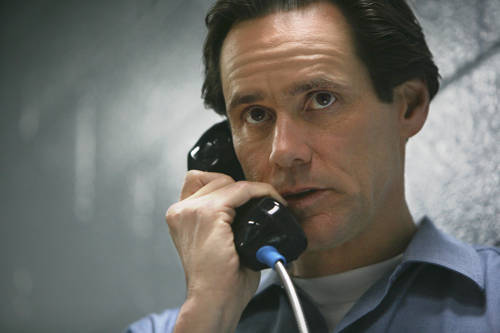 Beaks here...
Relativity Media has announced that Jim Carrey will star in the heist comedy LOOMIS FARGO for director Jared Hess. The film is based on the amusing "hillbilly heist" of a Charlotte, North Carolina bank in 1997, which ended in lengthy jail sentences for all of the involved parties. On the surface, it looks like the familiar tale of a bunch of rubes ineptly trying to pull off the perfect crime, but if you read up on the story, you'll find there's a pathetic, unrequited romance at its core. As far as I'm concerned, you can't do much better than Carrey as the sad-sack armored car driver who gets strung along by the girl of his dreams.
There's no word on how closely screenwriters Chris Bowman and Hubbel Palmer will follow the real-life story, but I trust Hess to go for something somewhat unconventional here. Mostly, I'm excited to see Carrey play a desperate, slightly unhinged dreamer. He's at his best in character-driven films like this.
Here's the plot summary from the press release:
Inspired by true events, LOOMIS FARGO tells the story of a disgruntled bank employee who is ready to take a chance and risk it all for love, money, and a life he's only dreamed of. Teaming up with his work crush, they conspire to rob the financial institution. Together with their accomplices, the inexperienced criminals nab nearly $20 million – leaving a trail of evidence in their wake. Now the only thing tougher than pulling off the heist – will be getting away with it.