Ahoy, squirts! Quint here with today's Behind the Scenes Picture.
Barret Oliver was all over my childhood. Cocoon, DARYL, The Secret Garden, Frankenweenie and The NeverEnding Story, which was one of my favorites growing up and still holds a special place in my heart.
Wolfgang Petersen visually pulled off a few dozen miracles with this film. It's one of my favorite fantasy worlds showcased in cinema and he cast it incredibly well, including young master Oliver, who I was able to relate to as a book-nerdy kid myself.
Perhaps my nostalgia for that film is strengthened by the fact that there's not really any film like it made today. The Nothing is a hell of a concept to throw at little kids and they aren't afraid to take their young audience to some dark places. Artax in the swamps of sadness, anyone?
So, to celebrate that great fucked up kid's film, I present a nice photo of Barret Oliver (check out that scarf!) and Tami Stronach (The Childlike Empress) posing with Falcor. Man oh man do I want my own luck dragon… Thanks to reader "Donald" for sending the image along. Enjoy!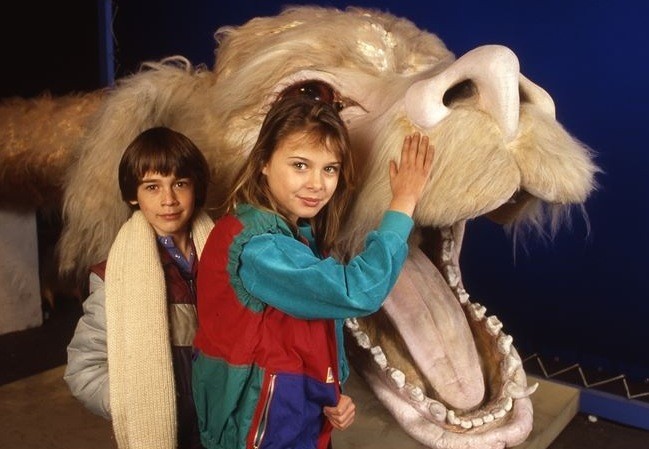 If you have a behind the scenes shot you'd like to submit to this column, you can email me at quint@aintitcool.com.
Tomorrow's pic really pisses me off to no end.
-Eric Vespe
"Quint"
quint@aintitcool.com
Follow Me On Twitter
I've got a lot of maintenance work to do on the previous BTS articles, but you can visit two pages worth of images (beware of some broken links thanks to the last server shift): Click here to visit Page One and Click here to visit Page Two