I wasn't knocked out by the Muppet's 2011 return to the big screen. Its energy felt off-base. Kermit didn't feel or sound Kermity...he felt muted...almost imitative. Which is pretty much how I felt about the whole picture. It felt like it was stabbing in the dark and going through the motions...trying to recapture a long-absent sense of heart it didn't fully comprehend.
Nonetheless, it performed well enough to earn a sequel...which is now underway. And today we have a fuller sense of what's in store for us. For example, it's called THE MUPPETS...AGAIN! The title seems problematic, as (in my mind at least) it might be interpreted as a diminutive (i.e. **sigh** - THE MUPPETS, AGAIN?) Yes, that exclamation mark makes a world of difference...but I don't think inviting any sense of franchise fatigue whatsoever is a wise idea for one's title. A title should feel special and unique...not worn. Not like "We're going to McDonald's again" or "I'm running to the grocery store, again." I may not be expressing ym reservations properly...but I think this makes sense?
THIS piece at EW also offers some plot details...
Following their successful return to the pop culture spotlight with 2011's The Muppets, Kermit the Frog, Miss Piggy, Fozzie Bear, and the rest of the gang are heading back to the big screen. The Muppets…Again!, currently shooting in London and due in theaters March 21, 2014, finds the Muppet repertory company enjoying a triumphant world tour, only to become tangled up with a criminal mastermind named Constantine, who is out to steal an enormous diamond—and who happens to be a dead ringer for Kermit.
..in a story which reveals a tad more via an interview with Kermit.
Meanwhile, the folks over at Empire have a few publicity images from the film. Click either shot to jump to the piece, where you can find slightly EMBIGGENABLE variants.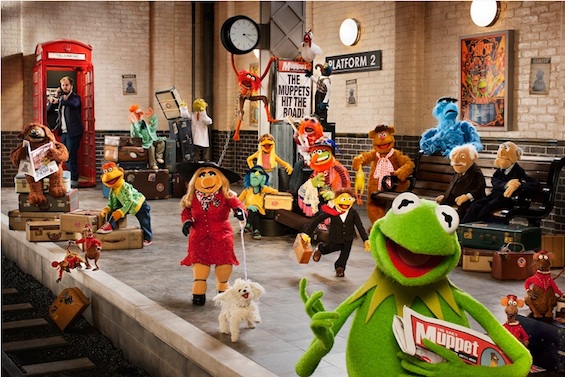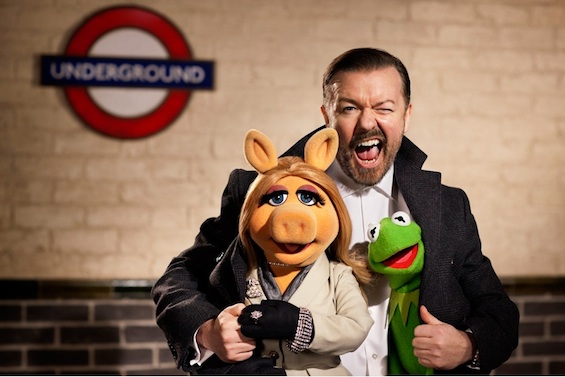 Ray Liotta, Ricky Gervais , Tina Fey, and Ty Burrell will appear alongside the Muppets - the film will hit screens next March.
_________