FX says of tonight's "This Bird Has Flown" (10pm FX):
Raylan's hunt for his stolen money leads to a confrontation with a bareknuckle brawler, while Boyd and Ava face a decision that threatens to destroy them.
What FX doesn't tell you is that the snake-preacher did not survive last week's Boyd-precipitated bite, which sets both Ellen May and the preacher's sister Cassie on new paths.
Expect some great stuff tonight with both Lindsey's beefy husband and Boyd's new henchman Colt.
Thanks to a gift from Rachel, Raylan in this episode made me laugh really hard near episode's end – but the story takes a darker turn in the final minutes.
Returning tonight:

Income Property (9pm HGTV)

Top Gear (History)
Premiering tonight:
Nikki & Sarah Live (11pm MTV)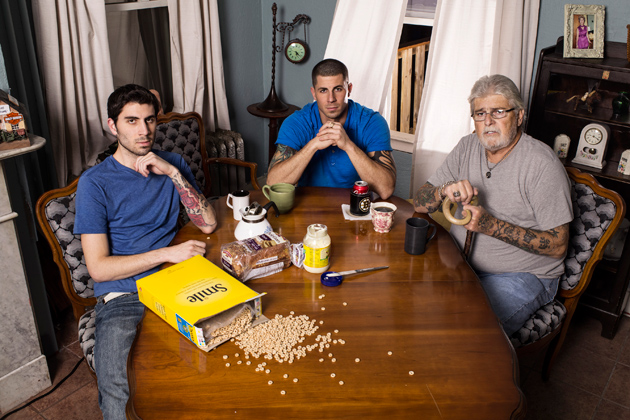 Southie Rules (10pm A&E)

Starter Wives Confidential (TLC)

Ultimate Warfare (Military)
With CBS in repeats, Fox's "New Girl" was last Tuesday's top rated show.
"Go On" and "The New Normal" hit new series lows, but did little to impede the "Parenthood" finale's third-place finish.
New BET shows "Real Husbands of Hollywood" and "Second Generation Wayans" saw their 18-49 ratings plummet for their second episodes.
Tuesdays, Dec. 11, 2012-Jan. 22, 2013
(adults 18-49; older weeks in parentheses; repeats in gray)
2.2 (1.9) (2.1) (0.8) (0.7) (0.8) (2.0) New Girl
2.1 (---) (---) (---) (---) (---) (---) The Taste
1.8 (1.9) (1.9) (1.8) (---) (---) (2.0) Parenthood
1.7 (3.9) (3.5) (1.3) (1.4) (3.3) (2.8) NCIS
1.7 (2.7) (3.0) (1.4) (1.5) (3.0) (2.6) NCIS LA
1.7 (1.7) (1.6) (1.6) (---) (---) (---) Off Their Rockers
1.7 (1.6) (1.7) (---) (---) (1.0) (1.7) Raising Hope
1.5 (1.5) (1.5) (---) (---) (0.6) (1.5) Mindy Project
1.5 (1.2) (1.1) (---) (---) (1.2) (1.2) Private Practice
1.3 (1.7) (1.5) (---) (---) (---) (---) Go On
1.2 (1.1) (1.2) (0.6) (---) (0.8) (0.8) Ben & Kate
1.2 (1.4) (1.3) (---) (---) (---) (---) The New Normal
1.2 (1.1) (1.4) (---) (---) (---) (---) Pretty Little Liars
1.2 (2.1) (---) (---) (---) (---) (---) Real Husbands
1.1 (0.9) (1.1) (---) (---) (---) (---) Snooki & Jwoww
1.0 (1.1) (1.0) (1.1) (---) (---) (---) Dance Moms
1.0 (1.0) (1.1) (1.1) (1.0) (1.0) (0.8) Hardcore Pawn
1.0 (0.9) (1.3) (---) (---) (---) (---) Justified
1.0 (1.6) (1.6) (0.9) (1.1) (1.6) (1.5) Vegas
0.9 (1.0) (1.1) (---) (---) (---) (---) Cougar Town
0.9 (1.7) (---) (---) (---) (---) (---) 2nd Generation Wayans
0.9 (---) (---) (---) (---) (---) (---) White Collar
0.8 (0.9) (1.0) (---) (---) (0.4) (0.8) The Daily Show
0.8 (---) (---) (---) (---) (---) (---) Ultimate Fighter
0.7 (0.6) (0.4) (0.7) (0.5) (---) (0.4) Chopped
0.7 (0.8) (---) (---) (---) (---) (---) Face Off
0.7 (0.8) (0.8) (0.8) (---) (---) (---) Hardcore Pawn Chicago
0.6 (0.6) (0.8) (---) (---) (---) (0.7) Colbert Report
0.6 (0.8) (---) (---) (---) (---) (---) College Basketball
0.6 (0.6) (0.7) (0.7) (---) (---) (---) Dual Survival
0.6 (0.6) (0.3) (0.3) (0.2) (---) (0.6) Hart of Dixie
0.5 (---) (0.5) (---) (0.5) (0.5) (0.4) Conan
0.5 (0.4) (0.5) (0.6) (0.4) (0.3) (0.4) House Hunters
0.4 (0.4) (---) (---) (---) (---) (---) Africa
0.4 (---) (0.4) (---) (0.4) (---) (0.3) House Hunters Intl
0.4 (---) (---) (---) (---) (---) (---) Redrum