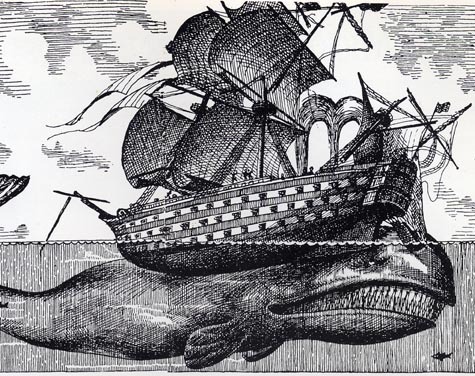 Warners is puling together a picture called IN THE HEART OF THE SEA, scripted by Charles Leavitt (K-PAX and BLOOD DIAMOND), and Vulture reveals that Ron Howard may be closing in to direct it.
The film already has Chris Hemsworth attached to star as a first mate aboard the Essex, the doomed ship whose encounter with a whale inspired Herman Melville's Moby Dick.
...says THIS piece, which goes on to say there is...even now...misgiving about large-scale projects on the sea, indicating that Universal executives still evoke 1995's WATERWORLD (apparently calling it "FISHTAR"). Thus, the article speculates Warners may seek the partnership of a second studio. You know...to spread the risk.
As funny is it is that Uni execs are still hammering WATERWORLD, concern about mounting water-based projects are not unfounded. James Cameron's TITANIC and THE ABYSS were both famously challenging and costly water-based undertakings. The sea, and water in general, can be an exceptionally harsh mistresses. It'll be interesting to see how, or if, this project ultimately pushed forward.
More on the story of Essex can be found HERE. The film is based on Nathaniel Philbrick's 2001 book of the same name.