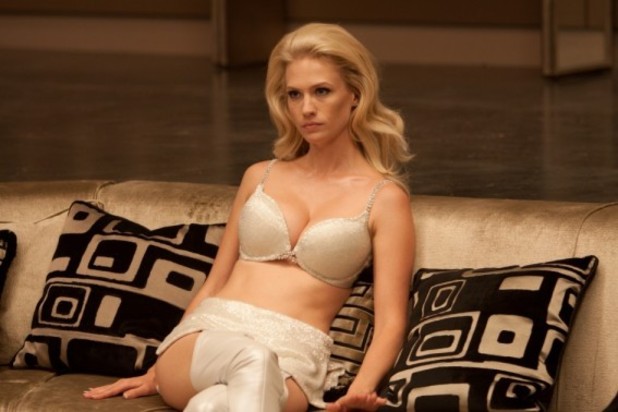 The Kidd here...
If there was one glaring issue I had with Matthew Vaughn's X-MEN: FIRST CLASS, it was the casting of January Jones as Emma Frost. Now rendering a person as being comprised entirely of diamonds presents its own share of problems, but, beyond the fact that she didn't look good in that form at all, the cold performance of Jones as a less whiny buy equally distant Emma Frost in this X-MEN prequel world left me wishing we could get back to seeing the mutant teens force everyone's nicknames into the movie (okay, so there's issue #2).
But with X-MEN: DAYS OF FUTURE PAST looking to further explore the development of the relationship between Magneto and Professor X, how would Emma Frost factor in this time? After being imprisoned for being Sebastian Shaw's right-hand woman, she's been freed by Magneto to join his Brotherhood. But he's got a much closer bond now with Mystique, so...
Well, how about I let Jones explain her role, or apparently lack thereof, as she told Collider in Sundance while promoting her new film SWEETWATER...?
"I don't know that I'm in it, I don't think Emma's in this one. Well they haven't told me if I am [Laughs]. I wouldn't put it past them though, I got the script for the first one on the airplane on the way there. It's called DAYS OF FUTURE PAST I think, and I think it's more about James [McAvoy] and Michael [Fassbender] and then Patrick [Stewart] and Ian [McKellan], and I think it's gonna go back and forth with those so I don't think Emma's in those bits. I don't know, I really don't know."
No Emma Frost at all? That seems a bit bizarre as Magneto begins recruiting more and more mutants for his cause. Perhaps Bryan Singer hasn't picked up the phone yet... or perhaps Emma Frost will be involved, Bryan Singer just couldn't bear her performance either and has decided to recast... We shall see.
-Billy Donnelly
"The Infamous Billy The Kidd"
Follow me on Twitter.
Like me on Facebook.