Ahoy, squirts! Quint here. While AICN doesn't have an official presence at Sundance this year, we do have some friends on the ground willing to watch movies and send in some reports. So allow me to introduce one of those friends, Marco Cerritos, who will be sending in some reviews over the next week.
Marco's a good dude and really smart. I think you'll like him. Check out his opinion of Joseph Gordon-Levitt's directorial debut Don Jon's Addiction. Enjoy!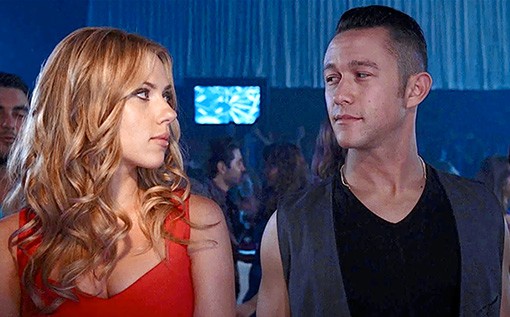 Actor Joseph Gordon-Levitt may be known for blockbuster movies such as "Looper," "Inception" and "The Dark Knight Rises" but last weekend at the Sundance Film Festival he proved his skill behind the camera as well. His new film is Don Jon's Addiction, a comedy of sexual perversions that many wrongly deemed a vanity project before the lights went down and were sent cheering into the aisles when the movie was over.
Gordon-Levitt makes his directorial debut with 'Don Jon' but he also plays the titular character, a womanizing, self-loathing gym rat who is one of many stereotypes easily found prowling the bar scene on a Saturday night. His M.O. with the ladies is simple, bed them, leave them and forget about them. His posse of equally douchebag friends look to him as the leader of the pack and their annoying Jersey accents and even worse wardrobe choices make you question why any girl would bed these guys in the first place.
The story of a prowling womanizer may not be cinematically fresh but in Don Jon's Addiction it's given a technological twist. You see, despite our antihero bedding many beauties throughout the first act of the movie, his major weakness is internet porn. Real sex to him isn't half as amazing as spanking it to anonymous and distancing pornography. He must go through tons of tissue boxes in the first few minutes of this movie alone, hinting at deeper psychological issues the movie touches on later.
The film co-stars Scarlett Johansson as a no-nonsense girl who knows she's hot and uses her sexual powers to her advantage. Again, this is not new territory but Johansson seems game and in turn has a lot of fun with the role. Her Jersey accent may not be something to be proud of but her ability to match the silliness of the subject matter definitely is. Even Tony Danza is in on the fun, playing a tough Jersey father who throws around enough "hey's" and "oh's" in one sentence to call the stereotype police.
Don Jon's Addiction is essentially Shame meets Jersey Shore, taking the sexual psychology of one and mixing it with the outrageous escapades of the other. Gordon-Levitt also proves that he's learned plenty of valuable tips on the various film sets he's worked on. His level of composition behind the camera is confident and shows genuine promise. It's a bold move to make a movie about a sex addict for laughs as your directorial debut but Don Jon's Addiction works as a whole. It's fun and non-threatening entertainment that ensures Gordon-Levitt will direct again in the future. But maybe the next movie will have less tissue boxes and muscle shirts.