What's up, Contenders? Terry Malloy here reporting live from the Waterfront.

I'm going to peel back the veil for you all very briefly here. Film bloggers end up on a LOT of mass email lists. Some you really want to be on, like when press screenings occur in your town. But then you also get a whole bunch of marketing/PR stuff that is often way easier to simply delete than delve into. This is just a little slice of reality for you.

So I get tons of emails with new trailers or film clips for films that are either highly anticipated, totally off my radar, or somewhere in between. This weekend I went ahead and clicked through on a few of those trailer emails and found some stuff I thought AICN readers might like to check out.


First up is a trailer for one of my most anticipated films of 2013. It just screened at Sundance this week so some critic reviews are starting to trickle out and I've heard almost uniformly good things about MUD. This is director Jeff Nichols' follow up to TAKE SHELTER, which was probably the best film of 2011.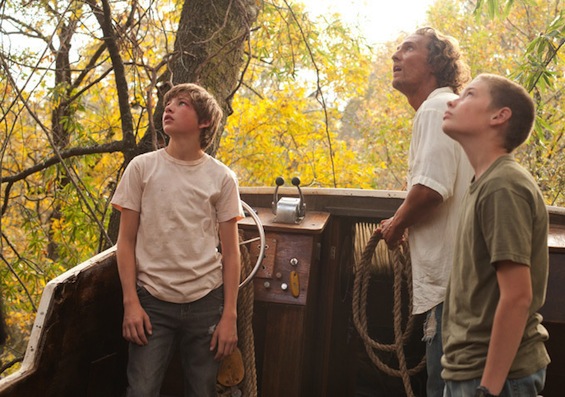 MUD Image Source:IndieWire
And wow, this trailer is incredibly exciting. Matthew McConaughey is on an unbelievable career rebound and fascinates in this trailer. The kid actors look like fresh faces and appear intriguing here. Throw in Sam Shepard and Jeff Nichols' most regular collaborator Michael Shannon, and this cast looks amazing. Oh, and Reese Witherspoon is in it too. I can virtually guarantee that while I'll watch this trailer a few more times, I'm going to go media dark on MUD from here on out until I get to see it myself. I'm sold, and I don't need anymore marketing to convince me. But this trailer actually manages to excite me even more than I already was, so check it out for yourself if you haven't had MUD on your radar just yet.

MUD releases theatrically April 26th, 2013 from Lionsgate and Roadside Pictures.
Next up are a couple of trailers for films that weren't on my radar at all.

LORE tells the story of a teenage girl in post World War II Germany whose Nazi parents have been taken away by Allied forces. Young Lore must find a way to survive in a war torn landscape amidst the confusion of caring for her younger siblings and coming to terms with her own beliefs and worldview.

At this point I feel like there are about as many World War II movies in existence as there were soldiers in World War II, but this feels like a story I have not heard before, and the concept intrigues me. Maybe there are dozens of films along these same lines that talkbackers can recommend, but this sounds interesting to me and I found the trailer to be visually lush and engaging. It is directed by Cate Shortland, who looks to have a lot of tv under her belt, and a feature film from 2004 called SOMERSAULT.

LORE opens theatrically February 8th, 2013.

Lastly, we've got a trailer for a film called EMPEROR. Yet another World War II film with yet another corner of history that I don't recall seeing or reading much about. EMPEROR sees Tommy Lee Jones playing General Douglas MacArthur after Japan has surrendered post-World War II. The main thrust of the plot seems to be a political one, trying to decide Japan's Emperor should be charged with war crimes, and what the fall out would be on either side of that decision. The film also features Matthew Fox as a soldier tasked by MacArthur to help make this momentous decision.

I'm not entirely sold that this will be a good film based on the trailer. It feels to me like this could go either way, like a really solid drama, or another quickly forgotten story that never quite achieves any sort of greatness. We'll have to judge based on the movie itself, but what the trailer does offer is a glimpse at a potentially fun role for Tommy Lee Jones, and a pretty visually rich-looking period film. EMPEROR is directed by Peter Webber, who also did GIRL WITH A PEARL EARRING and the much-reviled HANNIBAL RISING, neither of which I have seen.

EMPEROR opens theatrically March 8th, 2013 and is also from Lionsgate and Roadside Pictures.





Let us know what you think about these trailers in the talkbacks! Like I said, MUD is on the top of my list of anticipated films, and these other two were totally off my radar but I thought you AICN folks might want to give these trailers a look for yourselves.

And I'm Out.

Terry Malloy AKA Ed Travis