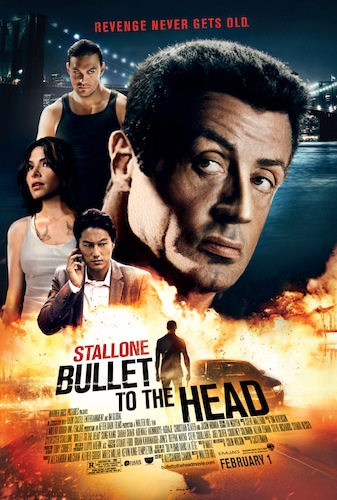 The Kidd here...
South Floridians, here's another chance for you to catch up on something you missed out on if you weren't in attendance at last year's Butt-Numb-A-Thon. I've got a block of tickets to head out to see Sly Stallone in BULLET TO THE HEAD on Monday night, January 28, at 7:30 p.m. at the AMC Aventura 24.
Want a shot at going?
Then act fast, because these are going out as first-come, first-served... so be one of the quickest to ask for tickets, and you've got a pair for you and a guest of your choosing.
Simply send your name in the body of an email to Contests@AintItCool.com with the following subject line exactly (in all CAPS):
BULLET WITH MY NAME ON IT
I'll keep compiling names until I'm fresh out of tickets, and then we're closing up shop on this thing, at which point then winners will be emailed and posted up on the site.
Just make sure you remember to include your name, or your entry won't count... and you can only enter once. Duplicate entries will both get tossed.
If you're not sure if you're going to be able to make early enough to get in, it's quite simple - don't enter. If you don't think you can get out of work early enough, or if you have class, homework, chores, scheduled surgery, an unreliable car, prior engagements or previous commitments that may prevent you from attending this screening, don't try to win only to let these seats go to waste. We've been having far too many no-shows lately, so if you decide you're not going to go in the event you do win tickets, don't worry about playing again in the future. You're going on my Black List forever and ever.
Thanks to Warner Bros. for setting this up with us, and good luck to you all. Now get to it.
-Billy Donnelly
"The Infamous Billy The Kidd"
Follow me on Twitter.
Like me on Facebook.