Ahoy, squirts! Quint here with today's Behind the Scenes Picture.
I was looking at today's picture and really trying hard to figure out which Harry Callahan film this was from. I stared long and hard at the picture, studied the deep background, crew members and Clint Eastwood's facial features, trying to place his age. Then it struck me. This was from Dirty Harry! I'm totally smart in figuring that out. It's not like the title was plastered across a third of the image, so I want you guys to all thank me for my handy detective work.
In all seriousness, this is an awesome picture. I love how even though no cameras are on him, Eastwood is completely in character and his magnum is cocked. Legend.
Many thanks to Decaying Hollywood Mansions for this great image.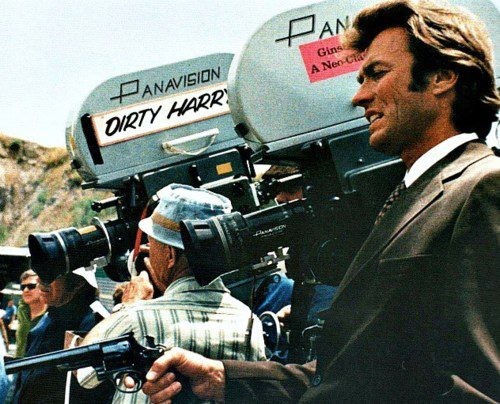 If you have a behind the scenes shot you'd like to submit to this column, you can email me at quint@aintitcool.com.
Tomorrow's pic is a secret.
-Eric Vespe
"Quint"
quint@aintitcool.com
Follow Me On Twitter
I've got a lot of maintenance work to do on the previous BTS articles, but you can visit two pages worth of images (beware of some broken links thanks to the last server shift): Click here to visit Page One and Click here to visit Page Two