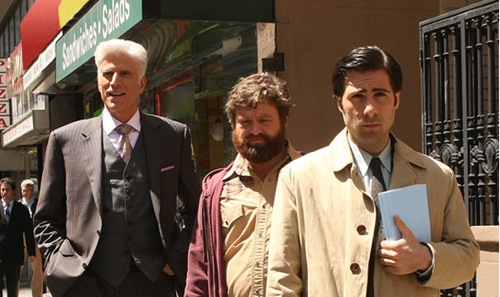 Beaks here...
While I love pretty much everyone involved with BORED TO DEATH, I fell out of love with the show during its third season. Aside from Ted Danson's week-to-week brilliance as George Christopher, a delightful disaster of a human being who gets caught up in bizarre misadventures with Jonathan (Jason Schwartzman) and Ray (Zach Galifianakis), I thought the show's quirkiness was rapidly becoming labored.
So I'm a little surprised that, according to Deadline, HBO Films is putting a BORED TO DEATH feature into development. The show always had a limited appeal, and I'm pretty sure I wasn't the only fan who gave up during its final season. But there's so much comedic potential between the three main characters that I'm kinda excited by the possibility of a movie. The show was always at its best when Jonathan, Ray and George were together onscreen, and I imagine a 100-minute film would keep them together as much as possible. So if I'm just never, ever going to get my fucking DEADWOOD movie, why not?
Deadline reports that there are no deals in place with the actors, so don't expect this to go into production anytime soon.