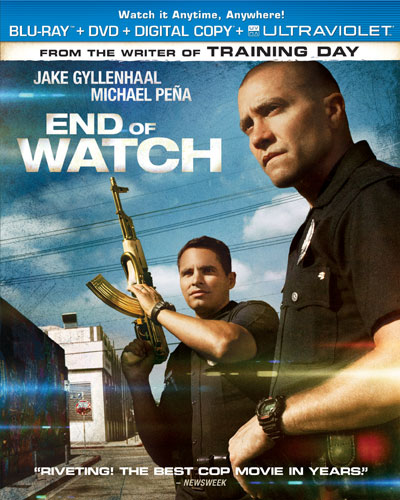 The Kidd here...
I was a big fan of David Ayer's END OF WATCH last year. In fact, I loved that movie so much, it was never a question of making my year-end Top 10, where it sat at #6 for me. I thought it was one of the best cop movies we've seen in recent years, and it really got me emotionally in showing this pair of police officers as more than just badges, but men with outside lives beyond their uniforms. Therefore, I wasn't going to pass on giving you a chance to not only see END OF WATCH, if you missed it, but own it as well.
I've got FIVE Combo Pack copies of END OF WATCH (Blu-ray, DVD, Digital Copy and Ultraviolet) up for grabs thanks to Universal Studios Home Entertainment, and they are yours for the taking if you put forth the effort.
What do you need to do? That's simple. Answer the following question...
What do you think the most overlooked film of 2012 film was, and why do you think it deserved better?
I thought END OF WATCH didn't quite get the respect it deserved from audiences when it was released back in September, caught between the summer blockbusters and the coming Oscar season, and so I want to know which film you think didn't quite get the attention it deserved. I don't have one particular film I'm looking for, as far as your answer is concerned. This is all going to come down to your reasoning why you think it deserved better. Prove your case to me well enough, and you may be one of the five winners who earned themselves a copy of END OF WATCH.
Send in your answer, along with your name and your mailing address in the body of an email to Contests@AintItCool.com with the following subject line exactly (in all CAPS):
WATCH YOUR SIX
This contest is open to residents of both the U.S. and Canada. Just make sure you have everything I'm asking for, or your entry won't count... and you can only enter once. Duplicate entries means they both get tossed.
The deadline for entries is Friday night, January 25, at 11:59 p.m. EST. Then winners will be posted up on the site once they're picked.
Good luck to you all, and thanks to Universal Studios Home Entertainment for setting this up with us.
END OF WATCH is available wherever you pick up your Blu-rays and DVDs starting today.
-Billy Donnelly
"The Infamous Billy The Kidd"
Follow me on Twitter.
Like me on Facebook.