Ahoy, squirts! Quint here. Back in 2008 I spearheaded a regular column on Ain't It Cool called A Movie A Day. I wanted an excuse to expand my film knowledge, explore classics and try to root out some forgotten diamonds in the rough and AMAD was that excuse.
For years I gathered interesting-looking older movies on DVD with the express purpose of doing just that… anything with an interesting actor, director, writer or premise that was under $5 was pretty much an instabuy and as such I amassed quite a collection of films I hadn't seen.
The rules of the self-imposed challenge were simple: I had to watch and review a new film every day and each film had to be connected to the one before it via a common factor, be it actor, writer, director, composer, producer or DP.
I was able to make it 7 months reviewing a film every day of the week, 215 titles (the list of links to those reviews can be found here, albeit with many broken image links). The films ranged from big, embarrassing holes in my film knowledge like Rio Bravo, Cool Hand Luke and The Sound of Music to more obscure gems like The Tin Star, The Matchmaker, The Pirates of Blood River (starring Christopher Lee), Libeled Lady and Kazan's Panic in the Streets.
I ended the column in January 2009 and have revisited it briefly with a horror-themed runs of October reviews and even invited some industry people to contribute to a celebrity AMAD. Participants included Edgar Wright, Rian Johnson, Randy Cook, Aziz Ansari, Don Coscarelli and Patton Oswalt.
It was a marathon and it wore me out, but it was some of the best work I've ever contributed to the site. In a weird way it was like committing to working out every day. It's a little stressful, a little intimidating, but once you hit a stride there's nothing more fulfilling.
The reason I'm running through the history of that column, which some of you might not have even been around for back in the day, is because I'm officially announcing that A Movie A Day is returning.
The rules are the same, except I'm only posting AMAD Monday-Friday, not 7 days a week. That's a little too much for what I've got on my plate at the moment. I took great pride in being consistent with AMAD, posting every single day without fail, and just knowing what my year's looking like I don't want to push myself and miss days. Plus, I'm turning an ancient 32 years old this year and Grandpa Quint needs his weekends for bingo and lawn darts.
But the work week will be filled with vintage movie reviews as I wade through more unseen films. I've planned out the first 6 months or so and we've got noir, screwball comedies, lots and lots of dramas, action flicks, pirate flicks, westerns, horror films and just about everything left that I haven't mentioned. Expect to see Alec Guinness, Robert Shaw, Spencer Tracey, Myrna Loy and William Powell, Hal Ashby, Don Siegel, Otto Preminger, Michael Caine and Alfred Hitchcock covered.
One of my favorite things about the column was the community of talkback regulars who would join along. They treated AMAD kind of like a book club and it became a very pure, non-cynical forum to talk about films. I hope that kind of community gathers around this new batch of AMAD reviews and in that tradition I'm listing the first week's worth of titles below, even though the column itself won't start until next Monday.
THE FLIGHT OF THE PHOENIX (1965)
THE SHIP THAT DIED OF SHAME (1955)
A MATTER OF LIFE AND DEATH (aka STAIRWAY TO HEAVEN) (1946)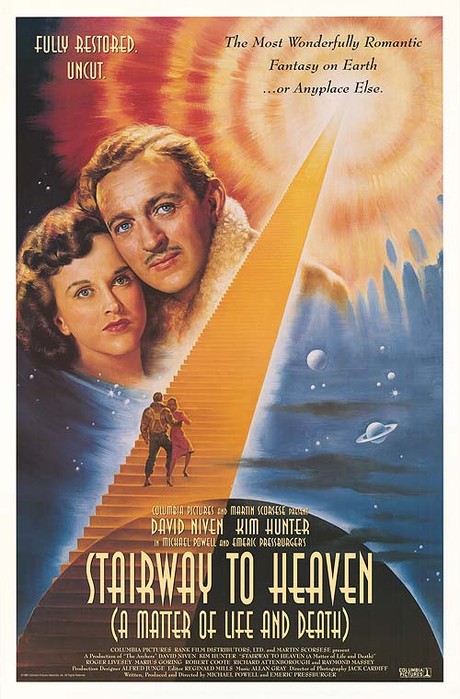 BLACK NARCISSUS (1947)
AGE OF CONSENT (1969)
Unfortunately, The Ship That Died of Shame was released in a now very Out of Print Anchor Bay box set of old British war flicks, but there's a suspicious listing on Amazon for a copy. Be warned that could be a Burn on Demand type deal.
To add on to the overall experience, I've also decided to precede each feature with a different Buster Keaton short until I've run through both of Kino's Buster Keaton Shorts Collections. I've seen a few and loved them, so why not do it up right and start off each review with a little wrap-up of some of Buster's amazing short work?
Here's the first set we're going to run through, on fancy Blu-Ray Disc!
So, I hope you guys follow along as I explore some older cinema with A Movie A Day. See you on Monday with The Flight of the Phoenix!
-Eric Vespe
"Quint"
quint@aintitcool.com
Follow Me On Twitter