Ahoy, squirts! Quint here with today's Behind the Scenes Picture.
Now, I don't quite have an image as awesome as Spock playing guitar, but since I'm still a much bigger Star Wars kid than Star Trek kid I couldn't leave out my beloved OT.
It's a nice shot of the destroyed Sandcrawler post-Jawa slaughter, with Luke in the backgroud, R2 and 3PO close up. You can see the set behind the Sandcrawler front and can even see the scaffolding peeking in over the top of what's supposed to look like the full giant machine.
Thanks again to the PEG for the shot. Enjoy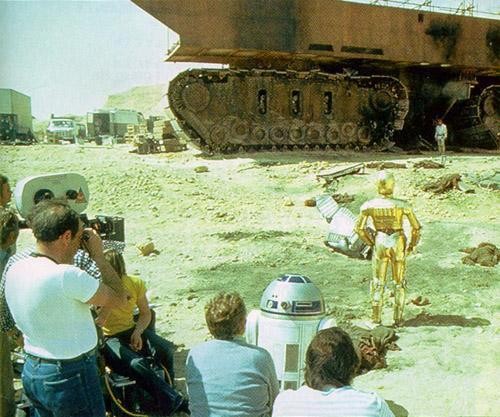 If you have a behind the scenes shot you'd like to submit to this column, you can email me at quint@aintitcool.com.
Where's tomorrow's pic at?
-Eric Vespe
"Quint"
quint@aintitcool.com
Follow Me On Twitter
I've got a lot of maintenance work to do on the previous BTS articles, but you can visit two pages worth of images (beware of some broken links thanks to the last server shift): Click here to visit Page One and Click here to visit Page Two