Ahoy, squirts! Quint here with today's Behind the Scenes Picture.
Martin Scorsese is a lot of things. A brilliant filmmaker, a whip-smart film historian and a leader in cinema preservation. One thing I usually don't think of him as is a threatening hardass. He's photographed his share of them, of course, but Marty himself? Not so much.
Or so I thought until I saw today's pic. It's a simple picture of Scorsese holding Travis Bickle's gun on the set of Taxi Driver, but he looks so damn fuck-you serious that I know I wouldn't want to cross this dude. Hell, he somehow still looks threatening holding grapes!
The image comes from this blog, which also has a few other Taxi Driver pics, many of which have graced this column in years past.
Thanks to Russell Walks for the shot. By the way, you should check out his really rad (and officially licensed) Dr. Who print that he designed at his website here. Enjoy crazy Marty!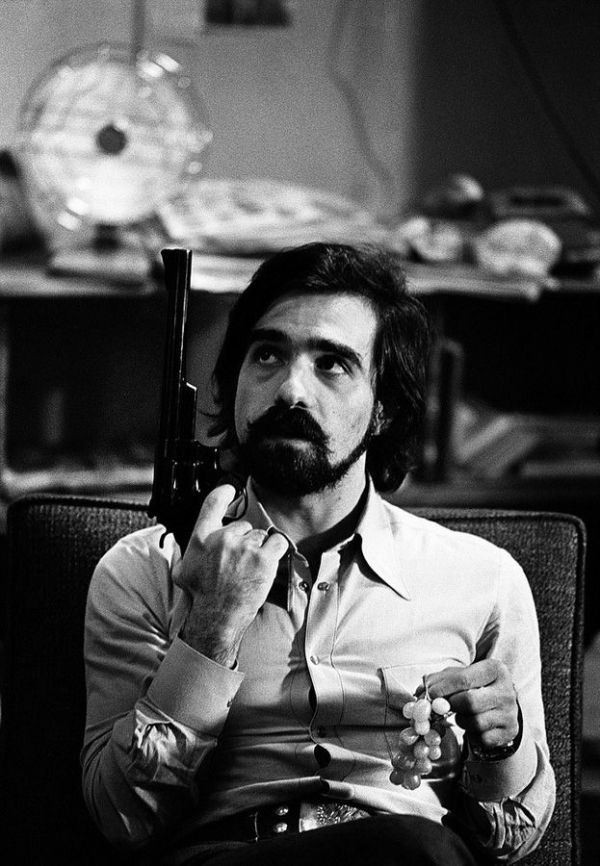 If you have a behind the scenes shot you'd like to submit to this column, you can email me at quint@aintitcool.com.
Tomorrow's pic is so geeky cool I'm shocked it's not photoshopped.
-Eric Vespe
"Quint"
quint@aintitcool.com
Follow Me On Twitter
I've got a lot of maintenance work to do on the previous BTS articles, but you can visit two pages worth of images (beware of some broken links thanks to the last server shift): Click here to visit Page One and Click here to visit Page Two