Ahoy, squirts! Quint here with today's Behind the Scenes Picture.
I caught up with On Golden Pond during my run of A Movie A Day. I had a lot of fun with that column precisely because I forced myself to give movies I had previously written off as "not for me" a chance. On Golden Pond ended up being so much more funny than I expected and I kicked myself for waiting so long to finally watching it. So, if you've never seen it and have put it off as just being some boring drama about old people then I'm telling you it is actually really great and has a wicked sense of humor.
Case in point is this pretty fantastic photo of Henry Fonda and Katharine Hepburn in-between takes. Hepburn is classy and Henry Fonda is... um… saluting… someone. Probably Jane…
This is another one courtesy of Decaying Hollywood Mansions. Enjoy!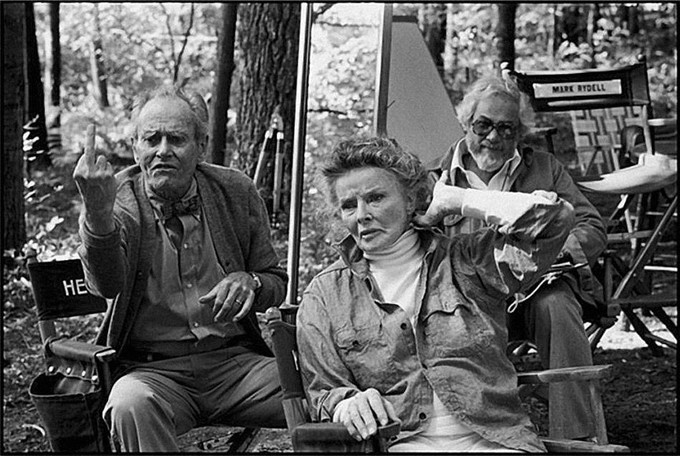 If you have a behind the scenes shot you'd like to submit to this column, you can email me at quint@aintitcool.com.
You're gonna need a truck to haul the awesomeness of tomorrow's pic.
-Eric Vespe
"Quint"
quint@aintitcool.com
Follow Me On Twitter
I've got a lot of maintenance work to do on the previous BTS articles, but you can visit two pages worth of images (beware of some broken links thanks to the last server shift): Click here to visit Page One and Click here to visit Page Two