Ahoy, squirts! Quint here with today's Behind the Scenes Picture.
A few months back I finally broke the plastic on my Tales From the Darkside DVDs and blazed through the first two seasons. The show freaked me the fuck out when I was a kid, thanks mostly to that eerie intro music and narration, but I found looking back on it that it was much, much cheaper than I remember it looking. I still love it, though. I'm a sucker for genre TV like this. Twilight Zone, Outer Limits, Night Gallery, Monsters, Tales From The Crypt… all rock. I wish we had something like it going today. Masters of Horror was a valiant effort, but fairly limp and minus a few notable exceptions, missing the spark of fun that the best of the genre shows had.
Today we're featuring a behind the scenes shot from the Tales From the Darkside episode Inside the Closet, which starred Fritz Weaver, Roberta Weiss and was directed by Mr. Tom Savini. It was one of the more memorable Darkiside eps, about a grad student that rents a room from her creepy dean and wonders why there's a tiny locked door in her room. Spoiler alert, the picture below shows you why there's a tiny locked door in her room!
Thanks to the PEG for this shot. Enjoy!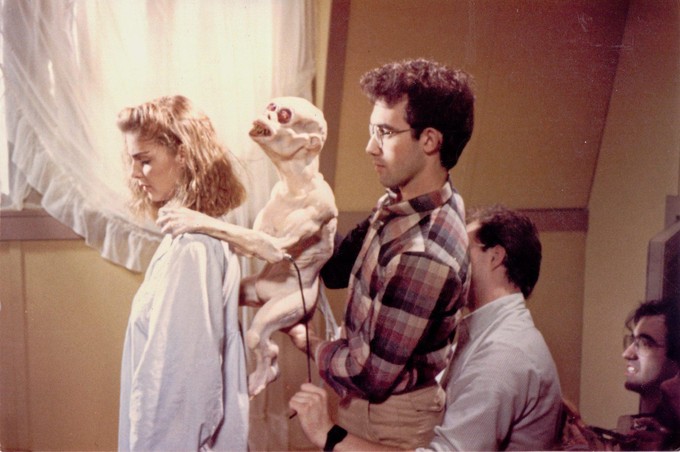 If you have a behind the scenes shot you'd like to submit to this column, you can email me at quint@aintitcool.com.
Tomorrow's pic will make you cuckoo.
-Eric Vespe
"Quint"
quint@aintitcool.com
Follow Me On Twitter
I've got a lot of maintenance work to do on the previous BTS articles, but you can visit two pages worth of images (beware of some broken links thanks to the last server shift): Click here to visit Page One and Click here to visit Page Two