Ahoy, squirts! Quint here with today's Behind the Scene's Picture. I'm stupidly sick. I either caught this awful cold from a sick friend at a recent birthday party or the Deadites from the Evil Dead Remake/reboot/maybe-sequel infected my sinuses as I was writing up that massive set report. Either way, I've been bed-ridden like a lazy Bucket grandparent for the last 12 hours, but I had to crawl out to share this awesome BTS shot from one of my all time favorite movies.
Night of the Creeps is great, but Fred Dekker's follow up is on another level. The Monster Squad is just as important to me as Goonies is to most kids my age. It has that same sense of fun, epic adventure and camaraderie that Goonies does… but with monsters. They have one Sloth, us Monster Squad devotees have Tom Noonan Frankenstein plus Creature (called Gill Man for rights reasons), Mummy, Drac and the Wolf Man!
The legendary and sorely missed Stan Winston led his team to create some amazing monsters for The Monster Squad and this photo comes from The Stan Winston School (via thehorrorchick.blogspot), which allows those interested in practical effects to learn from the masters who worked on all the films you loved growing up. I see they have a video up now with Shannon Shea, who is not only one of the coolest dudes ever, he helped build your childhood. The man helped build the Predator suit, folks.
That's a great service and not too expensive if you think you have what it takes to join up and learn how to really make the magic of the movies come to life. Make sure to visit them at their site to learn more.
Maybe some day you could create something as awesome as the Gill Man suit featured today lifting up an old friend out of the bog. We miss you, Stan! Enjoy!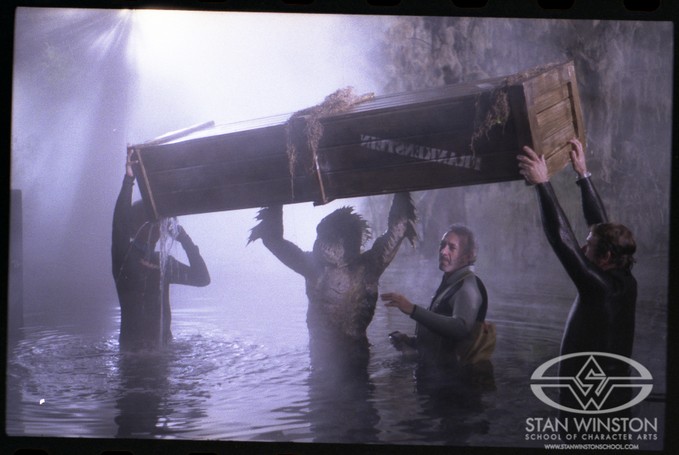 If you have a behind the scenes shot you'd like to submit to this column, you can email me at quint@aintitcool.com.
Tomorrow's pic is perhaps the most awesome BTS pic for a Hitchcock movie that doesn't feature the cherubic director.
-Eric Vespe
"Quint"
quint@aintitcool.com
Follow Me On Twitter
I've got a lot of maintenance work to do on the previous BTS articles, but you can visit two pages worth of images (beware of some broken links thanks to the last server shift): Click here to visit Page One and Click here to visit Page Two