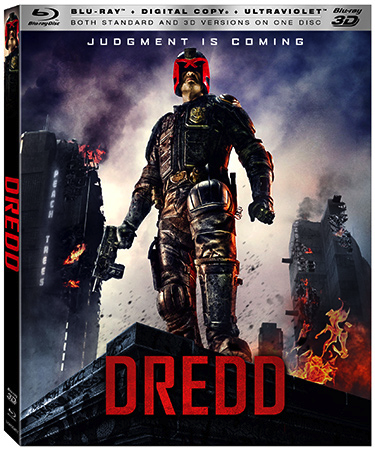 The Kidd here...
After posting up my top films of 2012, it was nice to see all of the love DREDD 3D seemed to be getting from those of you who felt it deserved some year-end recognition. It's just one of those things where personally I loved 10 films more than DREDD, but that film definitely snuck on me in all of its bad-ass-ness in all the right ways. It really is a shame that more people didn't give it the time of day when it opened theatrically, especially with a shortage of really good action films on the scene lately. But this is the moment for you to dish out some good old-fashioned DREDD justice on those who gave it a pass back in September, and you can earn yourself a copy of DREDD 3D for your collection for playing the role of judge, jury and executioner, much in the same way as the title character.
What I want you to do is pass a sentence that you feel is fitting on those who opted to not give DREDD a watch in theatres last year, all those who automatically disqualified it because they linked it to the Stallone debacle, pre-judging it as something they couldn't possibly like and, in all their closed-mindedness, missed out on a solid flick.
Send in your sentence along with your name and mailing address in the body of an email to Contests@AintItCool.com with the following subject line exactly (in all CAPS):
I AM THE LAW
What's at stake? Here's the good stuff.
I made mention that you'd have a chance to take home a DREDD 3D Blu-ray Combo pack... but there's more.
ONE deserving winner will not only score themselves a copy of DREDD 3D, but also a theatrical one sheet signed by Dredd himself, Karl Urban, and Cassandra Anderson (Olivia Thirlby), in addition to a Dredd comic book and your very own Dredd badge.
Then I'd pick THREE more awesome runners-up to get their hands on Blu-ray Combo Packs.
This contest is open to residents of both the U.S. and Canada. Just make sure you have everything I'm asking for, or your entry won't count... and you can only enter once. Duplicate entries means they both get tossed.
The deadline for entries is Friday night, January 11, at 11:59 p.m. EST. Then winners will be posted up on the site once they're picked.
Good luck to you all, and thanks to Lionsgate Home Entertainment for setting this up with us.
DREDD is available wherever you pick up your Blu-rays and DVD starting today.
-Billy Donnelly
"The Infamous Billy The Kidd"
Follow me on Twitter.
Like me on Facebook.