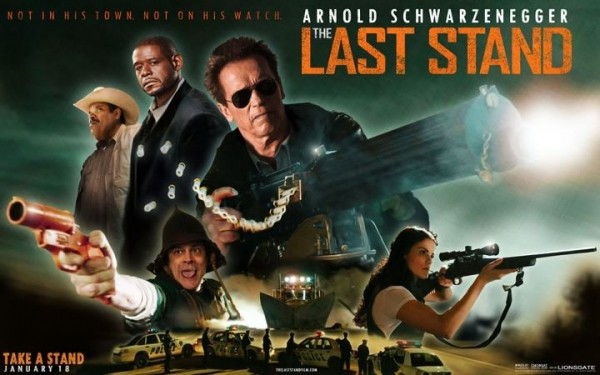 Hey folks, Harry here... I've had the opportunity to sit down and converse with Arnold Schwarzenegger a couple of times... but I'll never forget being a teenager and watching Arnold & Ann Richards at Palmer Auditorium leading about a zillion kids in a series of exercises. That was eons ago, but now AICN and Lionsgate are presenting a very special evening at The Alamo Drafthouse on Slaughter Lane! Arnold is coming for a Q&A - and this is crazy awesome. Alamo Slaughter is a very intimate, but awesome theater. From the man-eating plants that threaten you in the lobby to the literal tons of 35mm prints that are stored there... but I do feel that this will be the coolest thing that I've yet done in this location - and I can't wait. I went to the set of THE LAST STAND last year - and saw quite a bit of footage that was roughly assembled. First thing I noticed was the awesome cast... On screen you'll see Arnold performing in his big return vehicle with folks like Harry Dean Stanton, Peter Stormare & Forest Whitaker. The lovely Lady Sif, Jaimie Alexander joins the mayhem. Then you have Johnny Knoxville and LUIS GUZMAN having a blast - actually multiple blasts - there's a lot of blasts in this. And last, but certainly not least - we have the great Eduardo Noriega!!! So yeah, cool. However, the aspect that has me most excited to be seeing this film is the movie's director, Jee-Woon Kim. You know his work Austin! Jee-Woon Kim is a Fantastic Fest fave with his flicks like A TALE OF TWO SISTERS, A BITTERSWEET LIFE, THE GOOD THE BAD THE WEIRD, I SAW THE DEVIL and DOOMSDAY BOOK. Now we get to discover his first English language film. THE LAST STAND is more THE GOOD THE BAD THE WEIRD than any of those others, but damn if I'm not excited as hell to see Arnold for a full feature!!!
OK - so how do you get to be in a 134 seat room for this amazingly awesome evening?
Look no further.
I need y'all to work for this. By work for this - I want to see you pumped up. I want to see you sweat a little. Give me your best Arnold impersonation. That's right - you send in a photo of you attempting to look your fittest - and don't worry about your definition... I'm not one to judge that - but show me your Arnold fandom. Send your photo to:
hk at aintitcool.com with this exact subject line:
ARNOLD IS BACK & I HAVE TO BE THERE!!!
In the body of your email, attach the photo and if you feel like sharing what Arnold means to you - well, it can't hurt. Also include your FULL NAME and the FULL NAME of your guest (singular). That's right, each submission is good for 2!
The screening will take place January 11th, 2013 at the Alamo Drafthouse on Slaughter Lane at 7:30pm!!!
I'll email you if you win. I expect a large amount of submissions - and I expect to have a shit ton of fun at this screening, so come on. Give it your best shot! He's BACK!!!