Hey folks, Harry here. The bumbling wise half blind degenerate underground living professor of arcane methods of thievery has chimed in with his LATEst Rumblings from the Lab, and quite honestly... You must read his coverage of the Harrison Ford/Steven Soderbergh TRAFFIC project. As Moriarty just gives it what it deserves. With both hands and a bucket. Lots of good stuff this time out, and once again he's teasing the world with an appearance of his... but the fact is... he'll just send that retarded Mechanical Moriarty in his stay. Damn Victorian Scientific Balderdash!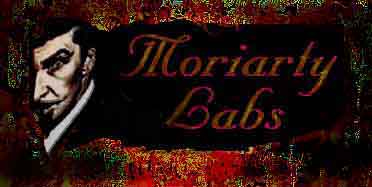 Moriarty's RUMBLINGS FROM THE LAB #29
Hey, Head Geek…
"Moriarty" here.
Hey, check it out! Now that I moved the column to a Wednesday deadline, I'm actually early for once! I figured I should get the column out of the way so that I could enjoy my trip to San Francisco, where I'll rendezvous with Harry, Father Geek, Annette Kellerman, a whole bunch of you lucky readers, and the fine people of the Metreon who are having us up. I tell you, getting hold of… oh, yeah, I can't tell you what movie it is. I almost slipped there, said the title. I guess you'll just have to show up on Thursday night and see what it is. I guarantee it'll be worth the trip.
I've just recently discovered the joys of WinAmp and RealJukebox on my machine, and I'm playing the hell out of some older albums as a result. I can't get enough of Cibo Matto's STEREO TYPE A this week, and "Moonchild" keeps getting stuck on replay. In the meantime, I've been doing quite a bit of reading, so I'd like to kick off today by talking about some of the best stuff that's bouncing around, a sort of Script Review Round-Up.
VERY HEAVY TRAFFIC
I love Steven Soderbergh. I say this without any hesitation. I don't know what sort of evil pact with the dark forces he had to make to get his career back on track, but they may be overcompensating for his wilderness years with this latest streak of his. OUT OF SIGHT –- brilliant. THE LIMEY –- outstanding. ERIN BROKOVICH –- getting amazing word of mouth right now. And then there's his next project, the film before OCEAN'S 11, which I'm plenty damn excited about. In just a few weeks, he goes in front of the cameras with TRAFFIC, one of the most searing, angry, political pieces of film writing to cross my reading stack in recent memory.
Make no mistake; TRAFFIC will be controversial. There's no way for it to avoid controversy. It's a clear-eyed look at the failings of the drug war in America, both on the political and the personal levels. It is an angry film, but it never resorts to cheap tactics to make its points. Instead, this is a film that layers information on. The script by Steven Gaghan (RULES OF ENGAGEMENT) is perceptive, heartfelt, and jet black. I can see why the film moved from Fox to Fox Searchlight. This isn't going to be easy mainstream fare no matter how many Harrison Ford-level actors you sign to the thing. People feel very strongly about this subject, and the arguments this film engenders are just arguments we've been having on the national level for some time now. All it does when you cast someone of Ford's stature in the film is guarantee that more people will enter the debate.
It's one worth having, too, as this screenplay confidently asserts. Gaghan was working from an acclaimed BBC documentary series about how drugs are distributed and used in England, and moving the film's setting to America automatically means that emotions will run higher. After all, England isn't fighting a war against its own citizens, and it sure isn't doing it with a sense of skewed perspective like America. The idea of a drug czar is strange enough, but Gaghan's perceptive view of how exactly someone gets to that position and what sort of compromises are necessary just to keep the office functioning will no doubt challenge many viewers and their preconceptions about whether or not any good is being done by these efforts. Gaghan is smart enough to attack the idea from every angle, with there being two major storylines that form the backbone of the script, each offering a different view of the world.
In the main story, Harrison Ford is signed to play Robert Lewis. He's a district court judge who is resigning his seat so that he can serve as the new drug czar for the U.S. He's a political animal, very aware of the game, and as he is immersed in the world of drug policy, he gets a view of it that very few private citizens ever do. He sees the futility of many of the fights, the desperate quality to the negotiations with other countries, the helplessness that is never spoken of. He's also given a unique window into understand the nature of addiction when his daughter Caroline – a 16 year old who barely looks 12 – develops a wicked crack addiction that rips his family apart.
In the secondary story, Helena Montoya – the role I think Catherine Zeta-Jones is scheduled to play – is forced to learn about the drug trade from the operations end of things when her husband Carl is busted as part of a major multi-national operation. He's a major cocaine supplier, but Helena never knew about it. With him in jail and with major debts hanging over her head, Helena has to learn the business and make some very shrewd plays to protect herself and her family. Even under tight surveillance from federal officers, she has to move to keep her husband's power consolidated and unchallenged. It's a great role, and a great storyline. I see that Monday's NEW YORK DAILY NEWS is reporting that Soderbergh is having the film adapted to incorporate her pregnancy into the film. I'm sure he is. I bet he's freakin' delighted by it, actually. The image of this woman pregnant, already a mother once before, a model wife, as she digs into the world of coke smuggling has got to just make him cackle with glee.
Really, though, there's no weak links in this script. Every scene indicts another target, scores another direct hit. It's a blistering piece of work, uncompromising in how it handles its subject matter. Watching Caroline Lewis sink into the pit of a serious crack addiction is wrenching, and there's nothing about it that I'd call conventionally entertaining, but it is compelling, something we should see. Robert Lewis has his eyes opened in some startling ways in the film, and he has all of his beliefs called into question when it's his child, his home. I won't give away any of the film's most powerful images, but there are some things you'll see towards the end of this film that you won't forget. Finally, Harrison Ford is being given a role that demands something of him. He's being given another Allie Fox, another Rusty Sabitch, a character of extreme moral ambiguity. He's going to have to dig deep here, really put something of himself up on the screen again. He can't just fall back on The Finger of Doom, his favorite acting trick. For those of you who don't know what I'm talking about, check out a great little site I found -- CLICK HERE -- that explains it in graphic detail. Actually, even if you do know what I'm talking about, check it out. It made me laugh very hard when Harry Lime first brought it to my attention.
The thing that excites me most about TRAFFIC is that it gives Soderbergh some real balls in the middle of a streak of fun films. I know ERIN BROKOVICH deals with some serious material, but everyone I've talked to who has seen it raves about the film's sense of humor, the charge to the whole thing. OCEAN'S 11 is going to be a romp by definition. It's a Vegas hipster heist movie. Heavy, it is not. That leaves TRAFFIC to bear the weight of Soderbergh's darker nature. I hope that when the film is finished, it sparks some much needed discussion of how to dig ourselves out of a national nightmare with real solutions, and not just empty ideological wordplay. The best art is that which not only reflects but changes the world around it, and TRAFFIC has the potential to be just exactly that.
YOU NEED A GUY WHO CAN WRITE CRAZY SMALL
One of the best surprises involving the Academy Award nominations this year was the inclusion of Alexander Payne and Jim Taylor for their canny adaptation of ELECTION. The reason I'm particularly happy to see it happen is because it makes real progress towards salvaging the "high school" film from the creative hell of John Hughes-ripoffs. Miramax seems to have been particularly determined to pump out more carbon copy Freddie Prinze Jr. vehicles than anyone could ever find the nerve to sit through. With ELECTION, though, there is proof that complex moral themes can be examined using high school as a setting, not as a genre.
Right now, New Line has a project winding its way through development that has the chance to be funny, edgy, smart, and hugely successful. The film is CHEATERS, and it's a true original, bold and funny with an unflinching sense of honesty, ironic for a film about guys who can't help but cheat. An original screenplay by Andrew Gurland, CHEATERS could be described as "GOODFELLAS in high school" if you were trying to sum up the tone, but that only hints at the complexity of the piece. In the latest draft of the script, less than a month old, we are shown the "true story" of Andrew Gurland, the main character, and his three best friends as they move through their final year of high school. They are the guys you turn to when you have to pass a test, when you have to ace a term paper, when you absolutely have no choice left but to cheat. They aren't just good at it… they're freakin' superheroes.
As soon as you open the script, the tone is set. There's a page that just explains "The World According To Gurland." It's a list of the rules of conduct that define the world of the cheater. Such gems as "Never hand your paper in early," "Always get a couple wrong," "Every cheating outfit needs a guy who can write crazy small," and "Never crib on your body – you always have to be able to destroy the evidence at a moment's notice" suggest real practical knowledge of the world that's being written about. That's what was so great about GOOD FELLAS, and it's one of the things that keeps people tuning in to HBO's exceptional THE SOPRANOS every week. People frequently lack the nerve to do these things, but they love to watch other people do them. CHEATERS is electric with the kick of the forbidden.
We see a series of chapters that explain how Andrew and Dino and Sammy and Avidor all got together, how they formed the strange and tenuous bonds that form the emotional core of the script. Then we're brought up to now, and we're shown a series of incidents that challenges their ideas of ethics and honor and what's allowed and what isn't. Their friendships are put to the test in ways that evolve naturally, believably. It's wrenching to watch this group self-destruct. No matter how heinous some of their behavior towards teachers or parents is, they have family in one another. Seeing that melt down is tough, and Gurland never flinches. He's not afraid to let this supposed comedy drift into darker territory. In fact, that seems to be part of the theme. These thrills carry a weight, and karma does out.
This script has something that is rare in writing about people this age. It has a sense of texture and respect towards all the characters. Adults aren't made into cartoons just to make the teenagers look better. Teenagers aren't made into little adults just to balance the playing field. Instead, these are real people. This script feels like real life all the way through. The idea that Gurland has named his main character after himself, and the idea that he opens with a title card that reads, "WHAT YOU ARE ABOUT TO SEE IS A TRUE STORY"… it's all provocative. Obviously, I don't know what is and isn't fictionalized in Gurland's script. As a film, though, it's perfect. It works out in a way that isn't easy and it doesn't magically fix things, but it offers real closure, a sense of growth. Real life rarely ever plays out so well, so one must naturally be suspicious. It's a risky move, one that reminds me of Charlie Kaufman's latest piece ADAPTATION, and I think Gurland should be commended for making himself so deeply unlikable in large parts of this script. This film doesn't feel like someone glorifying his past. More than anything, it feels like a confession, a plea for forgiveness.
New Line is still a company that is capable of real edge, a company that is known for taking risks. When Miramax lost its nerve on LORD OF THE RINGS, New Line stepped up and did the deal better than it had been before. When Universal blinked on 13 DAYS, New Line was smart enough to get involved with Beacon and rescue it. Well, here's a chance for New Line to prove that they're still ahead of the curve in a genre that other companies are doing their best to beat to death. Destination Films is going to go ahead with the fart-joke-funny version of the same basic idea in the form of SLACKERS, a David H. Steinberg script that is funny but empty, distasteful in large part, but entertaining in many ways. Their film is set in a college, and the cheating is much less realistic, but there will be comparisons made. New Line has got to step up and make the great film, the one that gets remembered. If they do, look for Gurland to be one of the most exciting emerging voices of the decade.
DEAD RABBITS, NATIVE AMERICANS, AND MARTY
Can't wait to see Martin Scorsese on Roger Ebert's show next week. The two of them will be discussing the Best Films of the '90s, a topic that, as you know, I've written a few words about. Yes, yes… they're coming. I promise. You can blame Scorsese and his sometimes-collaborator Jay Cocks for distracting me for a good chunk of this past weekend. I ended up burying myself in the latest draft of GANGS OF NEW YORK, the epic story of New York's underworld as it worked in the mid-1800s.
I'm not sure who Robert De Niro is playing in the film –- Bill the Butcher, Boss Tweed, or even Monk would be the logical guesses -- but it's obvious from page one who Leonardo Di Caprio is supposed to be. Amsterdam Vallon is a great role for any young actor, and in Di Caprio's hands, there's a chance for Amsterdam to be iconic. The film is certainly painted in grand enough terms. Knowing that Disney is spending the money to do this right makes me very excited. The opening of the film is a glorious 15 page set piece that feels like something out of George Miller's THE ROAD WARRIOR. It's like science-fiction, otherworldly. When the title finally comes up at the end of the scene and sets the time and place -- "New York City, 1851" -– it seems impossible. Scorsese has discovered this wealth of material, previously untapped on film, about the way the whole pecking order broke down in New York's underworld. I've read quite a bit about this as well, much of it while researching Adam Worth, the loser that Arthur Conan Doyle claims to have based me on. HA! As if I could be a mere copy of some hood like him.
I don't really want to spoil much of the script this far out. It's so bizarre, so richly painted, that it's one of those experiences I believe will overwhelm viewers. Like the wonderful script for FROM HELL that Terry Hayes wrote for the Hughes Brothers, this film paints a real picture of a historical period that we all have a faulty picture of in our heads. It's amazing how sanitized and proper some people think recent history was. A film like GANGS OF NEW YORK promises to remind them that no matter how far we think we've come, the world is the same, and people don't change.
SIZE DOESN'T MATTER
And when I say that, I'm speaking of course about SF thrillers. I'm delighted by PITCH BLACK's showing over the weekend. Their per-screen was killer, and the box-office is actually going up from day-to-day as people are telling their friends about it. People went, they had fun, they're telling other people. That's how it's supposed to work. When you're making a SF thriller that's modestly budgeted, you have to rely on the film clicking as entertainment. You can't just bludgeon your audience into submission with the latest and the greatest effects tricks. Instead, you have to go back to the basic rules of narrative. You have to work that little bit harder to take a high concept and really make it live and breathe.
I was reminded of this when I got an advance copy of New Line's Platinum Series edition of THE HIDDEN this weekend via pneumatic tube. PHWOOP! It just showed up, surprised me. I haven't spared THE HIDDEN much thought one way or another since I saw it upon its initial release. I thought at the time that it was a fun action film, just smart enough that I could recommend it without embarrassment.
As a special edition DVD, I can now recommend the film all over again. I've watched it twice this weekend –- first as just the film, then again with the commentary track by Jack Sholder playing –- and I had a great time with the film. Kyle McLachlan's performance really holds up as a great entry into the grand tradition of aliens passing as human with only moderate success. He's funny, and he's also oddly affecting in many scenes. He takes an easy cliché –- the cop who's partner and family were killed –- and he invests it with real pathos. Michael Nouri… well, he doesn't bump into furniture or forget his lines, and that's really all he has to do here. The person who really makes all this play is Sholder. Somehow, he pulled it all together here and delivered on the kinetic action and the quiet character stuff with equal aplomb. This should have given him an Andy Davis-like career bump, but it didn't. Instead, he's just gone on toiling in the B-movie market, and that's a shame. Maybe this disc will serve as a great record of a particular professional high watermark.
WORST VERSION OF BEST THING
Who's decision was it to market THE NEXT BEST THING like a cross between MY BEST FRIEND'S WEDDING and THE OBJECT OF MY AFFECTION? I'm not exactly falling all over myself to see the new John Schlesinger film, but I figure they should at least advertise the film they've made. The script for this film is pretty brutal stuff, especially in the last third which deals with one character dying of AIDS while there's a bitter custody battle over a child underway. The sort of happy unconventional that the trailers are all built around is a bit of a lie, a fleeting part of the movie. It's like they only want to hint at the happy first act, afraid that no one will come if they tell you it's a drama and it's supposed to be difficult. I think Paramount would be wise to take the time between now and March 3 to ease new material into the campaign. If they don't prepare people for that third act, then they risk pissing off the audience they've tricked into coming to the film. That's certainly no way to release a film that is a tricky sell no matter what you do with it. Remember... as soon as the film is out, people will figure out if you've been lying to them. Word of mouth can't survive it when a film is totally misrepresented in a campaign, and that's what you're doing here.
Well, that's all for this week. Look for Harry and I to post our reviews of… um, whatever that METREON thing is… on Friday of this week. I'll be back with a few reports this weekend, and then next week sees the wrap-up of several ongoing reports for us at the Labs. It will feel good to finally finish, and we think you'll be pleased with the way it all wraps up. Until then…
"Moriarty" out.