Word up ladies and gentlemen? Muldoon here with some pretty pics of two of Hollywoods biggest funnymen all decked out and magicianified for a flick they're currently shooting out in Las Vegas. Now BURT WONDERSTONE wasn't a flick that was even on my radar, though based on just these pics and the fact that Carrell and Carrey rarely let me down - I'll be there opening day. Of course having the lovely Olivia Wilde, the comanding badassness of James Gandolfini, and Steve Buscemi (who we all know can do no wrong) supporting these two comedy giants in a movie about rival magicians can't hurt either.
First up, is a Chris Angel style Jim Carrey pic straight from the fine folks over at AceShowBiz.com. Minus any context whatsoever, he's got that signature Jim Carrey (this shit's going to rock you) smile going on and looks to be having a good time. There seem to be quite a few more pics of Carrey here.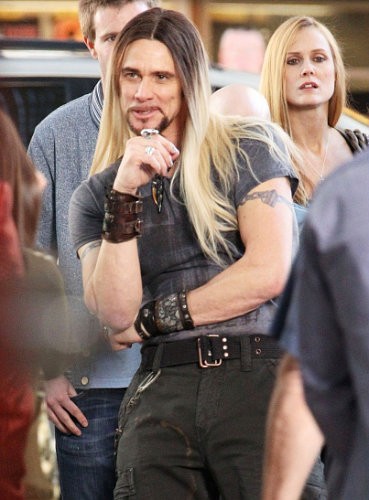 Next up we've got Steve Carrell decked out like the crazy awesome lovechild of Sigfried and Roy with a dash of Liberace. Unfortunately, I can't seem to find the source for this pic and there's no watermark, so if anyone knows where it originated - please shoot me a heads up.
It looks like we might have a badass fun little movie on our hands. The Don Scardino directed film written by John Francis Daley, Jonathan M. Goldstein, and Chad Kultgen looks to be coming out sometime in 2013. I for one can't wait to check it out.
XOXO
Mike McCutchen
"Muldoon"
Mike@aintitcool.com