Hey folks, Harry here. I have a lot of running around to do today, so I'll just turn this right on over to the dear venerable Professor... and in the meanwhile... I gots to get me a copy of this Goldman book... sounds fantastic...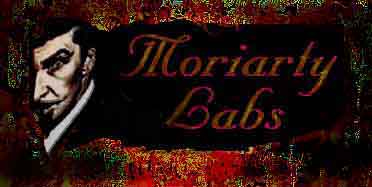 Moriarty's RUMBLINGS FROM THE LAB #28
Hey, Head Geek…
"Moriarty" here.
First, let me just say how glad I am you survived your little South American jaunt. Someday I'll have to tell you the story of the years I spent down there hiding from Holmes and other accursed members of the "law-enforcement" community. Hell, between the rabid pro-FORREST GUMP freaks who have been mail bombing me for the last week and the people who are calling for your blood over the nominations story, maybe the two of us should plan a trip down there sooner rather than later. Some of the pro-GUMP stuff I got is really scary. For a film that so many of you claim is about "peace and love," it sure does inspire some creative death threats.
Anyway, there's some interesting stuff to get to this week. I've been doing a lot of reading as we've been updating the equipment here in the Labs. Once again, I'd like to thank Henchman Smeagol for all his help in getting us up and running. The new system we've got here now kicks some pretty serious ass. All the secrets that were imbedding in the old hard drive have been recovered and restored, and I am finally free to just focus on getting my Evil Plans underway once more.
WHAT LIE DID I TELL?
I had the genuine pleasure last week of reading an early copy of William Goldman's new book, WHICH LIE DID I TELL? This is a sequel of sorts to his earlier classic collection, ADVENTURES IN THE SCREEN TRADE, and it's a worthwhile follow-up in every way. In some ways, Goldman has laid himself and his process open to even greater scrutiny in this book than in the first one, and there are passages that are genuinely brave considering how well-established he is. This is a man who could easily rest on his laurels, considering what impressive laurels they are. THE PRINCESS BRIDE, ALL THE PRESIDENT'S MEN, MARATHON MAN, BUTCH CASSIDY & THE SUNDANCE KID, MISERY --these screenplays forgive any number of lesser programmers he might ever write.
The thing that excuses his weaker moments even more is his remarkable self-awareness about them. This is not a man who is afraid to tell the truth about who did what and why decisions were made. There's no reason for him to be afraid, since he paints himself with equal blame for some things. One of my favorite chapters in Part I of the book – "More Adventures" – is the one regarding the little seen, mostly-forgotten failed romantic farce, THE YEAR OF THE COMET. He is very clear on why he thought the story was worth-telling, and Goldman communicates his process with such grace and charm that you can't help but agree: it sure does sound like a great idea. He traces the way the film came together and then bombed completely with unwavering honesty, complete with a description of a disastrous test screening. It's funny, it's a little terrifying, and it proves that when he talks about what works in other chapters, it's not boasting. He's just sharing experience, and all of it is worthwhile.
If this book just consisted of him describing the development of each of his films, that would be plenty entertaining, and more than worthwhile as a purchase. Instead, this book is a little more ambitious, wanting to explore different aspects of the art of storytelling for film. Goldman uses Part II to discuss classic scenes from scripts he admires. One of the things that surprised me a bit about Goldman is just how highly he regards Peter and Bobby Farrelly. It's not that I think they're undeserving of the praise; far from it, in fact. I like the Farrelly brothers a lot, and I think they know how to build a gag as well as anyone out there. I had the opportunity to read ME, MYSELF & IRENE, and they know exactly how to paint a moment on the page so you know how it's going to play onscreen. It's not often that comedy scripts are laugh-out loud funny on their own. Goldman uses the zipper scene from THERE'S SOMETHING ABOUT MARY to show just how artful the Farrellys can be in going after laughs. He also examines WHEN HARRY MET SALLY, NORTH BY NORTHWEST, THE SEVENTH SEAL, CHINATOWN, FARGO, and his own BUTCH CASSIDY, making interesting, fresh points about the work as he examines it. I'm familiar with most of what he brings up in this chapter, but he does a great job of setting up context, tracing the specific origin of some of the most classic moments in cinema's short history.
Section III is made up of three ideas of Goldman's, each of which are perfectly valid film ideas. He discusses the pros and cons of each, debating the merits of pushing ahead with each project. He makes a great point about how writers only have a finite amount of creative time they'll be able to spend working, and he discusses each of his ideas in the most important terms of all: are the stories worth him telling them? It's a question that more screenwriters should ask themselves.
The last part of the book is called "The Big A," and it's actually the first thing I read. Last year, a strange manuscript fell into my hands. It was called THE BIG A, and it was written by William Goldman. When I started it, I thought I was reading his new screenplay. It read like any other script. It was thin, though, and I couldn't help but wonder how he planned wrap up the story in such a brief number of pages. Once I got about halfway in, the answer became obvious…
He didn't. You see, it wasn't actually the entire finished script. Instead, it was sort of a test run at the thing, an elaborate treatment that breaks down into a series of questions, a list of possible ways to go, a sort of free-form record of ideas on how THE BIG A could move from partial screenplay to finished film. That manuscript, that unfinished piece, was distributed to several of Goldman's friends for their notes on it, notes which Goldman intended to run in his final book. He got the previously mentioned Farrellys, Tony Gilroy, Callie Khouri, Scott Frank, and John Patrick Shanley to all open up on the treatment with both barrels, writing with unflinching honesty about what they would do if they were hired to turn that partial piece into something presentable. The comments are fascinating, and they certainly didn't seem to be tiptoeing around Goldman's feelings when they wrote to him. It's great because these are all writers who are on the active A-list, people who get notes on scripts all the time. If any wannabe screenwriters read the comments in this book and think, "Oh, that's so mean, they shouldn't be allowed to say that," then I would say screenwriting's probably not the profession to choose. Writers must be ready for every criticism, and they must be able to defend their choices from a position of passion and also because they know they are right. Any decision that can't be supported with that much vigor probably wasn't the correct one in the first place.
This is a book that automatically becomes a must-have for anyone who wants to seriously work in Hollywood, right alongside such previous classics as HELLO, HE LIED by Debra Obst and MONSTER by John Gregory Dunne. Whether Goldman's telling disarmingly sweet stories about Andre the Giant or explaining what got under his skin that led to GHOST AND THE DARKNESS or trying to convey why he loves Ingmar Bergman, he's got one of the most relaxed, natural writing styles of anyone writing about film, either current or past. It's not just important for any serious film fan to read this book, it's also insanely fun. Is Goldman becoming more of a grump as he gets older, immune to the charms of modern filmmakers? Sure. He dismisses today's directors out of hand, saying that Kubrick was the last living filmmaker who could truly be called "great." He's not much for sequels, and he uses some truly hostile language to describe the makers of those "hooker films," reserving particular poison for Spielberg and Lucas. Then again, they're Spielberg and Lucas, so I'm guessing they won't mind in the end.
I'm going to be talking to Mr. Goldman in a couple of weeks, and I'll be bringing you that interview here in this column. I'm looking forward to using his book as a jumping off place to discuss some of the trends that are developing in Hollywood, and to also discuss some of the particular moments that make his own work so enduring. Keep your eyes peeled.
LOOK! IN MY CD PLAYER! IT'S A BIRD! IT'S A PLANE!
What are you doing sitting in front of your computer? Don't you realize that Rhino's incredible new SUPERMAN THE MOVIE soundtrack is in stores? Don't you understand that this is the first time all of this music has been available? As part of the Warner Archives series, Rhino has put out a 2-CD set of absolutely heroic proportions, and you could be playing it at top volume right now, just as I am. But no. No, you're sitting here reading. If you want to just run out and grab it, I'll understand. I'll wait.
In the meantime, I'll just rant and rave about how truly incredible this soundtrack is. I mean, I've always admired the score, one of Williams' classics. It's one of the most recognizable themes of my childhood, one of the most instantly evocative. In some ways, I consider it a more impressive piece of work than STAR WARS, since that film was a blank slate, something Williams could set the tone for. With SUPERMAN, he was dealing with an already iconic image, trying to find just the right piece of music to sum up all the feelings we have about such a beloved character.
Wading through the 140-plus minutes of music that make up the new Rhino version, one is struck by just how much music he actually composed for the film. The range of themes is pretty outrageous, with the newly restored "Prelude and Main Title March" setting the tone for all that comes after. This piece is now exactly as it appeared in the original theatrical cut of the film, the one that opens with the curtains drawn closed across the entire screen. It's a grand, sweeping piece of music, and when I heard the beautiful restoration job done on it, my expectations spiked for the rest of the album. Those expectations were met in every way. "The Planet Krypton" opens with a passage that always reminds me of 2001, and it drops into a somber, ominous section of the score that lasts all the way through "The Trip To Earth." Williams is able to indulge his taste for Americana (along the lines of his classic THE REIVERS score) with the Smallville sections of the score, culminating in the powerful "Death of Jonathan Kent." The comic, playful intro to "Lex Luthor's Lair," a piece that most people think of as the theme to Otis, Lex's henchman, never fails to bring a smile to my face. I love that there's so many various versions of "The Flying Sequence," aka "Can You Read My Mind?" on the CD. It offers a fascinating look at how decisions are made regarding what is and isn't on a soundtrack.
Track after track, the score delivers with inventiveness and a new clarity that would make you swear it was brand-new. I can't recommend the purchase highly enough for anyone who loves the SUPERMAN films or who just loves the art of film music. It's an exceptional piece of work, and a credit to the Warner Archives program.
WRONG? YES. HAPPY? INCREDIBLY.
I was sent a fair amount of mail asking me to comment on the whole nominations/early list thing here on AICN this week, but it's really not my place. Harry did a good job of explaining his process with that story, and I think he's more than willing to explain himself further to anyone who asks. I'm much more interested in getting in a few comments on the nominations themselves. Like any year, there were surprises both good and bad. I'm pleased as punch to see Spike Jonze among the director nominees, as I have been a vocal fan of the innovative work he did in BEING JOHN MALKOVICH, and I think it's the beginning of one of the more interesting careers of the next few decades. I suspect one of the most potent backlashes we're going to see is from people who feel that Miramax bought the noms for CIDER HOUSE RULES. Now that it got that many actual nominations, it wouldn't surprise me a bit to see it get shut out of any actual awards. AMERICAN BEAUTY seems poised to snag many of the major awards, including Director and Picture, and Hilary Swank is a virtual lock to win Actress. I think we'll see Cruise finally take home the gold with his work in MAGNOLIA, with M. Night Shyamalan getting his major recognition for the script to THE SIXTH SENSE. The two categories that I genuinely wouldn't even want to try to handicap right now are Best Supporting Actress and Best Adapted Screenplay. I personally adore the work that Samantha Morton did in the underrated gem SWEET AND LOWDOWN, and I'd love to see her rewarded. Then again, both Catherine Keener and Chloe Sevigny did standout work in their films as well. It's not like any of the nominees in the category have the edge, since they're all first-timers. With the Adapted Screenplay category, it's anyone's guess. ELECTION, THE GREEN MILE, and THE TALENTED MR. RIPLEY are all exceptional pieces of film writing that manage to boil difficult pieces of material down to sleek final form. Any of them would be worthy of recognition.
For me, the story that really bears noting is how the Academy had the chance to finally get the Best Documentary Feature category right this year, and they blew it again. This has historically been one of the most unjust categories, and this year looks to be no exception. For them to even begin to hand this award out without including AMERICAN MOVIE, BEYOND THE MAT, and MR. DEATH in the final running is ludicrous. As it stands now, BUENA VISTA SOCIAL CLUB has an unopposed run at the statue, something I can't say I'm excited about. As wonderful as the music in that film was, it's not anywhere near as vital and alive as the films I listed above. It doesn't draw us into these great lives and offer us a peek at something real, something greater than fiction. The sad part is, I can't even say I'm surprised. It just seems to be business as usual.
NOT QUITE AS HOLLOW AS I WAS AFRAID
It's no secret among my friends that I have found the films of Andrew Marlowe to be staggeringly funny for all the wrong reasons so far. AIR FORCE ONE is a painfully wheezy riff on the DIE HARD formula in which Harrison Ford's finger manages to battle terrorists for several hours, while END OF DAYS is… well, it's END OF DAYS. In both cases, I was critical of the scripts well before the final films came out. As a result, I actually avoided the script for THE HOLLOW MAN, sure it would be just as bad. This week, though, it just sort of fell into my lap, and I had no choice but to read it. To my amazement, it works. In fact, it's pretty damn good.
Part of the reason the script really worked on me is because I've stood on those sets. I've walked the corridors of the underground lab where much of the film takes place. I've stared down the seemingly endless elevator shaft that the film's climax is centered around. I've talked to Kevin Bacon while dressed from head to toe in blue, ready to be digitally removed from his shot. I've listened to crazy Paul Verhoeven yell and scream and work his crew into a lather. I've seen the FX tests of a man's body disappearing layer by layer, and I've seen actual finished footage of the remarkable process that takes Bacon's body from him. It's all evocative stuff, and reading the script filled in the blanks for me. I think this could be a return to form for the Raving Dutchman, and that delights me. The script gives him plenty of room to play nasty, but without undercutting the message of the picture. This could be one of the summer's most toxic little kicks, and it just leapt onto my must-see list. If they manage to capture the doomed horror of the script and if Bacon's performance avoids the easy traps of excess, then this could be something worth getting excited about.
ARE YOU AFRAID OF THE DARK?
I know you're hearing it from every direction this week on this site, but I'm going to say it again, too. See PITCH BLACK this weekend. It's a great ride, a film I'm deeply fond of, and it's the exact kind of thing that I come here to write about. It's a little film that was flying under everyone's radar until just recently, and I'm glad we've been able to give it a push. My original review sums my feelings up nicely, but I'd like to add that I often find myself rooting for the little guy, and this movie's got "little guy" written all over it. It's got a talented cast that most of America's never heard of. It's got a second-time director who isn't a draw of any particular potency. It's being released during what's traditionally a dump time, a bad sign to some people. Ignore all that. Just gather up your friends, head down to the theater, and get ready to meet Riddick, Fry, and the others. Get ready to jump and cheer and laugh and scream. Get ready to have fun. What better recommendation is there than that?
KORN TOUR GETS SPIKED
This coming Friday also sees the kickoff of the new Korn tour. Why would I mention a tour by a hard-rock band in this column? Maybe it's got something to do with the fact that Korn will be featuring animation provided by none other than Spike of "Spike & Mike's" fame, sick and twisted shorts that will be playing on giant screens right there on the main stage. I recently had the opportunity to meet Spike and spend the afternoon with him in and around his offices, a veritable archive of the best animated shorts of the past few decades. I'm still downloading all the tapes from that encounter into my transcriber, so keep your eyes peeled for that in the next few. Also keep your eyes open for when Korn hits your town. Just seeing Spike blow away all those Teletubbies in his special videotaped opening segment is worth going. All the great shorts you'll see are just the icing on the cake.
Well, that's about it for this week. I know this has been an uncharacteristically brief edition of the RUMBLINGS, but that's because there's still the last few '90s lists on the way, and I'm working hard to finish those up. I've also got a special look coming at the impending release of Krystof Kieslowski's epic THE DECALOGUE on video, and I'm working on a big Script Reading Round-Up column for sometime in the next month. Add to that the super-secret upcoming special promotion that Harry and I are working on to announce in the next few days, and there's plenty to keep me busy for the next week until we speak again. Until then…
"Moriarty" out.