Hola all. Massawyrm here.
Fuck. Yes. Absent are the stepandfetchbots. Exiled is every bit of robot genitalia. And someone even told the Transformers to empty their bladders before the movie. Just about everything terrible that has come to annoy the living shit out of fans from the last two movies is gone. What's left? Pure unadulterated Michael Bay for two hours and forty minutes. You read that right. Robots, cars and explosions for two hours and forty minutes. If that sounds terrible to you, then seriously, what the fuck are you doing even thinking about seeing a Michael Bay movie? If you're still holding out hope that Bay has discovered such subtle nuances as "story", "character" or "dialog" then I've got a bridge to sell you. Those ain't his bag. Bay is the reigning king of blowing shit up, and here he manages to outdo even himself. And if that's what you want out of TRANSFORMERS: DARK OF THE MOON then you will clap and giggle like a three year old tasting ice cream for the first time.
Bay attacked this thing like he had something to prove, and let's face it, he did. After the complete and utter mess that was TRANFORMERS: REVENGE OF THE FALLEN - a film for which even his most devoted and diehard fans wanted to see him on the receiving end of a CALIGULA wedding scene re-enactment – he needed to come back and be all the Bay he could be. And boy howdy, did he. But not only did he make a better film than the second (by a wide margin) he managed to make an even better film than the first. The first film wowed us with giant robots; this film wows us with giant robots going positively medieval on one another while tearing apart an entire city doing it.
You have never seen destruction on the level that this film unleashes in its final act. Never. Humans are slaughtered wholesale, the Autobots finally grow a pair and unleash an unholy vengeance on the Decepticons and buildings get used as weapons. This is summer spectacle at its most unbelievable. It puts every alien invasion movie you've ever seen to shame. And it is far and away meaner than either of the previous films. There's a part of me that wishes Bay could put out an R-rated cut – which wouldn't take much to accomplish – and I can't help but think that Bay has a version like that for himself to watch at home.
If you're the type of person excited for this, hoping for a film that trumps the previous films, you will lose your geek mind for this. Optimus finally becomes the badass we've always wanted him to be, Transformers on both sides die left and right – each getting a death the film earns time and again – and every desire you might have to see robots take each other apart piece by piece will be sated.
But if you're hoping that this is nothing but ruthless, cold blooded genre filmmaking, you're expecting a bit too much. There's still plenty of moments for the kids. The two annoying mini-bots are back, there's a bevy of silly characters and bits of childish comedy sprinkled throughout; fortunately, these scenes are brief, painless and moved past very quickly. This is the kind of thing that will kill at the multiplexes but will get grumbled about endlessly and edited out in some online fanedit. But there isn't one moment in the film you can single out like the Devastator testicles or Bumblebee pissing on Turturro; the film simply never gets that moronic.
The only complaints you're going to really hear out of this are going to be those that you always hear about Michael Bay films. Does he have a lot of slick slow-mos? Yep. Jingoistic moments complete with a waving flag. Uh huh. A juvenile objectification of women? Definitely…this time in 3D. A reliance on action in lieu of character development. Perpetually. If this stuff boils your blood, then you have no business being anywhere near a theater showing this. Odds are you won't be able to hear MIDNIGHT IN PARIS over the rumble of this three auditoriums over anyway. The only thing you'll find different from every other Bay film is that someone finally told him that when something is happening simultaneously all over the world, it probably shouldn't be afternoon everywhere when it does. He's discovered how the sun works.
This thing is awesome. It never lags, always one ups itself and it even makes sure that this time around every single character has something cool to do – even the most tertiary of characters gets their moment in the sun. It's not high art; it is Transformers. And if robots smashing together and tearing each other's heads off sounds like something you're ready to sign on for, this movie will tickle your inner thirteen year old until he pisses himself.
I shudder to think what Michael Bay has in mind to ever top this. Frankly, I don't know if he can. It's not the best film he's ever made, but it is the best TRANSFORMERS film he's ever made; in fact, this is the very best TRANSFORMERS anything ever made. And it is a spectacle that has to be seen to be believed.
Until next time friends,
Massawyrm
Got something for the Wyrm? Mail it here.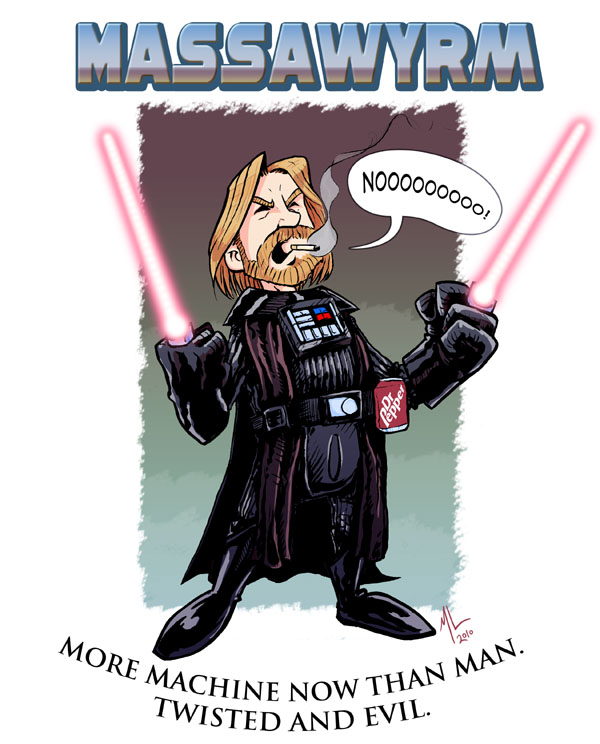 Or follow my further zany adventures on Twitter.