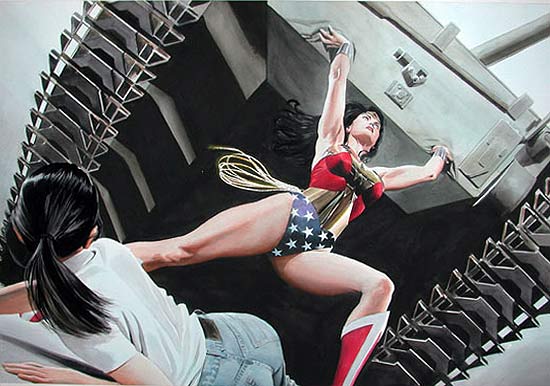 "I would say that Wonder Woman is probably something that, to me, would be not just a satisfaction, but almost a [catharsis], and I was born to make it," Danish filmmmaker Nicolas Winding Refn ("Bronson," "Valhalla Rising," "Drive") told the BBC last year, and now he says his "Drive" star Christina Hendricks is his choice for Amazon warrior.
Mind you, Warner Bros. hasn't yet hired him to put DC Comics' most famous superheroine on the big screen, but Hendricks has been a fan of the Themysceran princess since she was kid wearing Wonder Woman underoos.
Refn has a lot on his plate, including a remake of Warner Bros.' "Logan's Run" (starring "Drive" star Ryan Gosling) in preproduction.
At 5'8" Hendricks is tall enough for the role, but she also turned 36 in May. So "Logan's Run" will have to make Warners plenty of money if they'll consider a female lead who's pushing 40.
From a 2005 interview with Joss Whedon, who cast Hendricks in a recurring role in his "Firefly" TV spaceship show, and who at the time was writing and planned to direct his own "Wonder Woman" movie:
Q: You've also talked about [Wonder Woman] being very young. Are you thinking college-age? Teen-ager?

WHEDON: I'd say that's a pretty flexible thing because it's her first time setting foot in the world of men. But that doesn't necessarily mean she has to be a teen-ager. So, yes, they are thinking of a young woman. They're thinking, I expect, of something franchise-able.
Find all of Vulture's story on the matter here.