Hola all. Massawyrm here.
There's very little to be said about THE HANGOVER PART II that won't be repeated time and again not only by everyone who reviews it, but by everyone who sees it. Whether you love it, hate it or come down somewhere in the middle, it is hard to ignore the fact that it is the exact same movie as the original. I don't mean to say that it is very much like the original, but rather that it is beat for beat the very same movie. One critic recently joked that the script was written entirely with the find/replace function of Final Draft, and I'm not in any way certain that it wasn't. For some, this will prove to be a masterstroke, a genius tactic to create a true sequel in every sense of the word; for others, like myself, it will kill what you loved about the first film.
What made THE HANGOVER so unique was that it served not only as a raunchy comedy, but as a tautly paced mystery. If you bought into the film's premise, you were not only laughing at the madness that unfolded before your eyes, but you hung on the very edge of your seat, eager to discover the fate of the missing groom. The question of whether he was alive or dead drove that film from set piece to set piece, and added weight to every crazy thing these jokers got into. Unlike many films of its type, they weren't after some simple McGuffin; they were looking for their friend, terrified that they would have to explain to his bride how they got him killed in Vegas. And the payoff for that film was perfect. It delivered in terms of story and it stood apart from the much more moronic fare that you typically find in the R-rated, raunchy comedy landscape.
But by repeating the original film note for note, they strip the film of that element. Eagle eyed viewers will catch all of the "gun burying" Todd Phillips and his writers are up to and have the mystery figured out in the first half hour. Worse still, lacking the tension of the first film, it hits points where it begins to drag; scenes that are supposed to be of the protagonists wrestling with the pathos of the situation play more like those of a clown pretending he doesn't see his cohort sneaking up with a pie – even though all of the kids at the show are screaming out for him to look behind him. You know what's coming – after all, you've seen this movie already – and you just wish they would get the fuck on with it.
That said, the film is just as funny as the original. Most of the jokes work, and there are at least half a dozen that will all but knock you out of your chair. And it's hard to slam a comedy when it serves its primary purpose. Even if you end up hating this film, it will make you laugh at least of couple of times; the jokes are simply too audacious for you not to. Phillips and company took what time they would have spent writing a story (or a new mystery) and put it all into punch up. The result is a film that understands that it needs to go further than the original did in order to feel fresh, and on that count they score big. THE HANGOVER II takes all the necessary steps to be raunchier and even more debaucherous than its predecessor, and manages to serve up the same level of laughs you found in the first one.
If you've watched the original a number of times and wish you could watch it again with all new jokes, man are you in luck. But if your enjoyment of the first hinged upon being caught up in its story, then this will leave you wanting, despite the laughs. And it is safe to say that if you hated the original, this has nothing for you. This was a weird gamble and for me it came up short. But I laughed, and this time around that seems to be all they were going for.
Until next time friends,
Massawyrm
Got something for the Wyrm? Mail it here.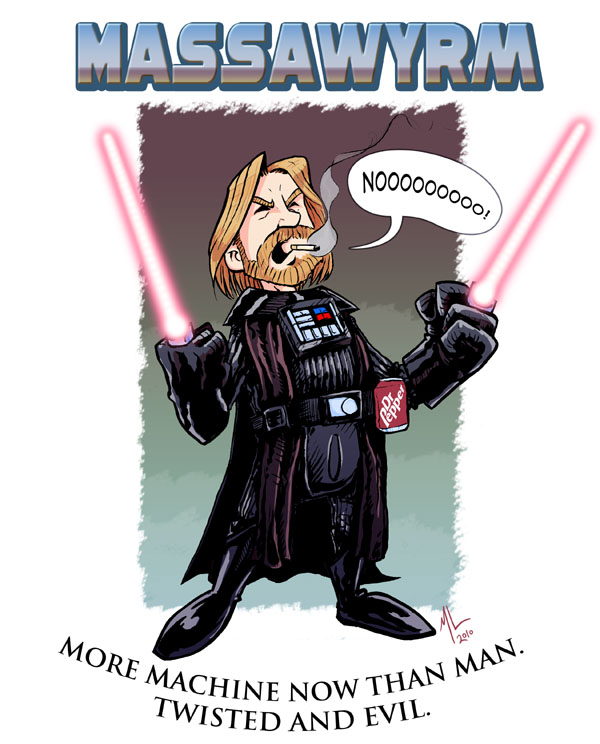 Or follow my further zany adventures on Twitter.