Hola all. Massawyrm here.
Just when you thought the FAST AND THE FURIOUS films had run out of steam, they up and reinvent them, bringing a fresh spirit and renewed sense of self that flips the dynamic and turns it from something on its last legs into a character driven series of films that could potentially be sustained indefinitely. No mere retread of its previous efforts, FAST FIVE aims to please the fans by offering everything they love about the films without feeling like it has to pander to its series roots. No longer a series about street racing, it has become about criminals who pull off incredible jobs with their unmatched skills behind the wheel. So it seems like a no brainer to shift into fifth gear and turn this into a heist film as they assemble the fan favorites from the previous films into one superteam eager to bring down a South American crime lord.
The series has had on odd life. After the (now ten year old) original made a star out of Vin Diesel, the series revved up its inevitable follow-up only to have Diesel price himself out so he could flee to follow his dream of making more geek-geared fair. With Diesel out, the screenwriters were left with the terrible task of gutting their own script of most of its characters but keeping its premise, leading to the laugh out loud bad 2 FAST 2 FURIOUS. After that, they attempted to reboot the series with TOKYO: DRIFT, creating one of its best characters to date – Han – but also making a film worse than its notoriously homoerotic predecessor. Finally, once most of the original cast had blown all of their juice in Hollywood, none of them quite achieving the promise of their early work, everyone returned for one last hurrah. And that fourth film made so much fucking money that there was no way to avoid making a fifth. And that's when they let Justin Lin loose to make what may well be remembered as the very best FAST AND THE FURIOUS film ever made.
This is the film you'd imagine Michael Bay would have made if he'd been given the reins of this series. It's a heist film chock full of buddy moments, violent shoot outs, insane car stunts, hot women, sleek cars and more wanton destruction than in any of the previous films combined. It is a film so big and badass that they had to bring in Duane "the mother fucking Rock" Johnson just to present a nemesis awesome enough to pose a threat to Vin and his wily band of hot rodding techies and thieves. You thought the previous films were loud and over the top? This is the proverbial knob that goes to eleven.
But what makes this film so effective is that it isn't a movie that seems to be in a desperate search for more money as much as it is a film deeply in love with its own characters. FAST FIVE pays off the audience for sticking with it and even for suffering through its two terrible installments by making callbacks to each film in the series while also giving everyone something very real to do. They bring back all the best characters, drag out all of their bullshit and baggage and let loose with the drama in between crazy action sequences. And Lin, having recently directed a number of the very best episodes of COMMUNITY, has honed his ear for comedy to a razor sharp edge, finding the funny every chance he gets.
FAST FIVE is two hours and ten minutes of nonstop machismo that never slows down long enough to get boring. Fun from beginning to end, it will not only entertain the living shit out of longtime fans, it will prove to be the one installment of the series that haters might end up enjoying. It's not a street racing film - it's a heist film – a stroke of brilliant genre hopping that is well deserved and makes for the kind of dynamic you kind of wish had been a part of the series all along.
That said, to say the film plays fast and loose with the laws of physics is being incredibly generous. Its final sequence alone will drive science geeks out of their fucking minds trying to calculate the momentum issues generated by the things they attempt – so if you're the kind of person easily annoyed by small things like people surviving being thrown through glass or bullets sparking off metal objects, then this thing will make you climb the walls and shit rainbows. It's not science; it's FAST AND FURIOUS.
Between this and his episodes of COMMUNITY, Lin has quickly jumped to the top of my list of guys to watch. After the last film, I was satisfied with the idea of it being the end of the series. But now? I'm ready for a sixth film – especially if they can keep up this level of energy and continue with its new, heist driven plot structure. Oh, and be sure to stick through the credits to see what the premise of that sixth film will be.
Holy shit, this was a good time. Take friends. See it big and loud. Summer's here folks, and this is the first fun film of it.
Until next time friends,
Massawyrm
Got something for the Wyrm? Mail it here.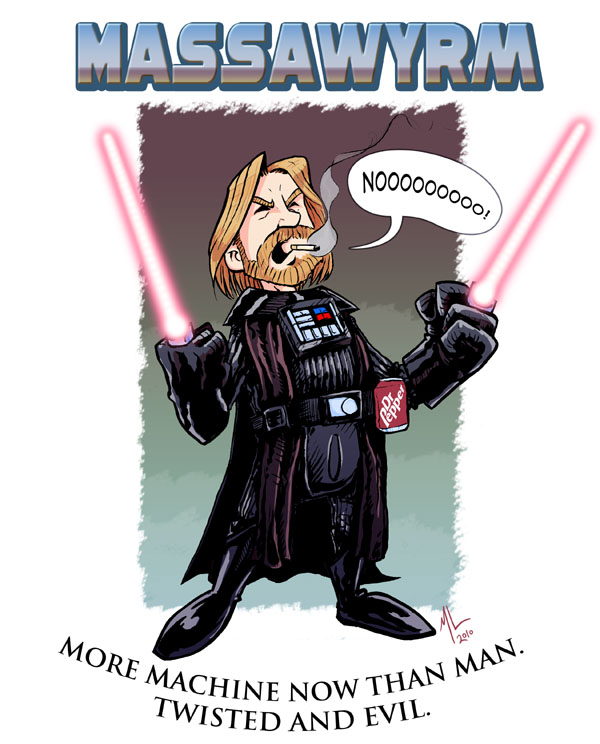 Or follow my further zany adventures on Twitter.