Movie News
Massawyrm loves FAST FIVE because, you know, #*$% the laws of physics!
Hola all. Massawyrm here.
Just when you thought the FAST AND THE FURIOUS films had run out of steam, they up and reinvent them, bringing a fresh spirit and renewed sense of self that flips the dynamic and turns it from something on its last legs into a character driven series of films that could potentially be sustained indefinitely. No mere retread of its previous efforts, FAST FIVE aims to please the fans by offering everything they love about the films without feeling like it has to pander to its series roots. No longer a series about street racing, it has become about criminals who pull off incredible jobs with their unmatched skills behind the wheel. So it seems like a no brainer to shift into fifth gear and turn this into a heist film as they assemble the fan favorites from the previous films into one superteam eager to bring down a South American crime lord.
The series has had on odd life. After the (now ten year old) original made a star out of Vin Diesel, the series revved up its inevitable follow-up only to have Diesel price himself out so he could flee to follow his dream of making more geek-geared fair. With Diesel out, the screenwriters were left with the terrible task of gutting their own script of most of its characters but keeping its premise, leading to the laugh out loud bad 2 FAST 2 FURIOUS. After that, they attempted to reboot the series with TOKYO: DRIFT, creating one of its best characters to date – Han – but also making a film worse than its notoriously homoerotic predecessor. Finally, once most of the original cast had blown all of their juice in Hollywood, none of them quite achieving the promise of their early work, everyone returned for one last hurrah. And that fourth film made so much fucking money that there was no way to avoid making a fifth. And that's when they let Justin Lin loose to make what may well be remembered as the very best FAST AND THE FURIOUS film ever made.
This is the film you'd imagine Michael Bay would have made if he'd been given the reins of this series. It's a heist film chock full of buddy moments, violent shoot outs, insane car stunts, hot women, sleek cars and more wanton destruction than in any of the previous films combined. It is a film so big and badass that they had to bring in Duane "the mother fucking Rock" Johnson just to present a nemesis awesome enough to pose a threat to Vin and his wily band of hot rodding techies and thieves. You thought the previous films were loud and over the top? This is the proverbial knob that goes to eleven.
But what makes this film so effective is that it isn't a movie that seems to be in a desperate search for more money as much as it is a film deeply in love with its own characters. FAST FIVE pays off the audience for sticking with it and even for suffering through its two terrible installments by making callbacks to each film in the series while also giving everyone something very real to do. They bring back all the best characters, drag out all of their bullshit and baggage and let loose with the drama in between crazy action sequences. And Lin, having recently directed a number of the very best episodes of COMMUNITY, has honed his ear for comedy to a razor sharp edge, finding the funny every chance he gets.
FAST FIVE is two hours and ten minutes of nonstop machismo that never slows down long enough to get boring. Fun from beginning to end, it will not only entertain the living shit out of longtime fans, it will prove to be the one installment of the series that haters might end up enjoying. It's not a street racing film - it's a heist film – a stroke of brilliant genre hopping that is well deserved and makes for the kind of dynamic you kind of wish had been a part of the series all along.
That said, to say the film plays fast and loose with the laws of physics is being incredibly generous. Its final sequence alone will drive science geeks out of their fucking minds trying to calculate the momentum issues generated by the things they attempt – so if you're the kind of person easily annoyed by small things like people surviving being thrown through glass or bullets sparking off metal objects, then this thing will make you climb the walls and shit rainbows. It's not science; it's FAST AND FURIOUS.
Between this and his episodes of COMMUNITY, Lin has quickly jumped to the top of my list of guys to watch. After the last film, I was satisfied with the idea of it being the end of the series. But now? I'm ready for a sixth film – especially if they can keep up this level of energy and continue with its new, heist driven plot structure. Oh, and be sure to stick through the credits to see what the premise of that sixth film will be.
Holy shit, this was a good time. Take friends. See it big and loud. Summer's here folks, and this is the first fun film of it.
Until next time friends,
Massawyrm
Got something for the Wyrm? Mail it here.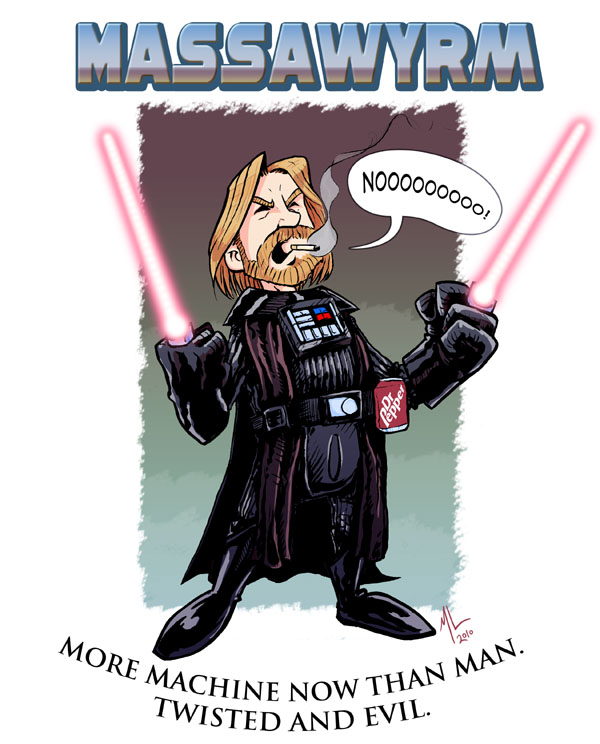 Or follow my further zany adventures on Twitter.
+ Expand All

April 29, 2011, 6:25 a.m. CST

by Mr Soze

April 29, 2011, 6:26 a.m. CST

by IndustryKiller!

Fucking imbecile. If I could I would ban him from reviews. What disgusting taste he has. Pig.

April 29, 2011, 6:30 a.m. CST

by Massawyrm 1

Sorry, brother. I guess you were really pulling for me to love PROM as much as you did.

April 29, 2011, 6:30 a.m. CST

by GINGE_MUPPET

Fuck me ... you sound like a 10 year old kid at a Birthday party who's just had too much sugar ... I'm pleased this site seems to have been paid good money to promote this shit but lets not pretend crap like this is why we come here or love movies in general ...

April 29, 2011, 6:30 a.m. CST

by Mel Garga

The common thread of all threads.

April 29, 2011, 6:31 a.m. CST

by IndustryKiller!

All this fucking mongoloid needs is well shot stunt work. What kind of fucking ridiculous piece of shit thinks of film in that capacity?? He truly is a lesser being. Fuck you Massawyrm, you are the most lowest denominator in film criticism. Just torturous to the realm of film at every turn. How you live with yourself, Cargill, is beyond me.

April 29, 2011, 6:33 a.m. CST

by Massawyrm 1

Well, clearly not by drinking as much alcohol as you do. Sleep it off, asshole.

April 29, 2011, 6:35 a.m. CST

by Denty420

I couldn't get into the fourth instalment at all - I don't know why, but the first twenty minutes didn't hook me. That's all I had a chance to watch so I've given it a pass up to now. However you're generally not far off the mark with your reviews so I might try 4 again before seeing this.

April 29, 2011, 6:45 a.m. CST

by Nikhil Sunil

It amazes me how completely fucking retarded some people on the internet can be. Fast Five has a 78% fresh rating on rottentomatoes and a 100%! when you choose top critics. Obviously massawyrm isn't the only one who likes the movie you festering pile of turd. Always wanted to say that. :) Anyway, massa, don't let idiots like this guy bother you, we love your reviews.

April 29, 2011, 6:50 a.m. CST

by photoboy

I dunno. I actually liked Tokyo Drift the most, I'm still waiting for one of the sequels to bring Lucas Black's character back. I guess I must be in the minority in liking that one.

April 29, 2011, 6:50 a.m. CST

by QuietMan297

...didn't Han's character die in Tokyo Drift?

April 29, 2011, 7:03 a.m. CST

by IndustryKiller!

I'm not kidding, time after time you err on the side of ridiculous bias for big budget cynical horseshit. That's indicative of a bias toward awful filmmaking. Defend yourself on a basis other than "It's not meant to be anything more than big budget action horseshit, and on that level it works." Please, I await your response. I find your cynical disdain for quality to be repugnant, I don't see how exactly the impetus is on me to defend myself given your track record. By all means explain.

April 29, 2011, 7:15 a.m. CST

by steve

Dang, did Massa come and take a dump on his car or something?

April 29, 2011, 7:20 a.m. CST

by IndustryKiller!

take a dump on the artform I happen to love. Over and over again, throughout the entirety of his film reviewing career. He is almost never called out for it, nor will he under Harry Knowles. If he's getting payed to contribute to aint it cool, he straight up doesn't deserve it, in fact, it's an assault on cinema. This kind of lowest common denominator doesn't deserve a voice this loud. He contributes to everything that is simple and wrong about genre filmmaking. That's an inarguable fact. You want better films?? Demand it! Cause assholes like Massawyrl won't.

April 29, 2011, 7:22 a.m. CST

by NoMotivatioN

Alright , great to hear. I had a feeling this would be good, still Gonna judge on my own but still good to hear. As usual Mr.M. Good stuff... I liked SuckerPunch!! There , sorry, I had to say it and get it off my chest. But your still the the go to " hey wonder what he thinks" reviewer for me. Peace out playa .... lol.

April 29, 2011, 7:24 a.m. CST

by NoMotivatioN

April 29, 2011, 7:25 a.m. CST

by Spandau Belly

They were always about heists right from the start. The third one was the only one that really was about street racing itself. But even that one had a bunch of yakuza stuff mixed in. These movies were never DAYS OF THUNDER or something.

April 29, 2011, 7:25 a.m. CST

by claxdog

What the fuck is wrong with that? If this Movie(I will not go as far as calling it a film)does that then it has accomplished its purpose.

April 29, 2011, 7:27 a.m. CST

by Denty420

Dude, I thought asimovlives had the monopoly on hate with his diatribes against JJ but you're becoming a contender. WTF did Massa review that was so bad?

April 29, 2011, 7:28 a.m. CST

by claxdog

April 29, 2011, 7:30 a.m. CST

by Massawyrm 1

The impetus is on you because you're the one who decided once again to twiddle his dick in public and make a batshit crazy claim akin to the same movie hating bullshit you've been spewing for close to a decade here in talkback. Oooh! You threw around the word mongoloid and dropped some ad hominems without addressing the film in question or its merits! Shocker coming from you. I'm blown away, really. We've had many trolls in these forums over the years, and you've been one of the longest running and most worthless among them. I don't give a shit if you're not kidding, just as I haven't given a shit about any of the screed you've pumped into this forum week after week, year after year, over the course of my tenure here on the site. How do I live with myself? Easy. I'm not you. I don't take myself half as seriously nor is the bulk of my life spent screaming in these forums. You're a sad, angry little man, and not interesting or engaging enough to have a real argument with - which, I imagine, is why I can't remeber ever reading a legitimate argument of yours here in the pits. If you develop an A game, bring it sometime - otherwise, arguing with you is a waste of both of our time. Though, arguably, you seem to have more sitting around than most.

April 29, 2011, 7:32 a.m. CST

by claxdog

April 29, 2011, 7:32 a.m. CST

by Massawyrm 1

Yes, but they weren't STRUCTURALLY heist films. This one feels more like OCEANS 11 than FAST & FURIOUS.

April 29, 2011, 7:33 a.m. CST

by FilmBuf82

He sounds like THAT guy. I want your top 5 list of all time to judge your definition of quality. Otherwise, shut up. You are anonymously bitching on an online forum. Better get in the car, you'll be late for your shift at Blockbuster.

April 29, 2011, 7:33 a.m. CST

by FilmBuf82

He sounds like THAT guy. I want your top 5 list of all time to judge your definition of quality. Otherwise, shut up. You are anonymously bitching on an online forum. Better get in the car, you'll be late for your shift at Blockbuster.

April 29, 2011, 7:36 a.m. CST

by CHRISTIAN_BALE_TRASHED_MY_LIGHTS

So, Industrykiller!, did you enjoy the Royal Wedding?

April 29, 2011, 7:39 a.m. CST

by irishraidersfan

decent dialogue, plot, performances... Just kiddin'! I'm sure for what it is, it's fine. Just not my cup of tea ;)

April 29, 2011, 7:40 a.m. CST

by CHRISTIAN_BALE_TRASHED_MY_LIGHTS

Although he wished it contained 100% more Tom Welling.

April 29, 2011, 7:43 a.m. CST

by IndustryKiller!

A game? From Wild Hogs to Fast Five, you've been blazing a trail through praising obviously inferior filmmaking, and the impetus is on me to bring an A-Game?? Please. Again, you may be bolstered by a cabal of shallow thinkers, but it's not on me to defend my position, my friend, it's squarely on you. You have never, ever done so in your reviews. and until you make a valid argument for your tastes then it never will be. If you think that's what you've been doing, then straight up, you're wrong. Saying "I like the action so I like the movie" is not a valid or defensible argument, it's an indicator of your lack of understanding of quality filmmaking. That's not me dodging, I'm more than happy to take you on on a filmmaking level, but you're lacking on that front. You're Fast Five review is indicative of that, the crux of our argument being that it features "buddy moments, violent shoot outs, insane car stunts, hot women, sleek cars" and "nonstop machismo that never slows down long enough to get boring." That's not a fucking properly defensible argument, hoss. That's an example of what's wrong with your cynical point of view. Mainly your lack of taste for any kind of specific point of view or shooting style. Again, you are the EPITOME of the problem of film reviews.

April 29, 2011, 7:44 a.m. CST

by Righteous Brother

as I think Big H is the only one who's reviewed it here so far.

April 29, 2011, 7:45 a.m. CST

by ATARI

was Ocean's 11 meets Fast and the Furious -- and my butt would be in a theater.<br> <br> I'll be going to see this on Sunday.<br> <br>

April 29, 2011, 7:45 a.m. CST

by 8 Diagram Pole Fighter

NYEEEAAAARRRRGGGGHHHHH!!!!!

April 29, 2011, 7:47 a.m. CST

by darthderp

April 29, 2011, 7:47 a.m. CST

by IAmTommyWiseau

Im seriously worried about him. I get the impression that he doesnt have any real friends which is why he spends his time tweeting celebrities. Judging from his comments here, there isnt really much happiness in that man's life. Im worried that, if he becomes too mocked here, he'll end up hurting himself. I'm serious about this. He's probably got a very fragile state of mind and I'd hate to hear that he's gassed himself in his car or thrown himself of a roof or something!

April 29, 2011, 7:47 a.m. CST

by 8 Diagram Pole Fighter

April 29, 2011, 7:48 a.m. CST

by IndustryKiller!

"If you love Lars Von Trier, you make me feel self conscious about my taste in film, ergo, I dislike you." If that's the case, and only if that's the case, then yeah, Antichrist is the best film ever made.

April 29, 2011, 7:48 a.m. CST

by 8 Diagram Pole Fighter

April 29, 2011, 7:50 a.m. CST

by darthderp

April 29, 2011, 7:50 a.m. CST

by theblackvegtable

Fuck that idiot industrykiller. He sounds like the kind of tool who sits at home crying while whacking off to Gone with the wind

April 29, 2011, 7:52 a.m. CST

by 8 Diagram Pole Fighter

take you, Katherine, to be my wedded wife, to share with you God's plan for our lives together united in Christ. And with God's help, to strengthen and guide me I will be a strong spiritual leader for us in our life, for better, for worse, in sickness and in health, in joys and in sorrows, until death do we part. I give you all that I have myself and my love. All these things I pledge to thee in the name of our Lord Jesus Christ. With this ring I seal my vow of love to you, Katherine, and pray I may fulfill God's place in our home, in the Name of the Father, Son and Nyeeaarrgghh."

April 29, 2011, 7:52 a.m. CST

by CHRISTIAN_BALE_TRASHED_MY_LIGHTS

I heard someone pretend to cough, move into a barely audible "Nnnnyeeeargh..." and then attempt to stifle a giggle. I'm sure it was Fiennes, that naughty bastard.

April 29, 2011, 7:53 a.m. CST

by irishraidersfan

"Kate's no Diana though." Thank fuck! Otherwise, he'd be marryin' his mom! Or a corpse. Just sayin'!

April 29, 2011, 7:55 a.m. CST

by 8 Diagram Pole Fighter

April 29, 2011, 7:56 a.m. CST

by 8 Diagram Pole Fighter

And Chris Evans the prince of our loins.

April 29, 2011, 7:56 a.m. CST

by IndustryKiller!

So my worst criticism here, hypothetically I might add, is liking the film that is number 6 on the American Film Institute's top 100 best films of all time list. Ooooooo harsh.

April 29, 2011, 8 a.m. CST

by darthderp

Seriously, man; yours is one of the more spiteful rants I've read here in a while, and that's saying something. So Massa liked a film that you consider lowest common denominator filmmaking. Now he's to blame for everything short of the End Of All That Is? Sorry, not buying it. Granted, I have no use for this movie series, but others do, so hey; whatever puts the cream in your oreos. Yes, you have a right to say what you want, and have whatever opinion you want, but you're coming off like you have a serious grudge here. There are better ways of expressing oneself.

April 29, 2011, 8 a.m. CST

by CHRISTIAN_BALE_TRASHED_MY_LIGHTS

You can't slate a man for loving Gone With The Wind, just as you can't slate him for loving Citizen Kane or Casablanca. It ain't no crime to love a recognised classic. For shame theblackvegtable! May Lord Bale one day trash your sins so that you can enter heaven.

April 29, 2011, 8:04 a.m. CST

by David Cloverfield

I don't know who the fuck cut the trailers for this, but they never managed to grab me with previous entries. This one however I can't wait to see. Good job.

April 29, 2011, 8:04 a.m. CST

by Ryan

..also, is anyone on here going to review Dylan Dog. I like Brandon Routh but that movie looks kind of shitty.

April 29, 2011, 8:06 a.m. CST

by IndustryKiller!

well, it is. For years I have watched this guy justify, unapologetically, terrible films. Over and over and over again. Endlessly. With little to no defense. And the film website that I discovered my love for film on has coddled him without question for far too long. As a lover of the medium, watching this clown spout his flawed reasoning without ANY kind of reasoning for far too long, why shouldn't I be angry?

April 29, 2011, 8:06 a.m. CST

by 8 Diagram Pole Fighter

Just texted the wife to see if we can watch this tonight. Wish me luck.

April 29, 2011, 8:08 a.m. CST

by IAmTommyWiseau

That one from the movie The Grudge.

April 29, 2011, 8:08 a.m. CST

by Grace_Panda

April 29, 2011, 8:10 a.m. CST

by 8 Diagram Pole Fighter

At least respect the fact that Massa's apparently put up with your very focused, very personal animosity for years. Try that with Nerdling or Beaks and you wouldn't last an hour.

April 29, 2011, 8:11 a.m. CST

by IndustryKiller!

Have taken up your mantle, just sad ad hominem that they can't defend.

April 29, 2011, 8:12 a.m. CST

by Shan

AICN reviewer Massawyrm caught in major scandal when found to have different opinion to some other people about some films. World Wide Web shocked, demands immediate inquiry.

April 29, 2011, 8:12 a.m. CST

by CHRISTIAN_BALE_TRASHED_MY_LIGHTS

You could marry into royalty too and then we could call you Sir The Wit Master. Perhaps you could even buy a town called Witville and then you would be Sir The Wit Master of Witville. Did you enjoy the Royal Wedding, by the way?

April 29, 2011, 8:14 a.m. CST

by darthderp

I'm just suggesting that your vitrol is misplaced. If Massa had made FF 5, then that'd be one thing. He's just a reviewer. Perhaps you should direct your ire to the ones who are making the films that you feel are destroying the industry. In the meantime, take a deep breath, let it out, and carry on. I'm not trying to be sarcastic here; I just have a different perspective than others might. Focus all that energy on doing something positive. Cheers.

April 29, 2011, 8:16 a.m. CST

by IAmTommyWiseau

are you making fun of me?

April 29, 2011, 8:20 a.m. CST

by CHRISTIAN_BALE_TRASHED_MY_LIGHTS

You're probably having trouble telling because of my awesome poker face so I'll leave you guessin'! Did you enjoy the Royal Wedding?

April 29, 2011, 8:21 a.m. CST

by THE_CHOPPAH_STRIKES_BACK

i'll defend Massa you ignorant cunt. Not every film needs to be FLOATING WEEDS. We don't ask you for a justification on why you watch Glee twice a week do we? Massa's reviews are the one few reasons why I come to this site. He's honest and will tell you if he likes the film, be it FAST FIVE or HOODWINKED TOO. he rarely hides behind is pretension and he'll let you drink him under the table if you buy the drinks. (that was me that night; don't worry about the tab..I knew the bartender)

April 29, 2011, 8:24 a.m. CST

by IndustryKiller!

Here's the review of the universally maligned Smokin Aces, from the director of the so bad it's almost Street Fighter the Movie bad "A-Team": http://www.aintitcool.com/node/31132 Now here's his completely idiotic review of Spielberg's lowest point of Indiana Jones 4: http://www.aintitcool.com/node/36823 And here's Pirates of the Caribbean incomprehensible third film: http://www.aintitcool.com/node/32782 This guy is a fucking menace as far as genre film is concerned. He has ZERO sense of taste or quality. He's a slave to awful green screen effects and weak characterization.

April 29, 2011, 8:25 a.m. CST

by IAmTommyWiseau

Leave me alone asshole. And why do you keep asking about the fucking royal wedding??

April 29, 2011, 8:26 a.m. CST

by IndustryKiller!

Watch Glee twice a week do ya? Ok then, nuff said about your point of view.

April 29, 2011, 8:27 a.m. CST

by darthderp

NNNNYYYYYYYYEEEEEEAAAAAAAAAARRRRRRRRGH!!

April 29, 2011, 8:33 a.m. CST

by THE_CHOPPAH_STRIKES_BACK

the sentence structure informs you that YOU watch glee, not me. Please re-read. And those three films you mentioned above are quite enjoyable if you allow yourself to be entertained. PIRATES 3 was a step up from the second film. INDY 4 can do no wrong. And SMOKIN ACES is just a fun little time. As stated above, not every film is comparable. I love THREE AMIGOS as much as TOUCH OF EVIL. One makes me laugh my ass off, and the other has martin short in it. Put an extra shot of Vodak in your coffee, it's Friday. You need it.

April 29, 2011, 8:33 a.m. CST

by CHRISTIAN_BALE_TRASHED_MY_LIGHTS

You told me that you wanted me to leave you alone but you ended with a question mark. CONUNDRUM! I was only being polite. Thought you might have enjoyed sharing in Will and Kate's big day, is all. Not a Royalist? That's cool, buddy! You have a great day, now! Go out there and be all that you can be!

April 29, 2011, 8:37 a.m. CST

by darthderp

I enjoyed Indy 4 as much as you did (yes, even the nuked fridge), but you realize you may have started a whole new rant, right?

April 29, 2011, 8:38 a.m. CST

by darthderp

April 29, 2011, 8:38 a.m. CST

by darthderp

April 29, 2011, 8:38 a.m. CST

by IndustryKiller!

Pirates 3, Smokin Aces, and, most disgustingly, Indy 4 are all great movies according to their (and his) sick twisted minds.

April 29, 2011, 8:38 a.m. CST

by darthderp

April 29, 2011, 8:40 a.m. CST

by IndustryKiller!

I seriously hope by then there will be an actual defense of this guys flagrantly simplistic view of cinema. It hasn't happened yet. Until then, feel free to watch The Onion's brilliant video of the quality of Fast and the Furious' storytelling, and Massawyrms taste in film in general: http://www.youtube.com/watch?v=iIY5b1JMvGs

April 29, 2011, 8:40 a.m. CST

by Mr Soze

April 29, 2011, 8:41 a.m. CST

by Mozzerino

Dude, just stay above it and ignore the flaming little turd. It's obvious that getting into arguments or an insult-off with these fuckers is exactly what they want, probably because that's the only way they can get attention (on the net or in real life) So just stay out of it. I know it can be hard sometimes, but that's always for the better. Good review btw (although I just can't muster any enthusiasm for this film personally).

April 29, 2011, 8:41 a.m. CST

by Mr Soze

April 29, 2011, 8:41 a.m. CST

by StrokerAce

Have you actually SEEN Fast Five?

April 29, 2011, 8:41 a.m. CST

by claxdog

April 29, 2011, 8:41 a.m. CST

by jawsfan

April 29, 2011, 8:41 a.m. CST

by darthderp

April 29, 2011, 8:45 a.m. CST

by 8 Diagram Pole Fighter

I hope NBC news is covering the event.

April 29, 2011, 8:50 a.m. CST

by FilmBuf82

You are coming across as a pompous asshole who bashes people's opinions and reviews. That's what I'm saying. I'm going to my work now to earn a paycheck, then going home to make love to my wife. Enjoy your tissue and your hand.

April 29, 2011, 8:50 a.m. CST

by THE_CHOPPAH_STRIKES_BACK

in no such way did i say any of those three films are GREAT. they are fun, entertaining and good. there's a big fucking difference. Great is THE TRUMAN SHOW. Fun entertaining and good is THE CABLE GUY. Separate but equal in my eyes.

April 29, 2011, 8:56 a.m. CST

by 8 Diagram Pole Fighter

April 29, 2011, 8:57 a.m. CST

by THE_CHOPPAH_STRIKES_BACK

the preceeding two and a half hours were aces to him.

April 29, 2011, 8:59 a.m. CST

by CreasyBear

Disagreeing with Massa on his reviews is fair game, but the idea that movies like this get made because critics praise them is a huge stretch. All critics could demand thoughtful, low-budget films about hopelessness and suffering starring classically trained actors, and it wouldn't change the fact that there is an audience for Fast and Furious. Hell, there's a big audience for HOP, Transformers, Tyler Perry, and all the cliche` romcoms. Not my cup of tea, but different markets bring in more dollars. Movies are a big buffet table of different styles. If some of the food looks like shit to you, just keep scanning along the glass sneeze-guard. Massa liking or disliking an "LCD" movie isn't going to alter the varying types of movies that have always been available and will always be available for people to choose to see.

April 29, 2011, 9 a.m. CST

by 8 Diagram Pole Fighter

New York Times rates it 80. It's the end of the world, I tells you.

April 29, 2011, 9:02 a.m. CST

by Nasty In The Pasty

Is THAT a movie you want to remind people of...?

April 29, 2011, 9:03 a.m. CST

by 8 Diagram Pole Fighter

This will be a tough negotiation.

April 29, 2011, 9:05 a.m. CST

by 8 Diagram Pole Fighter

Well, like Meredith Veira so keenly pointed out, she's in front of an audience of 2 billion people. That's a lot of pressure. I think her love for William Mountbatten-Windsor is for realz.

April 29, 2011, 9:09 a.m. CST

by CreasyBear

Considering it was clearly trying to tap the energy of Ritchie's Snatch (ha, sorry), it got bogged down in slow, sad moments where we felt a little too much for some of the characters, especially when they got off'ed. Matthew Fox dying behind the counter was downright pathetic. Snatch has a high body count, but Ritchie wisely keeps every one of the kills obliquely out of frame so we can laugh along at the black comedy without the downer of the movie getting somber or grim.

April 29, 2011, 9:10 a.m. CST

by 8 Diagram Pole Fighter

April 29, 2011, 9:13 a.m. CST

by antonphd

i love it!! i've been here since Titanic. i found this website while browsing the internet at the library looking for reviews of Titanic after having watched it 3 times opening weekend and i found Harry's gushing love letter to Kate. i've been reading AICN most days ever since. but the thorn in the side of most everyone who frequents AICN have been the douche bags who shit on the aicn writers. social misfits who don't know how to be respectful guests to their hosts. assholes who somehow think that their opinions not only matter more than everyone else but that they have a right... hell... a responsibility to shove their opinion down everyone's throat until they agree with it. mother fuckers every one and i'm relishing watching how they squirm trying to slap back after being SMACKED DOWN by the aicn writers who've apparently just fucking had enough

April 29, 2011, 9:17 a.m. CST

by Terrence

April 29, 2011, 9:21 a.m. CST

by 8 Diagram Pole Fighter

I have to disagree. Getting married in a small church is quite enough to give you the butterflies, but I can't even imagine the nerves she must've had in that freaking cathedral, let alone being filmed with HD cameras for the world to see. All in all, I give the royal wedding 3.5 out of 5 thumbs up. Too much exposition, and could use some more hot women.

April 29, 2011, 9:24 a.m. CST

by Tristan

Surely we can read an opinion other than Harry's.

April 29, 2011, 9:25 a.m. CST

by openthepodbaydoorshal

I understand your stance, support junk and we'll get junk tenfold from Hollywood. But this is B movie stuff, the stuff Hollywood would crank out on a weekly basis to fill theatres. Yes, the budget has changed, but choppah strikes back makes a good point. "Popcorn" cinema aint going away, at least we can support it when its well made and entertaining.

April 29, 2011, 9:25 a.m. CST

by darthderp

April 29, 2011, 9:27 a.m. CST

by cookylamoo

I know this defies the laws of physics...but I never studied law.

April 29, 2011, 9:28 a.m. CST

by Datascream

I guess movies aren't allowed to be entertaining and fun anymore. What a snobby, pretentious, self-serving, douche you are. Who gives ten shits what you think? God forbid someone speaks their honest opinion around you. You must be a blast at parties when people want to pop a movie in. Sitting in the corner alone with your arms crossed in front of your chest pouting because YOU wanted to watch Gone With The Wind, while they opted for Van Wilder. Oh wait, you don't surround yourself with such 'lower class' people. You hang around with those posh, hipsters that are always way too busy when you call.

April 29, 2011, 9:32 a.m. CST

by Wookie_1995

I might rent this one...for a dollor...not getting my 10.50

April 29, 2011, 9:32 a.m. CST

by Wookie_1995

April 29, 2011, 9:36 a.m. CST

by Tristan

April 29, 2011, 9:36 a.m. CST

by darthderp

Remember who her grandmother-in-law is, and the fact that there is royal protocol to follow. I'm sure she loves the guy, and after being with him for so long, she damn well better know that she's in the fishbowl now, but it's the biggest day of her life; she was probably just praying that she didn't mess anything up.

April 29, 2011, 9:42 a.m. CST

by 8 Diagram Pole Fighter

But enjoyable, nonetheless.

April 29, 2011, 9:43 a.m. CST

by knowthyself

April 29, 2011, 9:45 a.m. CST

by darthderp

April 29, 2011, 9:53 a.m. CST

by The Founder

April 29, 2011, 9:55 a.m. CST

by CHRISTIAN_BALE_TRASHED_MY_LIGHTS

How fucking old are you, dude? Did you have to cling to one of those pieces of ice, like in the movie? Did you watch the recent Supernatural episode where one of the angels stopped the Titanic from sinking? Did it make you happy or sad? Did you watch the Royal Wedding?

April 29, 2011, 9:58 a.m. CST

by CHRISTIAN_BALE_TRASHED_MY_LIGHTS

Or reading the books. Or, if you get can it on a Kindle, then you can use that too. There's probably also a comic book series out there somewhere but I'm not 100% sure about that, so stick with one of the other options.

April 29, 2011, 10 a.m. CST

by deathblurr

I enjoyed it. I mean, it got bashed pretty severely. I just don't know what people were expecting from it? Oh well.

April 29, 2011, 10 a.m. CST

by roguechef664

Anyone here see Finishing the Game?? I swear, everyone forgot that one, and it's on Showtime all the time now. Seems to me he knew what he was doing there.

April 29, 2011, 10:04 a.m. CST

by 8 Diagram Pole Fighter

Can't find a vid of it ... but here's a clip of the wedding night. Drogo is the mack daddy of all the Eastern lands.

April 29, 2011, 10:05 a.m. CST

by 8 Diagram Pole Fighter

http://www.youtube.com/watch?v=TX3L2a-Oarw&feature=related

April 29, 2011, 10:05 a.m. CST

by claxdog

April 29, 2011, 10:08 a.m. CST

by HarveyManfrenjenson

He started out badly with his first two posts, but the rest of his comments have been pretty coherent and readable. Far more so than the bulk of this thread (I'm disappointed by that). And when you write a review stating that FF is "like something Michael Bay would have made"-- as if this is a *good* thing-- you should expect people to question your taste in genre flicks, right?

April 29, 2011, 10:09 a.m. CST

by antonphd

i make video games for a living. yeah, i'm a nerd, but a successful nerd.

April 29, 2011, 10:10 a.m. CST

by 8 Diagram Pole Fighter

April 29, 2011, 10:16 a.m. CST

by seasider

Furious 6? It's baffling that this franchise has gone on as long as it has. I would've thought they had run out of different ways to shoot high speed car chase scenes by now.

April 29, 2011, 10:23 a.m. CST

by Gabba-UK

On this TB. Distill it and it could power the cars in Fast 6 to greater levels of physics bending hi-jinks. By the way, am I the only one that was willing Prince William to floor that beautiful convertable Aston Martin down The Mall with the new wife's bridal train flying behind it? Would've been cool.

April 29, 2011, 10:24 a.m. CST

by 8 Diagram Pole Fighter

Tell your woman it's a heist movie set in Rio, and not about street racing, and you're good to go.

April 29, 2011, 10:25 a.m. CST

by 8 Diagram Pole Fighter

April 29, 2011, 10:26 a.m. CST

by darthderp

While his older brother's been in the fishbowl, he's been serving in his country's army. And rather than hide behind his royal station, the guy's been serving on the fucking front line in the Afgan War. Direct quote that I pulled from Wikipedia: "There's no way I'm going to put myself through [Royal Military Academy] Sandhurst and then sit on my arse back home while my boys are out fighting for their country." Say what you will about the politics of any war, but anyone who's willing and able to bear balls that big deserves a salute.

April 29, 2011, 10:26 a.m. CST

by Nick

I decided to bring in my ipod touch. I download Voldermort screaming "NYYYAAAARRRGGGHHH" and everytime something cool happened in the film, I hit the playback button, and listened to that. Car Chase "NYYYAAAARRRGGGHHH" Vin and Rocky fighting "NYYAAARRRRGGGHHH" EVERY FILM NEEDS "NYYYYYYYYAAARRRGGGHHHH"

April 29, 2011, 10:28 a.m. CST

by 8 Diagram Pole Fighter

April 29, 2011, 10:31 a.m. CST

by GINGE_MUPPET

April 29, 2011, 10:34 a.m. CST

by angrykirby.tk

April 29, 2011, 10:47 a.m. CST

by Tracer

Shaft Most Film Noire three Stooges Bugs Bunny (Chuck Jones Years) Earth Vs. The Flying Saucers Seventh Voyage of Sinbad Westerns these were some of the things that were put into theaters for almost thirty years. Then TV happened now instead of going to see a court room drama they stayed home and watched TV. The movie industry thought it would die until CINEMA SCOPE came out then movies had to be events like How the West Was Won or the Great Escape. when those stopped working they found nudity and graphic violence would pack them in when that stopped working they found C they are afterGI car chases did the trick. it is a simple quote that explains the movie business "don't hate the player, hate the game." it as always been a business it will always be a business their is no changing this I for one would not want to even try. also I know Gone with the Wind is supposed to be one of the greatest movies ever made but I hate it can not stand it. It's to long, don't care about any of the characters at all, and I hate that they burnt down Kong's door for the burning of Atlanta. I like movies that Entertain with that capital E. that is all most of the time I don't even care if it insults my intelligence. I do however hate movies the squander great step ups (I'm looking at you Tron Legacy) but I digress. I would like to know what others on this board are talking about as far as what Genre film making they are after. The Jazzmaster

April 29, 2011, 10:49 a.m. CST

by Green

April 29, 2011, 10:54 a.m. CST

by wrx

I too would love to see lucas black return. how about they go to Japan, pick him up and steal some shit.. Yakuza hilarity would ensue. No but really i didnt like part 2, and Tokyo Drift brought me back into the fold with the whole drifting angle.

April 29, 2011, 11:16 a.m. CST

by AsimovIsFuckingDead

WHy watch a movie like this piece of assfuckery? I am a cerebral movie wachter and things such as thing as Emo Trek prove that the cerebral movie is a dying art form. Where is the cerebral movie of today - it is not to be seen. Nolan would have done good with this, hem?IN NOLAN WE TRUSTRespect, brothers.

April 29, 2011, 11:30 a.m. CST

by Bass Ackwards

As probably one of the few people who enjoyed Faster, I'm totally down with the Rock as a badass. That said, I genuinely think the guy is a hugely charismatic and charming actor, and I think they could have done something more interesting and fun with him then just inserting him into the stock bad ass Marshall role. And while the guy is huge and intimidating, he's also just too damn pretty to believably pull off lines like "stay the fuck out of my way." But, aside from Paul Walker's blandness ("you see, my dad, he was just...never there"), I thought it was a fun flick. It's the first Fast & Furious film ive seen, so I'm sure there's some stuff in there that I missed that would make it even more enjoyable to fans of the series, but as someone brand new to it I still had a good time, and will probably even rewatch when it becomes a rental.

April 29, 2011, 11:47 a.m. CST

by kidicarus

is unfair. If you asked me do I like "Killer Klowns From Outer Space" and if I like "Seven Samurai", I will reply YES to both. One's cheesy, self-effacing low-brow cinema and the other is high art. Would I ever compare them side to side? Absolutely not. Low and high art are two separate ecosystems. If Massa ever writes an article proposing why Piranha 3-D is a superior film to Schindler's List, then yes, I give you permission to banish him to the Phantom Zone forever.

April 29, 2011, 11:51 a.m. CST

by Uncle Pooky

April 29, 2011, 12:40 p.m. CST

by Fred

It's a fun series of movies. What's so wrong with enjoying something fun, regardless of how "technically right" it is as a movie? Lighten up, you'll live longer.

April 29, 2011, 12:40 p.m. CST

by jawsfan

He held up a sign that said it in a cartoon where Wile E Coyote fell to the canyon floor and RR stayed afloat in the air on a rock slab. Coyote held up a sign that said, "It wouldn't bother so much except that it defies the law of physics." Then he falls. Then RR holds up the sign that said "Sure. But I never studied law." Maybe Bugs used that line too somewhere, but I know for a fact RR did.

April 29, 2011, 12:49 p.m. CST

by The Garbage Man

BSB, did you just drop an art history joke in the TB for a Vin Diesel movie?

April 29, 2011, 1:06 p.m. CST

by golden tribw

I expect this movie to suck but at least your review is halfway grounded in the English language and something resembling (geeky) common sense -- which is a lot more than anybody could say about the godawful, shameful pablum constituting everything Capone has ever written for AICN.

April 29, 2011, 1:23 p.m. CST

by mags

first they're broke then they can buy a second vault

April 29, 2011, 1:24 p.m. CST

by mags

...and he better not be killed off in dark of the moon neither

April 29, 2011, 1:34 p.m. CST

by Spandau Belly

I saw it and I really couldn't believe that this of all movies was the one that every critic lined up to pan with furious hellfire. I could see how it might not be everybody's thing, but the negative reactions we so overblown. It seemed more like the type of movie that most reviewers would shrug at instead of getting enraged and demanding Snyder's head.

April 29, 2011, 1:49 p.m. CST

by THE_CHOPPAH_STRIKES_BACK

Nordling had a perfectly fine review of this, and you guys go and shit all over the poor little fella. Why can't you let Nordling be Nordling? LEAVE NORDLING ALONE!!!!!!

April 29, 2011, 2:11 p.m. CST

by AsimovLives

Can't wait for the Law Of Gravity to say "fuck Massawyrm", stop attracting him to Earth and sent him hurling through space.

April 29, 2011, 2:11 p.m. CST

by AsimovLives

Can't wait for attriction to say "fuck Massawyrm" and let him fall on his face everytime he tries to walk.

April 29, 2011, 2:12 p.m. CST

by AsimovLives

Can't wait for the Laws Of Thermodynamics to say "fuck Massawyrm" and allow him to freeze to death slowly and painfully.

April 29, 2011, 2:13 p.m. CST

by AsimovLives

The idiots always try to upstage each other. It's like highschool bulshit or something.

April 29, 2011, 2:14 p.m. CST

by AsimovLives

You're rigth, the Trashfuckers movies are not the worst ever. There's Armageddon and Pearl Harbor ahead of them in the worst ever list.

April 29, 2011, 2:16 p.m. CST

by AsimovLives

Quite the contrary, if Massa knows it's a dumb movie and still he likes it, then he deserves every shallacking and kicking he gets.

April 30, 2011, 6:22 a.m. CST

by Col. Tigh-Fighter

Science donk or not, it is a poorly written, implausable, cheesy as fuck, typical Michael Bay. Oh, and no fire in space. I dont need a degree from MIT to know that.

April 30, 2011, 7:04 a.m. CST

by BSB

Best movie of 2011 so far.

April 30, 2011, 7:05 a.m. CST

by BSB

Is it too late to give him the Avengers movie?

April 30, 2011, 7:12 a.m. CST

by BSB

And I shed another one when he talked about how his father used to help Mia with her homework. I'm going to take my own dad to see this. Not to remind him of how good a dad he is, too, but for the fucking balls-to-the-wall action and hot bitches everywhere.

April 30, 2011, 7:13 a.m. CST

by BSB

But instead of Brad Pitt strolling around the casino stuff his face, you get hot bitches and balls2wall action.

April 30, 2011, 7:17 a.m. CST

by BSB

The Rock looked like he was gonna bust out of the screen.

April 30, 2011, 7:18 a.m. CST

by BSB

for Hobbs' team too. Man I wanted a lot more gunfire action.

April 30, 2011, 7:23 a.m. CST

by BSB

That end credit scene was bombdiggity. I loves me some MiRo.

April 30, 2011, 7:24 a.m. CST

by BSB

April 30, 2011, 8:19 a.m. CST

by buggerbugger

Of course he has. And if you honestly believe he's spent months at a time posted to areas where he's been in constant danger of losing a limb to an IED, you'll probably also believe that he's the issues of Prince Charles's gonads. Those do-nothing take-everything entitled inbred fucks wouldn't allow that little ginger cunt to be endangered by a DNA test, let alone a stray bullet.

April 30, 2011, 11:26 a.m. CST

by The Founder

I knew the movie would be worth seeing. I enjoyed the past films and they all had their share of ups and downs but this was easily the best one for me. Shame they had to pull the Rock back, the guy is loaded charisma and he easily stole the show from the rest of the crew.

April 30, 2011, 11:27 a.m. CST

by The Founder

April 30, 2011, 11:30 a.m. CST

by The Founder

He just seemed to serve no purpose what so ever in the film and the guy is as Messa puts it, BLAND. I hate to jump on the it's cool to bash bandwagon but d@mn Walker is just a useless actor

April 30, 2011, 11:34 a.m. CST

by The Founder

I seriously had to push the impossible feat they pulled off with them Dodge chargers at the end, but boy was that issue trying to break through the enjoy the movie and have fun section of my brain.

April 30, 2011, 1:09 p.m. CST

by blakindigo

By far one of the most overlong and painful summer movies, imo. Beautifully shot, fantastic visual effects work etc. But, from the opening scene with Eddie Griffin screaming "Dial 911" to the ponderous, eye-rolling scenes of — geezus, fuck it man. This is a film that claims it's easier to train oil workers to become astronauts, than to teach astronauts how to use a fucking drill. "Armageddon" wasn't just idiotic, it was offensive. Only to be outdone by "Pearl Harbour" in the interminable length dept.

April 30, 2011, 2:55 p.m. CST

by IndustryKiller!

April 30, 2011, 2:58 p.m. CST

by IndustryKiller!

And yeah, I probably deserved that, if, in fact, it was anything other than a random glitch. Massa was spot on in one sense, I was drunk as shit when I posted the other night, yet, besides the personal rhetoric, which I absolutely don't need to tear the guy down and I admit was rather unbecoming, I was still spot on. The man is a philistine of the highest order and a terrible reviewer of film. And the only thing anyone responded with is that I'm a "douche bag". Right, the guy saying we shouldn't see Fast Five is the douche bag.....that makes sense.

April 30, 2011, 3:05 p.m. CST

by IndustryKiller!

For calling you a pig, straight up with no qualifiers. It was a bit.....much.

April 30, 2011, 4:13 p.m. CST

by CoolerKing72

April 30, 2011, 4:26 p.m. CST

by Hipshot

Which does NOT take place in our world. This is signaled in the first scene, when a prison bus hits a car, and flips. Anyone not hooting over the physics of THAT, understanding that this is a cartoon, should have asked for their money back at that point. If you stuck around, you can't complain about the physics. Just enormous fun, pure brain-candy. Some movies are that, and no more. It's not the end of the world if some people like them, and others don't. Only children think that liking a movie makes you smart or dumb. Sometimes dumb is just what the doctor ordered. I went to see it with a friend whose mother is dying in the hospital. My friend is an educated lady, with a Masters in literature from Leeds. For 2 hours she was able to forget, laugh, enjoy the silliness...even though she had to field text messages from a panicked family. Life is real, and has all the real drama anyone could want. Sometimes, what we need is fantasy. "Fast Five" was just exactly, precisely what the doctor ordered. Thanks Vin! And Massa, for getting it.

April 30, 2011, 5:18 p.m. CST

by Billy_D_Williams

not to the vitriolic heights he's presented, but he makes a very good point. in our sorry state of cinema these days, we've been forced to adopt a "good enough" attitude about movies. quality cinema is so rare nowdays in hollywood's climate, that we become like the starving man at the king's table, scurrying to grab the scraps from his overflowing bounty, and treating them as if they're filet mignon... there's a little something called "conditioning" that many people should know about...besides the occasional Die Hard, or Jurassic Park, or Road Warrior, genre filmmaking these days is truly a factory...churned out, stamped and sealed with all the loving care of a coke bottle or McDonald's hamburger...and this having gone on for decades, people get conditioned to this mediocre mindset, and adopt the "good enough" attitude. i haven't seen Fast Five so i cant comment about that, but overall industrykiller has a point...if we want things to change, we have to be extremely selective about the movies we give our money to. otherwise, the bitching about terrible cinema becomes ironic. we have no one to blame but ourselves...we feed the machine...and then get mad when the machine simply gives us what it's designed to give us: lowest common denominator product.

April 30, 2011, 6:09 p.m. CST

by BringingSexyBack

April 30, 2011, 6:10 p.m. CST

by Billy_D_Williams

April 30, 2011, 6:10 p.m. CST

by BringingSexyBack

April 30, 2011, 6:16 p.m. CST

by BringingSexyBack

Have no illusion - this movie was intended to thrill, and had a checklist of stuff to deliver. Hot chicks, hot cars (I loved the NSX action in the opening sequence as that is my all-time favorite), gun battles, missle launcher, tons of action, a badass villain you can't wait to see killed, hot ass, some tender moments, Rock Vs. Vin monster fight, etc. It delivers. I tell you, go with a big crowd and enjoy it. As a big action movie with tons of real practical stunts and no CGI that I can remember, this is done to perfection.

April 30, 2011, 6:18 p.m. CST

by BringingSexyBack

This was not a movie that revolves around a handful of set pieces. It looks like Lin practically took over Rio de Janeiro to film this. Awesome. 5 thumbs up.

April 30, 2011, 6:33 p.m. CST

by WINONA_RYDERS_PUSSY_JUICE

but Massa liked Tooth Fairy. So you know this is gonna suck. He liked Step Up 3d too. jeez.

May 1, 2011, 12:48 a.m. CST

by IndustryKiller!

If you guys think being called a name by someone on a website is honestly effective in the least then you're wrong about two things. The other thing being that we, as an audience, cannot and should not attempt to initiate change in our entertainment. I am stentorian about that fact, will continue to be, and will continue to take to task, in whatever small way I can, people who stand against it. I'm sorry if I insult your shitty taste, but you have shitty taste, and your shitty taste makes the world that much darker. "Oh fuck you! Don't be so pretentious, IndustryKiller!, you jerk...face....guy." If you are honestly so fucking dense that you cannot see how supporting obviously bad movies has made the entire mainstream cinematic landscape worse, then not only are you wrong, but I pity your tiny brain and it's lack of ability to interpret and draw conclusions. You don't like what I say, ATTEMPT AN ARGUMENT AGAINST IT.

May 1, 2011, 12:57 a.m. CST

by Meadowe

SPOILERS in case you cared...The opening heist for the three cars was really well done. From the opening of the train car and re-introduction of Vin's character, to the way Paul Walker was hanging off the train, all the way to the car that vin and pw were in going off the cliff into the water...I was half expecting a helicopter to swoop by and for them to land perfectly inside of it. When they were captured by Reyes' (Joaquin de Almeida) men and chained up it kinda reminded me of xXX where vd was also similarly restrained. btw Joaquin is always great, even though you can tell he's aged a bit (I personally haven't seen him since Only You waaaay back in the early-mid 90s) he still has that great voice and presence so it doesn't really matter. Matt Schulze (spl?) as Vince was a welcome treat since he was part of the original "family", and I loved the way they reversed he and pw's roles from the first one...he was very suspicious that pw was a cop and was right, and in this one pw was suspicious that he was the one that snitched them out re: the opening heist. When he's caught trying to get the microchip with Reyes' info, he and Vin have a great scene where all their emotions come to a head...he brings up how Vin never trusted him about Paul being a cop and look at what has happened to their family...Letty is dead (Michelle Rodriguez, which of course is now thrown up in the air) and now Vin is turning his back on him...The Rock comes in and has a great intro scene, noticeably shinier then anybody else in his unit...tyrese had people in my theatre chuckling at his lines, i thought they were ok...when the girl who Rock recruits as a translator from the local police puts on Vin's necklace it looked a lot bigger on her despite her big rack hahah...when some cops are swarming in on Jordana and Matt Schulze saves her it immediately feels like it could be a ruse to have them trust him again, and I personally was hoping that it wasn't, and that he was really on the side of the family...When the Vin/Rock battle finally happens it was really great, had a little Van Damme esque moment imo when Rock has Vin by the throat, he sees his family being rounded up by Rock's crew and it drives him wild and starts beating Rock's ass. Vin has Rock on the ground and is pounding him and grabs a wrench, instantly bringing back memories of ff1 where you first heard that he went to Lompoc for beating a guy to retardation with a wrench. Jordana pleads with him to stop and if you were spoiler free (and had Doom on your mind when the Rock was "killed" )you may be inclined to think he just cracked Rock's head open, but of course the wrench has just been struck into the ground and not Rock's skull. when Vin, Paul, Jordana, and Matt get captured by Rock's unit they get ambushed by Reyes' crew...they're shooting at the convoy from above, yet a lot of their men are getting picked up by Rock's crew. It reminded me of these movies where I kept hearing that those who have the above ground have the advantage, i.e. Revenge of the Sith and the bay film The Rock, so I thought this was kind of a reversal of that rule, but then as the firefight continues the Rock's unit gets pretty much killed. I had an affinity for Alimi Ballard's character since I remember being 5 years old and loving Dark Angel and the Max character being my role model, and Ballard was on the show as Herbal, so I was a little disappointed to see him dead on the ground...The Rock is obviously upset that his team has just been slaughtered, and Vin offers him his hand and despite everything that's happened Rock takes it. In the truck, we discover that Matt has been hit, and he tells Vin that he should visit his son Nico, whom they have named after Vin's character Dominic. It's a nice little scene, where Vin promises to have "eyes on Nico", just like Matt had told Vin he would have eyes on Mia, Jordana's character earlier on. Matt passes away, which I kinda called earlier on as soon as he appeared on screen...I thought his death would add some much needed resonance to this series, and in the end it did. At this point the whole team is whipped, but they do that thing where they, despite being against all odds decide to still go along with Vin in their plan to get the $100 million. btw, I thought they should have upped that number because obviously when you split that up it's not that much all things considered. Anyway, surprisingly when everyone is saying they're in, Rock also reveals himself to the audience and announces that he's in with the family for as long as they kill Reyes; after that it's back to the hunt for him. The last act kicks in and man is it a doozy. The previous plan of being stealthy and trying to have "invisible" cars is thrown out and they just bust into the police station where Reyes has all the money consolidated and drag the vault out, leading to some really entertaining action. Vin and Paul are both driving what I believe are modern dodge chargers and keep whipping the vault into opposing cars, and I couldn't help but smile. idk how it ranks on the all time list, but I'm sure fast five should at least get honorable mention for all the cars they kept destroying. One of the things that was annoying was this one henchman who kept surviving...even at the end when Vin whipped the vault on top of Reyes and the henchman and the henchman got out of the car Vin and I had the same oh wtf how is this idiot still alive look on our faces. Paul though has mysteriously appeared and shoots the guy, finally killing him. Reyes comes out just as Rock comes by, and Rock just shoots the guy a couple of times. call me sadistic but I thought he would have had him suffer a little more considering his whole unit has been slaughtered, so a couple of quick shots wasn't too satisfying. Rock tells P and vd that he'll give them 24 hours to haull ass, but not with the $. I had been hearing about a F6 already in the planning stages, so I thought maybe that's when the real "last job and we disappear" scenario would take place. I was feeling a little let down, but then Rock does the whole hey I got a bad feeling look and slowly opens the vault door, I'm smiling cuz I know there's nothing inside. If the $ was there I would've thought this whole thing was for naught. Anyway everyone pretty much gets their happy ending, although I'm disappointed that we never get an unquestionable win of Paul over Vin re: the racing....even when the credits were rolling with the cgi renditions of their cars I was watching to see which car would win and just win they get to the finish line a flash of light appears so I was not digging that. Earlier in the movie the two raced with Han and Tyrese in cop cars, which of course was hard to follow since you couldn't distinguish who was who except for Tyrese who had his lights flashing. And speaking of which I thought that was one of the bigger bs moments is that they just hijacked the four cop cars and Tyrese gets on the pa system or whatever and is broadcasting his obnoxiousness even louder than usual...really? you steal some cop cars and want to get on the speaker system out on the street letting people know you're not 5-0? Anyway, like I stated in another post there's a post credits scene which hits immediately after the cgi car race ends, which I'm glad cuz I thought it would literally be after the entire credits like ff1....so Eva Mendes comes out and reveals that Letty is still alive, and yeah they could go that route for the next one but personally I wouldn't mind if they leave it at this. It was really enjoyable as far as the action, emotion, even the plot. Vin gushing about his dad and how well he was with his sister, and Paul talking about how his dad was nonexistent and how scared he is that he'll be the same, but Vin assuring him that he isn't his dad and he will be awesome with Jordana. I've only seen a couple of movies this year so far, Adjustment Bureau, Rango, and now this and I would personally rank this above them. I liked Gal Gadot's character and I just found out she was in ff4, but I'm kind of hesitant to watch it because I liked this one so much that I think that if it wasn't as good than I'll really be disappointed. I liked how they addressed that Han is always eating something...in the director commentary for tokyo drift Justin Lin said that Sung Kang was inspired by I think Brando or some greatly revered actor who always tried to have something in his hands or to have something to use while speaking their lines. I just wish Lucas Black and his crew from fftd were in this...they kept the franchise afloat while Vin was off trying to broaden his range with Find Me Guilty and PW was doing Running Scared, so I think they should give them a little bit of props for that. Before this tokyo drift was my fave. I thought Justin Lin had talent all the way back to Better Luck Tomorrow, and even though I think it's dead I enjoyed this movie so much that I kept thinking about the rumors he may do Terminator 5, which I think he *may* be able to breathe new life into. Anyway, it's rare for the 5th installment in any series to be so good, and Fast Five certainly set a benchmark in that respect. Reply to Talkback

May 1, 2011, 1 a.m. CST

by IndustryKiller!

I was literally black out drunk and I still shut Massa down pretty fiercely. Using examples and everything. I have no recollection of writing 95% of that but it was pretty damn good if I do say so myself. And all he had to say was "I've never seen you mount an argument!" Well that's some selective reasoning right there. not only that but I gave him one and....nothing. I'm shocked. SHOCKED!

May 1, 2011, 4:31 a.m. CST

by IndustryKiller!

That doesn't bother me. I'm not exactly calm. But I've never seen him defend one of his film reviews in a proverbial fist fight. Just saying "Well I like what I like and fuck you" isn't really enough. He's a film reviewer and he has at least SOME responsibility to react to things beyond the gut reaction of a glorified 9 year old sensibility. The difference here is I don't think he feels that way, and that's when its just irresponsible. Like you said, he has the luxury of being one of Harry's home boys so this nepotism by any other name keeps him safe. My suggestion would be to give his column some other kind of name, so that we at least can differentiate between what he does and a real review. Something that belies that this isn't going to be particularly well put together or defended with anything resembling intellect, but may be the point of view of that side of your family in the woods of Alabama that you don't talk to anymore. You know, as a way to make the dichotomy between Massa and everyone else clear.

May 1, 2011, 4:33 a.m. CST

by IndustryKiller!

Between this and your love of GI Joe you're scaring me man. I grok your vibe....but you're scaring me.

May 1, 2011, 7:06 a.m. CST

by CoolerKing72

why did i spend a Saturday night drunk wasting too much time reading everypost.. Made me laugh though. In respect to your shithousing im thinking of having a t-shirt made saying 'industrykiller is a cunt' and making my actor wear it in a scene of my new film. I could made literally 'Dollars' or proper 'pounds'.... Anyway keep up the good workof hating you fucking douchbag and dont ever come to the UK cos you suck. All in good fun!!

May 1, 2011, 8:43 a.m. CST

by BringingSexyBack

Look. I like a movie as long as it's engaging and is done well. I can appreciate something like Never Let Me Go and Blue Valentine, and still enjoy the hell out of Fast Five. And the thing is, FF is done extremely well. All the little nitpicks you hear are valid, but overall it's an entertaining movie. And instead of action being done by a bunch of geeks on computers, you're seeing the work of an army of stuntmen and old fashioned practical effects guys, under the direction of a dude who knows how to make all of it look really good. I appreciate that you are a proponent of quality cinema. But we are not lacking that. Never Let Me Go and Blue Valentine are a testament to directors who are highly skilled and have great storytelling vision. But believe it or not, Justin Lin is, too, such a cat. He made an excellent, thrilling movie that also has some surprisingly -- and genuinely - tender moments. That work. But you have to see it to make a proper judgment call. I encourage you to give it a chance.

May 1, 2011, 8:54 a.m. CST

by BringingSexyBack

Were you taking notes?!?!?!?! Great summary!

May 1, 2011, 10:08 a.m. CST

by blakindigo

When a film is satisfying, engaging but not spectacular, is it a failure? If I watch something like, "Heat" and I'm bowled over by the level of excellence, so much in fact, that I'm not even THINKING about the acting on display, the brilliant editing and the breathtaking action scenes— — well, how does that make a film like say Wayne Kramer's "Running Scared", a film where I'm fully AWARE of the technique, performances, editing, music less successful. Is Kramer pandering or is the style intrinsic to the narrative? I did find "Running Scared" entertaining. I find "Heat"extraordinary. Does that mean that Kramer's movie is LESS successful than Michael Mann's movie? Even though their working to different purposes? Kramer's film was "good enough" to me. Whereas "Heat" is sublime. Is film now an "all or nothing" proposition? You seem to be knocking Massa for middling taste (or worse), but you don't really offer your idea of what is 'good taste' is. I don't disagree with your viewpoint, but I wonder where you draw the line. Can something be unabashed populist entertainment but still offer something besides a weekend box office scorecard? If yes, then is there a consistency in aesthetic judgement of those populist movies?

May 1, 2011, 10:28 a.m. CST

by blakindigo

Assi has a grasp of history and cinema; those are his passions. But, he also is a bit crass and obnoxious in his dismissal of various directors, often without truly examining the work at anything deeper than face value. It works for him, but I don't think it's necessarily honest and sometimes uninformed (example: blaming JJ Abrams for "Armageddon" without knowing the extremely political and labyrinthine scripting process. How Cameron and Hyams script "Bright Angel Falling" was cannibalized, how many writers were on the project — something like 15— and how Bay, Bruckheimer actually got the film into production. I may hate the movie, but I also understand the impossible nature of the beast, and what it took to actually get Disney to put it into production.) But, Assi gives (when prompted) good arguments to support the majority of his opinions. Sometimes I just don't agree on his opinions (The Zack Snyder debate). I think you may have really strong arguments, not about Massa per say, but about the industry. But, the requirements of the industry demand a level of business acumen that many directors, writers, creatives have to put up with in order to continue working. Those compromises are outrageous. I think people don't realize how rare it is for filmmakers to be visionaries within the Hollywood system.

May 1, 2011, 12:10 p.m. CST

by GenerationMTV

and the worst kind of films snob. the kind who thinks his tastes are better than everyone else and he needs to insult those who feel different than he. he doesnt love movies. he loves CERTAIN TYPES of films. he is not a true film fan. a TRUE film fan can enjoy all genres and all types of films. and yes, the dumb summer action movie has become a genre in and of itself. transformers, fast and furious films, are all summer popcorn films that millions and millions of people enjoy. they are not for pretentious critics who need to analyze every little thing. these are films for the average joe who wants to escape the summer heat and enjoy explosions, hot guys, hot chicks, fast cars, and a easy to understand plot for 2 hours. whats wrong with that? i enjoy those films as well. isnt that why we all are here? because we LOVE cinema. we love to sit in a theater with a packed crowd and enjoy a thrill ride of a film. is this movie die hard or jurassic park or inception? no. but i had a great time watching it and i love all these fast and furious films for what they are. if you see this with a packed house and dont have a rockin time u dont have a pulse or any testosterone in your body. thats the problem with you nerds. you have no life so u come on here and spew your vitriol on all things cool becase you arent. dominic toretto probably reminds you of the bully who beat you up, took ur lunch money, and banged the girl you jerk off to. what kind of joyless loser cant enjoy these films for what they are. i know action like this isnt for everyone but to act like these films are a crime against cinema is terrible. die hard had plot holes. dark knight had plotholes. predator had plot holes. no film is perfect and they still make the kings speech films and gone with the wind films so dont act like those films dont get made. in fact is summer tentpole films like this that PAY for the funding of those films stupid. yet how many of you went and saw kings speech in the theater or shawshank redemption in the theater. movie houses are DYING and losing money left and right. its summer films like this that pack theaters and keep the theater economy alive. adventure cinema to me is the best kind and why i fell in love with movies and in the first place. i like these characters. they remind me of my friends, especially tyrese and ludacris and brian oconnor. so if liking these films and liking fast cars i wish i could drive and the action of this all means im less of a movie fan to some prick then fine. i and others dont have to prove our taste to some joyless loser who hates fun cinema. and i will gladly defend this film and any film if he so chooses since he clearly wants a fight. too bad he will lose everytime.

May 1, 2011, 2:07 p.m. CST

by Tracer

I was reading on here someone say that we have adopted a "Good enough attitude." now a days. my question is when have we had a time when all the movies coming out in a given year were great all of them not one ok movie but all of them were great. the answer, never happened. will never happen. can't ever happen. it is the proverbial sand dune a bunch of rocks hanging out together with a few that I find beautiful and interesting but to someone else it's just a rock. Why does a person have to give a reason as to why they liked something? Why do some people love to bitch and moan at others for liking something? also how many llcks does it take to get to the center of a tootsie pop I asked mister Owl but he ate it and I shot him so he can't answer me anymore

May 1, 2011, 2:40 p.m. CST

by tailhook

They've always been films about using cars to heist shit. Put in The Fast and the Furious.. whats the VERY FIRST SCENE OF THE FILM. Thats right... heisting a truck WHILE ROLLING using fast cars at high speed. Whats the first scene of the 4th film? That's right. Heist. I get so tired of critics who clearly have no idea what they're talking about(and i would have thought better of Massawyrm) buying into this meme that its now about heists, when the entire series always has been.. and the only times they deviated from that formula, they put out the worst films of the series (2 & 3). Or just ask yourself... why was Brain O'Connor undercover to begin with in the first film? Thats right... to figure out who was hijacking trucks to pay for their cars.

May 1, 2011, 3:08 p.m. CST

by IndustryKiller!

You're WAY too good to be using the argument of "Well it can't all be Shakespeare!!!", which is essentially what you're doing.

May 1, 2011, 3:55 p.m. CST

by IndustryKiller!

That's not an argument that holds water. Look at District 9, WHY does that have to be the exception? Yes, in fact, someone seriously answer that. Why do The Dark Knight and District 9 have to be the exception?

May 1, 2011, 4:05 p.m. CST

by blakindigo

I mean wasn't "The Road Warrior" a summer release? What about "Alien"? "E.T.: The Extraterrestrial"? "Raiders of the Lost Ark"? "Aliens"? "Inception"? All of these were summer movies.

no one said summer movies HAVE to be dumb industry killer. dont put words in my mouth. all im saying is a movie doesnt have to be perfect to be good. put it this way. when i go see a drama, i expect the acting and writing to be top notch since im going in wanting to be moved. when i go into a film like inception or memento or the prestige, i expect a smart cerebral experience. when i go into a horror film, i expect to be scared. if i dont get those things i will walk away disapointed. The Roommate was GARBAGE because for a horror thriller, it had NO horror and NO thrills. when it comes to action, there are so many genres. action adventure (indiana jones). political action thriller (body of lies, spy game). sci-fi action (deja vu, inception). action comedy (lethal weapon, bad boys, rush hour). comic book super hero action (batman, x-men, superman, etc.). i know within these genres you can go for forgettable popcorn summer blockbuster fare...OR...you can go epic, try to be taken serious, get GOOD actors, focus on a great script, and combine that with BIG action. Look at Batman. Batman Forever with Val Kilmer....big dumb summer fun. I LOVED that film as a kid. And I can still watch it today and enjoy it FOR WHAT IT IS. From Jim Carreys performance as the riddler to finally seeing my favorite character Robin on screen to the cool batmobile to seal's awesome Kiss by A Rose song. i just have so many cool memories of loving that film as a kid. but guess what? I also LOVE LOVE LOVE chris nolans more serious epic take on the batman films with Batman Begins and Dark Knight. Are the films perfect? No. (Bales annoying voice, certain plot holes, unrealistic things, etc.). But its not to be analyzed like that. its a superhero film. But i can respect the serious story and Heath Ledgers AMAZING performance as the Joker. No one is saying that Batman Forever is BETTER per say than Dark Knight or that those films whould replace Dark Knight. No one is saying that Transformers is the HEIGHT of great cinema. I love Bay films and the Transformers movies because I am a fan of hot chicks, Ferraris, explosions, gorgeous cinematography, action, and loud stylish cinema. I just am. No need to apologize for it. we all like what we like. But u have to be in the mood for it. The same way I can watch Harold and Kumar on Monday and LOVE IT, and watch The Thin Red Line on Tuesday and LOVE IT. For different reasons of course. Thats what you're missing about movies Industry Killer. Not everything NEEDS to be serious. When I was 15 and Mission Impossible 2 came out I didnt stress over the realism of the stunts or the acting. All I know is me and my bets friend couldnt stop creaming ourselves over the kung fu fights and motorcycle chase scene. Those are the summer movie going experiences that stay with me the most. When I go to see a big summer action flick..as long as the action pleases me...even if the acting is B level a-la Live Free or Die Hard...then I am a happy customer. if I want great acting I watch Oscar flicks. Its nice when a great story backs up the action, sure, but I can still enjoy an action flick of the action is there and bad ass. everything else is gravy on the rice...

May 1, 2011, 8:23 p.m. CST

by IceTitan

I thought it was awesome. The chase at the end was a bit over the top (even for FNF movies) but I was able to let it go a little bit after the 'twist'/explanation. It's no "Italian Job" but it's still a lot of fun.

May 1, 2011, 9:30 p.m. CST

by Meadowe

May 1, 2011, 9:32 p.m. CST

by Meadowe

two, the only other time I really published my thoughts was new moon, and I was not gonna let my longest post be on that movie.

May 1, 2011, 9:47 p.m. CST

by Meadowe

PRESIDENT ABOUT TO MAKE OFFICIAL ANNOUNCEMENT!!! AINT IT COOL!?!?!?

May 1, 2011, 9:54 p.m. CST

by IndustryKiller!

90% of the films you've listed are from yesteryear. Now we can only get a few every DECADE? That's fucking absurd, and it's indicative of a disease in mainstream filmmaking. There is zero reason why ONE great filmmaker a year should get to make a big budget film. And if you're Christopher Nolan you had to direct the third highest grossing film of all time based on a comic book to do something original. This is not for no reason gentleman, and a HUGE part of that reason is the audience.

May 1, 2011, 9:55 p.m. CST

by IndustryKiller!

Why one great filmmaker a year should get to make a big budget GENRE film. I'm sure Black Swan wasn't cheap, but that's not the kind of film we're talking about here.

May 2, 2011, 12:19 a.m. CST

by blakindigo

— and to SOME degree the audiences. But, you can't blame audiences if you aren't giving them something to get excited about. All the films I mentioned above were somewhat difficult to sell to studios. They were 'risky' for any number of reasons (cast, budget, etc.). The only thing that's REALLY changed is the formulaic nature of development and the astronomical prices. Remember 1982 was probably the greatest year in genre filmmaking with a huge amount of brilliant material. It was also the year of "Megaforce" and "Battletruck".

May 2, 2011, 4:07 a.m. CST

by IndustryKiller!

I mean we can haggle backa nd forth about whats responsible for what on a more precise level, but we as an audience have control over only one of those things, where we spend our money. Given how awful summer films are I see no reason to take that for granted.

May 2, 2011, 9:08 a.m. CST

by AsimovLives

May 2, 2011, 10 a.m. CST

by AsimovLives

My problem about the majority of the geekry is that THEY go for superficial appreciation of the movies. I do my best to go deeper. and none exemplifies it better then all the business regarding Abrams Trek. When i wrote extensive detailed posts about my opinions of it, and the counter-parts barely went for other then just "but i had fun, it was fun" and variations. I like to go indeep about movies, and the filmmakers. And i can correlate movies wiht other subject i also love and am passionate about, like history and astronomy. And i like to go indeep about bad hack directors too. I don't do superficial apreciations of those. In fact, my passionate attitudes against those hacks are because i take a more indeep interest. I know the story of ARMAGEDDON. I know the movie had 12 screenwriters. But JJ Abrams is one of the jew (cvompared to the number of those who wrote it) that actually gets a screen credit. And he gets his cretid at the end of the writing credit,s which means he was one of the last to work on it and also who did extensive work in it. Which means, according to the rules of the WGA, a writer is credit if much of his draft survive the finished product. That's why ARMAGEDDON doesn't have 12 writing credits but 6 or whereabouts. So, if Abrams name is in it it means he was very responsible for the final draft that got filmed. The only screenwriter who worked on ARMAGEDDON since the start and never got a credit was Michael Bay. He says one f his greatest professional regreats is that he never fought to have a writing credit in that movie. I don't know if to laugh or cry at that. If i sound too insulting to some hackboy filmmakers like Snyder, Bay or Abrams, my attitude come from my deep despise of stupidity. Specially deliberate stupidity. I have zero respect for stupidity and crass ignorance. I can understand why some filmmakers establish a confort zone within thre studio system and never look back. I understand why some filmmakers decide to be more subservient to the studio sytem, and by doing so gain brownie points intheir favour. I understand that. What i don't understand is to be a dumb filmmaker who makes movies which are not just deliberatly dumb, but made very dumb. It's the ultimate insult to the very people who are responsible for the money they earn in the industry. and it's not just the studios, but we the audiences. We are responsible for the money they earn thanks to the tickets we buy and the DVDs purchase. You bet i have no respect for any fucker who spits on my plate and laughs his way to the bank. And that's what i feel everytime i see a movie bay, Bay, Snyder, Abrams and all those other hackboys. I don't value a movie by it's marketing campaing, unlike most geeks in here, but by the movie itself. Does does not make me a movie snob, it makes me interested. If anything, the true soneby exists among the geeks who accept dumb ass movies made by those aforementioned hacks and accept that as a matter of course, and then have the gall to berate those who demand quality for their money. Those are the true snobs, because they help mantain and corserve that broken system of mediocrity.

May 2, 2011, 10:04 a.m. CST

by AsimovLives

But for each of those, how many truly terrible were made and released in the summer as well? How vastly they outnumber the good summer movies? By quite a magnitude, that's for sure. The good summer movies are not the rule of the summer movie, they are the remarkable exception. In fact, they are so remarkable and became classics because of how exceptional they are.

May 2, 2011, 12:22 p.m. CST

by GenerationMTV

i thought you guys were MOVIE fans. you keep demanding every summer film have Inception-type complexity and Dark Knight-type character development. I mean thats what were talking about here right? Less 'dumb' Transformers/Fast and Furious films and more 'smart big budget Nolan-esue' films... well if you look up and down ALL genres: comedy, sci-fi, romance, drama, horror, action, etc. the ratio between bland studio fare and high art is about the same. all genres are mostly watered down now. its not just action. you guys just seem to only watch and care about big summer action. if you really want substance watch oscar films. and last time i checked, there was nothing labyrinthian about die hard or predator. simple action films told well. theres no more substance in die hard than there is in bad boys. and i love both films as action classics. i personally dont think fans of transformers/fast and furious films (such as myself) are defending 'poor quality'. no one puts a gun to my head to see TF twice or buy it on blu ray or see Fast Five twice and buy the DVD. i do it because I ENJOYED THE FILM AND LOVE WATCHING IT. so that means in my eyes the film was quality. some nerds can relate to the hobbits or peter parker and these nerds read the comics and have no life so they obsess over how accurate the films are compared to the comics/books. there are also snobbing pretentious 'film fans' who analyze every single aspect of a film as if its schindlers list. not necessary. what about the average joe who works 9 to 5, couldnt tell the difference between tyler perry and woody allen, depalma or scorsese, and he just wants to see macho guys and fast cars and guns and explosions for two hours? whats there for him? do his tastes matter? i think they do. and these films are for him, as well as the 20 something and 30 something men who fantasize about being dominic toretto and teens just getting their license who wanna drive the cars these guys do. these films (and all blockbusters) make BANK because they have an audience because SOMEWHERE, SOMEONE identifies with these characters and loves these adventures they go through. vin diesel and paul walker are believable heroes. bruce wayne and thor are not.

May 2, 2011, 12:23 p.m. CST

by blakindigo

May 2, 2011, 12:24 p.m. CST

by blakindigo

May 3, 2011, 7:01 a.m. CST

by AsimovLives

Sorry, but i have to call bullshit on your arguments. Don't use the "average joe" as excuse for dumb ass movies, because i'm an average joe who works on a 9-to-5 job. We demand quality from the movies BECAUSE WE ARE MOVIE FANS. We demand quality for our buck, as it happens in all areas. when you buy something you want quality for your pay. Same thing with movies. We pay to watch them, they better be god. Works for cars, works for movies. Your attitude above is quite defeatist. You compartimentize movies. That's dumb. Genres are not excuses, they are mere classifications depeendingof the type of story the movie tells. There's quality in every genre there is, as long the filmmakers bother to do it so. To demand quality from a movie is to be a true movie fan. Most of the time we do get satisfied with a movie which delievers a good amount of entertaiment without dumb it much. But there's nothing wrong to reach for the stars, in fact, that's the way to go. That's when you know to seperate the quality from the tosh. and you typeof attitude, it's just complacent and defeatist, to act as you do is to be a blind slave consumer. That's not being a movie fan, it's being a blind slave consumer. There's a lot more to be a movie fan then just being a passive consumer that swallows any bullshit the Holywood studios throw at you under the excuse of entertaiment, you know? To demand quality is the thing to do. I only wish that every year there was one or two summer blockbusters with the quality and complexity of INCEPTION. It would mean Holywood was be working properly.

May 3, 2011, 7:03 a.m. CST

by AsimovLives

You got to be kidding me! The Fart and Furious movies have mor impossible shit happening in them then found in any LOTR movies, and that's including the magic stuff. If you want to find plausible heroes in plausible action movies you have to go back to the 1970s.

May 3, 2011, 3:10 p.m. CST

by GenerationMTV

i got what i paid for with fast five. i enjoyed it. i didnt expect inception type complexity. this is a series about tough guys who do tough things and yes they are releatable. i know people who do illegal things and who trick out their cars and they see these films and love them. they dont identify with peter parker or frodo but they can relate to dominic toretto. if i walk away satisfied then IMO i paid for quality. if u think a film needs to have inception type complexity to be quality then u probably dont think die hard, predator, titanic, star wars, jurassic park, the godfather, etc. are not quality either. i can point out plot holes and implausible things in ALL those films. DUMB things. but it doesnt take away from the fact that i enjoyed those films. is Fast Five the godfather? no, but i walked in wanting action, good character moments, humor, hot chicks, cars, and fun adventure...and i got it. as did many others since a film doesnt make $83.6 million in two days without people seeing it twice or more. in fact i have seen it twice and may see it a third time with a female friend this weekend who wants to see it with me. sounds like quality. YOU dont decide whats quality for everyone else.

May 3, 2011, 3:22 p.m. CST

by GenerationMTV

junk food cinema will always make more money than high art cinema. the same reason ice cream sells more than broccoli because it tastes better and porn sells more than documentaries about how the pyramids were built. people would rather be entertained than think. i know many cinema fans who loved inception for how it made you think yet i also know THREE times as many average joe movie goers who didnt like it bc it was too complicated. sorry but thats the masses for you.