Heh... Well folks, Harry here, and you are in for quite a treat. I've been getting emails from folks wondering what the hell our dear Professor has been up to. Well... About 2 months ago, via the pnuematic tubes connecting his Lab with my Headquarters, I recieved a parchment with the request, "Harry, I will write the most exhaustive and thrilling accounting of the decade we are ending... Moriarty" Using my interocitor I contacted Moriarty and began a discussion that said, "OK" and ever since... he's been whipping Henchman Mongo and working on this. By the time he's done (this is only 90,91,92) we will have the best look at the 90's World of Film you'll see anywhere. Without further ado, here is my dear friend, James G Moriarty....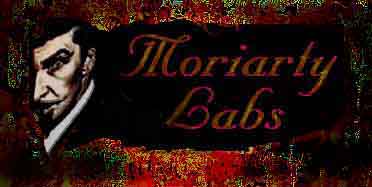 MORIARTY'S RUMBLINGS FROM THE LAB #24
The Big Damn '90s List: Part One
Hey, Head Geek...
"Moriarty" here.
Well, here it is. That time of the year when I write enough words to make Webster himself sick. This time, though, I have more than just a single year to write about. No, this time I have the opportunity to go completely and utterly insane, unleashing articles of unparalleled evil upon you all. Let it never be said I'm a man to squander such an opportunity, especially when I have such spectacular pain planned.
I'm not going to get involved in that whole ridiculous semantics debate over the millennium for one main reason; they haven't been making films for that long, so why make a list that runs that long? No, thanks; I'll stick with a best of the decade list, and as far as I'm concerned, the film era known as "The Nineties" runs from January 1, 1990 to Dec. 31, 1999 -- 10 years. That means it's been over for two whole days, which means it's time for a retrospective of this, my first decade on the front lines of filmmaking, a decade that has seen incredible highs and startling lows.
Over the next four special articles, I'm going to take a look at each of the years, talking my way through the decade overall, both good and bad. For each year, I've listed my ten favorite films, five runners-up, and the twenty hours I most want back. Some of this is stuff I wrote at the time in question, and some of it is new material, me looking back from the perspective of right now. In the final article, I'm going to crown the 25 best films of the decade, towering works that I believe point up the finest that we as an industry and an art form are able to offer at this moment. I'm also going to name the 10 artists who have most shaped the experience I've had as a filmgoer, whether they're directors, writers, actors, or any other member of the crew.
This is all from a highly subjective point of view, of course. I don't even remotely pretend to be taking anyone else's tastes into account. There are choices I'm making here that I fully expect to be hammered for, and I don't care. I've really spent some time on this, and I feel strongly about these choices. These are films and moments and performances that I come back to, films that have stuck with me, both for good and for bad. Here's hoping many of them have stuck with you as well.
1990
For me, this will always be known as the year I moved to Los Angeles. If you're interested in what I was doing before, you can always dig up some of Arthur Conan Doyle's scribblings. There was just an endless succession of evil plans, narrow escapes, and brilliant crime sprees. I had managed to elude authorities with ease, and to be quite honest, I was getting bored. It all felt like just a nowhere job, a life without much future. Then, on May 16th, 1990, something happened that jolted me in a profound way and forced me to examine what it was that I was doing with my life.
Jim Henson died.
I remember feeling gutpunched when I heard about it. As much as any pop culture figure, Jim Henson was a part of my life. He taught me to read. More than that, the view of the world espoused on SESAME STREET was truly radical, a view that included blacks, whites, Hispanics, monsters, giant birds, grouches, frogs, and anyone else who happened to stop by. It was a world much like the one endorsed by John Lennon, whose death a decade earlier had also rattled me, although I was too young to feel the full loss at the time.
With Henson, I felt it. I resolved to pursue something in my life that would make me happy. I may tease about being evil, but that's because you all know that when I do finally rule the world, it will be with an even hand and a merciful heart. Mostly. Sometimes. Point being, I talked my fellow bad seed Harry Lime into loading up a car and relocating. Because of that, I've been sitting front and center for this entire decade of film, and I've got plenty to say about what I've seen.
Looking back at the films that came out that year, there's still a real heavy '80s vibe going on. DICK TRACY and ANOTHER 48 HRS. and DIE HARD 2 and BACK TO THE FUTURE III... they all seemed to be more of the same to some degree. There were signs of life, though, films that seemed to be determined to shrug off the gloss and the high concept, determined to be something deeper, smarter, more ambitious.
1. MILLER'S CROSSING
Until I met The Dude, this was my favorite overall film by the Coen Brothers. In a year where THE GODFATHER PART III was supposed to be the first and last word on gangsters on film, this bold, brilliant tribute to Dashiell Hammett snuck in under the radar and blew my mind completely, managing to transcend its genre with ease. From the time I saw the first trailer and heard that beautiful, haunting Carter Burwell score, all I remember is being anxious to see it, dying to see it, rabid, ready. I thought it could be fun like the Coens previous film, the comic masterwork RAISING ARIZONA. I thought it might be nasty sort of noir like their first film BLOOD SIMPLE. What I didn't expect was to be so overwhelmed by both the mastery of the medium and the lushness of the language. The Coens seemed to have taken all their earlier gifts up a notch, and the result entertains me with every single frame. I've heard people complain that the script is too complicated, but I think that's a shame. I love the elaborate nature of Tom's master plan and the way it unfolds to his satisfaction and our constant amazement. This is the film that led the Coens to the legendary writer's block that gave birth to the script for BARTON FINK. In the end, the result of their efforts is a film that grows for me with each viewing. "Look in your heart... look in your heart!"
2. GOODFELLAS
Martin Scorsese has always had the eye of a poet, the soul of a natural filmmaker, but there was a time when he also had a hunger, a powerful desire to prove something, to make films that leapt off the screen and throttled the viewer. More than RAGING BULL or even TAXI DRIVER, this is the film where Scorsese managed to somehow make it all so irresistible that even the mainstream had to embrace it. This bizarre tale of Henry Hill, rat, in his climb to power and fall from grace, should be as distasteful as anything ever committed to film, but somehow it isn't. There are moments of violence in this film that still make me flinch to think about, but I've heard kids quoting Joe Pesci's great moment: "How am I funny?" Anyone who wants to know how to use film to create a visceral impact need look no further than this audacious, overpowering assault. If MILLER'S CROSSING managed to transcend its genre, then GOODFELLAS set the standard for the genre for all future contenders.
3. MEN DON'T LEAVE
Paul Brickman is a mystery to me. I've looked him up on the IMDb (my best friend while assembling the research behind this article, BTW), and he just barely exists. He contributed as a writer to a few films like HANDLE WITH CARE (or CITIZEN'S BAND, depending on when you saw it) and DEAL OF THE CENTURY. He wrote and directed RISKY BUSINESS, a film that I think has aged wonderfully, and then he directed this little gem before falling off the face of the earth. This is one of those films that I thought I wouldn't really like when I saw the initial trailers. It looked like a weepy story about a woman's plucky struggle to make it on her own. Instead, it's a really strange, eccentric little piece about the relationships we create in order to make it in life. It's about looking for affection anywhere we can when we lose someone. It's a shattering picture, moment after moment, and it's some of my favorite work by Jessica Lange. Chris O'Donnell actually makes a pretty darn effective debut here, with one particularly wrenching scene opposite Arliss Howard late in the film. I still stop on this film anytime it's on cable, and I am able to immediately plug back in to the moment. To me, that's a good sign of the film's lasting power.
4. HENRY: PORTRAIT OF A SERIAL KILLER
John McNaughton pretty much put an end to me ever taking crap like THE BONE COLLECTOR seriously with this film, a nightmare that etched some truly horrible images on my mind forever. Michael Rooker is chilling in the film, the perfect face to the barely contained bile of the script, the naked contempt for everything "normal" that just permeates the whole film. Tom Towles is perfect as Otis, and I am still haunted by Tracy Arnold as Otis' poor cow sister Becky. Her efforts to please Henry, to repay him for imagined kindness, are just heartbreaking. There are any number of classically horrific moments in the film, but there's one that has become legend, the infamous "video camera" sequence. I'll be honest... I've seen a lot of horror films in my life, and I've read practically everything ever written in the genre. I've encountered some strong stuff, and I've been shaken by some of it. The "video" scene in HENRY towers among the most horrible of them all, and that's without the benefit of any real gore. The reason? It's such a violation, such a dark, bleak, evil moment, and someone had to think it up. Just knowing the capacity for such events even exists -- whether it's in the heart of a filmmaker or the heart of a killer doesn't matter -- is enough to send me cowering.
5. DANCES WITH WOLVES
Yes, I liked it this much. Still do, as a matter of fact. I love epic films when they're well-made, and with this film, Costner nailed it on every front. Dean Semler's stunning photography and John Barry's majestic score both provide perfect support to a story that draws real power from simplicity. Kevin Costner is a solid anchor for the film, but it's his supporting cast and their memorable smaller roles that really make the film great. Yes, Michael Blake's script borrows liberally from THE SEARCHERS and other classic westerns; yes, it's got a fair amount of goofball humor; and, yes, it's got a PC streak a mile wide. Still, it manages to be touching, sad, empowering, a piece of pop entertainment with something real and honest at its core.
6. EDWARD SCISSORHANDS
When Tim Burton connects with a piece of material, he has a powerful, original voice that I'm particularly fond of. This fairy tale initially sprung from a sketch of Tim's, and screenwriter Caroline Thompson seems to have reached right into Burton's strange, cobwebby brain and pulled out something familiar, yet wholly unique. Using the nonsensical image of an unfinished boy with scissors for hands to weave a moving allegory about not being able to connect with others, not touching for fear of doing damage, is a stroke of lyrical genius. There's one powerful moment in particular that brings tears to my eyes any time I see it, as the improbably blonde Winona Ryder dances under snowflakes, the airborne shavings from ice sculptures that Edward fashions. It's pure Tim.
7. LA FEMME NIKITA
I've gotten a lot of mail in the time I've been a contributor to AICN that has accused me of not liking action movies. That's simply not the case. I love films like THE ROAD WARRIOR or RAIDERS OF THE LOST ARK or ALIENS, where action is more than just mindless visceral thrill, where it can be story, character, even theme. This Besson picture is a classic of the genre, the terrible tale of a wild child who is captured and given a choice: life in jail or life as a government hit woman. She is programmed, made over, recreated, and set loose upon the world. When their weapon develops feelings, a life, things become complicated, even deadly. It's a love letter to an actress, Besson's then-flame Anne Parillaud. All the lead performances in the film are great, real, natural, and there's moments that are profoundly human, piercing. When Besson finally does decide to turn up the heat, he plays for keeps. My only major gripe is how badly the various letterboxed versions of the film have been mishandled. There's one brilliant moment of Parillaud's that is always cropped, even though it's central to her character. Grrrrrrr...
8. MIAMI BLUES
I cannot emphasize this too strongly: George Armitage does not work nearly enough. Between this and 1997's GROSSE POINTE BLANK, he's proven that he has a particular knack for blending brutal action and dark, dark comedy. Of the two, I prefer this poisoned little piece of cotton candy. Alec Baldwin's never seemed this alive again, this dangerous, this close to losing control. The way he pinballs off both dumb bunny Jennifer Jason Leigh and suspicious cop Fred Ward is a constant delight. It's the little details that really make this one special: the Hare Krishna's bizarre method of execution, Junior on a rampage with a stolen badge, Fred Ward's stolen teeth, the t-shirts Leigh buys... this whole film is a treat that too many people missed.
9. THE WITCHES
I was an enormous fan of Roald Dahl's grim, sarcastic children's books while growing up, and this Nicholas Roeg film captures the flavor of those books with almost frightening precision. The magic of the film is provided by Jim Henson's Creature Shop, and it stands next to DREAMCHILD as their finest work ever. Even the very end of the film, which smacks of studio tampering, has a tart kick, refusing to be overly sentimental. In a world where "family film" is often code for "gooey phony sentimental crap," a film like this can feel like a miracle.
10. QUICK CHANGE
I have used this column to wax rhapsodic about Bill Murray before, and you can be sure I'll do it again. Put simply, he's the greatest screen clown working today. This film, co-directed by Murray and Howard Franklin, is one of my favorite comic confections, an inspired little bit of nastiness adapted from a Jay Cronley novel about a man who truly hates a city. Who can blame him? The New York in this film seems to have a focused, almost hallucinatory sense of life, a will to kill. Tony Shaloub makes one of his first great comic appearances here -- the word "Bluftoni" still makes me cry laughing -- and he's matched by a great comic supporting cast including Ray Elliott, Randy Quaid, Philip Bosco, Phil Hartman, and Kurtwood Smith.
RUNNERS-UP
1. THE HUNT FOR RED OCTOBER
Or, as we like to call it here at the Labs, "the only good Jack Ryan movie." This film seemed like the herald of a shift in the direction of action cinema, coming as it did on the heels of DIE HARD, a shift to something smarter, with richer character. Instead, it proved to be an anomaly. John McTiernan has never been this good since, and that might just be because of how high he set the bar. The cast is uniformly excellent, but it's Sean Connery whose presence towers over the film. He and his amazing toup are center stage and Ryan's never faced anyone this interesting again. This is no simple tale of good guys and bad guys. Instead, we are given a complex moral situation, something for the political analyst to actually analyze. In a genre where Jerry Bruckheimer rules supreme, this sort of cerebral rush is something cherish.
2. JOE VERSUS THE VOLCANO
Hats off to John Patrick Shanley for coming this close to great with such a crazed, delirious fable. It's hard to get whimsy right on film, and some of our best filmmakers have failed at it... but we'll get to TOYS a little later. Shanley manages to makes some remarkable points about love and fate and choice here, and the film's got a rich and quirky visual style. It's not perfect; in particular, the last ten minutes fall apart. What it does beautifully, though, can be summed up by a James Bond quote that was included at the start of the original screenplay for JOE, even though it didn't make it into the final film: "You only live twice. Once when you're born, and once when you look death in the face."
3. MISERY
This is one of those solidly-crafted films that seem to pop up from time to time, not pushing any envelopes or breaking any new ground. Instead, it does its job with confidence and poise, with quiet class. Rob Reiner's got a surprisingly keen sense of how to wring suspense out of each of the film's key scenes, and some of that can be attributed to William Goldman's lean, mean adaptation of Stephen King's novel. By the way, Rob, if you happen to read this, I hope it amuses you to learn that I've never been able to watch the hobbling scene a second time. It remains one of the most effective acts of screen violence I've ever seen.
4. THE GRIFTERS
I'm a big fan of Jim Thompson. He's my favorite noir writer, so hard boiled it hurts. 1990 was a banner year for Thompson fans with this adaptation narrowly edging AFTER DARK, MY SWEET off the list. Stephen Frears and Donald Westlake have turned this into one of the most demented mother/son relationship films since PSYCHO. When I recently met and interviewed Annette Bening, I confess that I flashed on this film and her raw sexuality in it. It made that strong an impression on me. So did Bobo's use of the oranges. I've never looked at one the same way again.
5. THE FRESHMAN
I used to list Andrew Bergman among my favorite comic filmmakers, but aside from this dizzy spin on THE GODFATHER, I've been indifferent to his output this decade. Thank god we've got this wonderful last gasp, at least. By the time Bert Parks sings, "Here she comes... Miss Komodo Dragon!" it should be obvious that Bergman and his entire cast are all completely insane. Penelope Anne Miller's never seemed more natural onscreen, Frank Whaley is a remarkable crank, Bruno Kirby tweaks his GODFATHER II persona with aplomb, and Matthew Broderick is at his exasperated best. In the end, of course, it is Marlon Brando's show. Just try watching him on ice skates without smiling. Go on; I dare you.
TWENTY HOURS I WANT BACK
1. BONFIRE OF THE VANITIES
As wrongheaded an adaptation of a novel as I've ever seen, this film manages the difficult task of making Tom Hanks, Bruce Willis, and Morgan Freeman all seem completely talentless. How Brian De Palma got this far offtrack made for one of the best books about corporate filmmaking (THE DEVIL'S CANDY by Julie Solomon) that I've read, but I'm still not sure I can wrap my head around this. The film manages to be casually racist, sexist, and classist in equal measure, completely perverting the point of Tom Wolfe's genius original novel, and my main reaction to seeing it was the desire to shower afterward. It's not just a bad film; in many ways, it's a filthy one.
2. PRETTY WOMAN
This is one of the most morally reprehensible major studio releases to ever find mainstream acceptance, and it baffles me. I mean, I understand star charisma and its power, but this film is dangerous, potentially damaging, and no one says a world. We've got senators debating the merits of FIGHT CLUB and THE MATRIX, but this fairy tale that sells the idea of prostitution to little girls as a way of finding Prince Charming is sanctioned by Disney, so it must be okay. It's not, though; it's disgusting, especially in a package as slick and soulless as this one. Throw in a near-rape that's played mainly for laughs and you've got a stomach-churning mess.
3. MEN AT WORK
Emilio Estevez's first film as a director, WISDOM, made me so mad with its ending that I threw something at the screen. Still, that was just a warm-up for the exquisite agony of this thuddingly stupid film about wacky garbagemen. There's not a single good idea or clever line in the entire script, and there's not a hint of technical accomplishment in the direction. All I can figure is this was an inside joke that somehow found its way onscreen.
4. ROCKY 5
Watch John G. Avildsen's original ROCKY, then watch this film and weep for what is lost. This is one of the best arguments against sequels that I've ever seen. Tommy Morrison is cast as himself, a cretinous, disgusting thug, and Stallone just slinks through, rightfully embarrassed by the whole mess.
5. THE ADVENTURES OF FORD FAIRLANE
Renny Harlin has no idea how to stage an action scene or a dramatic moment, so I suppose it shouldn't surprise me to learn he's without any comic abilities, either. This film is primarily fascinating as a record of just how out of control Andrew Dice Clay's ego was at the start of the decade. This film is a "vehicle" in the worst sense of the word, and it doesn't just crash and burn; it flips, rolls, and explodes as well. I'll give the film a few grudging points for Lauren Holly and her gravity-defying dresses as well as Ed O'Neill and "booty time," but that's not nearly enough to justify anyone else ever burning their corneas with this trash.
6. GHOST
Shut up. Don't even start whining at me. This movie is astonishingly slick, but it's phony to the core. Bruce Joel Rubin was a prime mover of New Age pap at the start of the decade, and this film just edges out JACOB'S LADDER and its huge cheat of an ending to make the list. I hate fantasy that makes up rules as it goes, that offers easy sentiment instead of genuine thought. This movie also features the worst romantic dialogue of the decade, with "ditto" being enough to send me into rabid fits. Demi Moore deserves credit for almost making Swayze seem interesting, and I'll give Jerry Zucker his due for selling this mess to America. But I still have to ask... Best Supporting Actress... ARE YOU FUCKING KIDDING ME?!?
7. FLATLINERS
Joel Schumacher kicked off the decade in low style with this hysterical bit of neon-lit nonsense, a harbinger of worse things to come. There's a kernel of a good idea here, but the sheer intensity of the silliness keeps overwhelming all intentions. The cast is terrible without exception, lurching about like they can barely take it seriously. With such a provocative premise, some powerful points could have been made about life and death. More than anything, this stings as an opportunity missed.
8. YOUNG GUNS II
If DANCES WITH WOLVES was trying to shake up genre clichés, this film embraced them with both fists and then choked whatever life was left out of them. The cast never overcomes the whole "kids playing dress-up" vibe, and their attempts to look rough and tough are laughable more often than not. As far as the plot goes, there's not one. I'd be surprised if anyone can tell me what events this film covers. On the whole, it's a markedly downbeat film that never quite gets its tone right. It's films like this that killed off the careers of many of the Brat Packers.
9. THE ROOKIE
There's only one time in my life that I've ever lied to someone's face about my reaction to their film. The morning I saw this, I was at an exhibitor's screening, and I ended up seated next to Clint Eastwood himself during the film. I was excited until the lights went down and the film started. I was horrified. It was unfunny, way too violent, mysogynistic... a dreadful experience on every front. When the lights came up, he gave me that narrow-eyed, clench-jawed stare and asked, "What did you think?" I put on my best fake smile and lied, "It was great." He just studied my face for a moment, said, "Riiiiiight," and moved on. I'm sorry I didn't lie better, Clint. Your film just hurt so damn much.
10. DIE HARD 2: DIE HARDER
Hey, it's just like the first one, but horrible! Actually, my distaste for this film stems from my belief that it's nothing more than a FRIDAY THE 13TH movie in disguise. The whole film exists to give Bruce Willis an excuse to kill goons in creative ways and great number. The film's a visual nightmare, built by an editor, devoid of style. Harlin doesn't even seem to have seen McTiernan's original. The worst part of it all is how coincidental the whole plot is. McLane just stumbles into things, the way his wife just stumbles into her subplot. Once again, this is almost bad enough to turn me against any sequels... ever.
PERFORMANCES
Jason Patric, AFTER DARK, MY SWEET
This is a great, focused, incendiary performance, volcanic emotion locked inside the body of a boxer and the brain of a child. It's hard to be both pathetic and menacing, but Patric pulls it off.
Robin Williams, AWAKENINGS
Williams does a great job of bringing Oliver Sacks to the screen with all of his fascinating eccentricity intact. This guy can barely talk to other people, yet he's expected to somehow heal them. If PATCH ADAMS is a disease, this role is the cure.
Christopher Lloyd and Mary Steenburgen, BACK TO THE FUTURE III
In his entire career, Lloyd's never had a romantic lead in a film. God bless Zemeckis and Gale for tapping Lloyd's sweet side for this very touching courtship, a lovely grace note at the close of a great trilogy.
Rob Lowe, BAD INFLUENCE
If he hadn't played this role at the exact moment that he did, chances are scandal would have driven Lowe out of film. This is such a great charismatic role, though, that it kept him in the game. Good thing, too. This is one promise that was fulfilled consistently over the course of the decade.
Graham Greene, DANCES WITH WOLVES
If there's a soul to this film, Graham Greene's the reason. He plays Kicking Bird, the first of the Indians to reach out to Costner's John Dunbar. It's Greene who focuses the film's human and moral messages, and it's that great face of his that does all the work. It's a once-in-a-lifetime role, and he makes the most of every second.
Johnny Depp, EDWARD SCISSORHANDS
When they write about Depp's career in the future this will be the moment where it officially got interesting. It's no wonder he paid tribute to Buster Keaton in a later film. This is a silent star performance. His face, his posture, his eyes... everything is just a tool, part of this remarkable creation.
Marlon Brando, THE FRESHMAN
I don't understand people who believe Brando's done as an actor. He's just bored by most things he's offered, and he doesn't have to work if he doesn't want to. When he does decide to show up onscreen, though, it's usually because he's engaged by the material, as was the case here. The idea of deflating his own performance as Don Corleone was to ripe to pass up, and there's a twinkle in his eye as he goes about it. I love how befuddled and crazy he seems, especially when he reveals how sly he really is.
Joe Pesci, GOODFELLAS
Yes, I know it's been parodied a million times now. Yes, I've seen "the clip" a million times now. In the end, none of that matters. Pesci is electric in this film, deadly and unpredictable. In particular, I will never forget his scenes with Michael Imperioli as the ill-fated Spider.
John Cusack and Anjelica Huston, THE GRIFTERS
This is an evil duet, two great actors behaving their very worst. It's also as twisted a familial relationship as anything in CHINATOWN or LONE STAR. It's one of the few times Cusack has been truly despicable, and it's some of his best work.
Michael Rooker, HENRY: PORTRAIT OF A SERIAL KILLER
He scares the hell out of me, and there's nothing human behind his eyes. What more needs to be said?
Kevin Kline, I LOVE YOU TO DEATH
Too broad? Impossible. The sheer lunacy of this story gives Kline carte blanche to play Joey as an oily maniac, all insincere charm and oddball accent. My favorite part of the film is the way he just won't die, no matter what anyone does to him. His Wile E. Coyote resilience makes a potentially ugly story painfully funny.
Richard Gere, INTERNAL AFFAIRS
I've never really trusted "nice guy Gere" onscreen. There's something hungry in his eyes, something lethal, and he harnesses that energy to beautiful effect here. The film is ultimately forgettable, but not Gere.
Tom Hanks and Meg Ryan, JOE VERSUS THE VOLCANO
America seems to love these two together, but for some reason, they keep rewarding the wrong movies. SLEEPLESS IN SEATTLE? YOU'VE GOT MAIL? These films are empty calories, cheap. This movie is the one where they shine, individually and as a real team. Hanks is exceptional as Joe Banks, the ex-fireman dying of a rare "brain cloud." Watching him progress from zombie to dead man to fully embracing life is both hilarious and affecting. Watch him tell off Dan Hedaya when he quits his job. It's better than the similar scenes in both FIGHT CLUB and AMERICAN BEAUTY this year, stranger, funnier, and sadder. It's even more fun to watch Ryan play the three difference faces of Karma Girl. She's rarely given this much room to be funny, and she makes the most of it. "Daddy says I'm a flibbertigibbet," indeed.
Christopher Walken, KING OF NEW YORK
Walken's never been more menacing. He storms through this movie, a force of nature. Abel Ferrara may be completely insane -- and I'm not exaggerating when I say that -- but he sure does know how to get out of an actor's way.
Jessica Lange, Arliss Howard, and Joan Cusack, MEN DON'T LEAVE
It's very hard to walk that fine line between tears and laughter, but here's a trio of actors who pull off this tightrope act with grace. Each of them gives off enough star wattage to fuel an entire lesser movie. Together, they are bliss.
Alec Baldwin, Jennifer Jason Leigh, and Fred Ward, MIAMI BLUES
What happened to this Alec Baldwin? He entered the decade swinging. Junior is great, charismatic but mercurial, with a hair trigger that we, the audience, come to fear. Fred Ward's Hoke Moseley is the supposed hero of the film, but I don't know where my sympathy lies. Most probably, it's with Jennifer Jason Leigh, whose Susie is the innocent between these two men. Leigh has rarely been so appealing. She's that girl who helps any animals, takes in lost children, who just can't help but love. In many ways, she's all that grounds this crazy cartoon.
Gabriel Byrne, Albert Finney, and John Turturro, MILLER'S CROSSING
Watching these three circle each other in an intricate dance of deception is like watching ballet. Each move is precise, pointed, perfect, and these actors all savor their dialogue like the fine wine it is.
Kathy Bates, MISERY
King's original story only works if we believe in Annie. We have to believe her passion, her obsession, and we have to fear that her grasp on reality is slowly slipping. Kathy Bates makes us believe, and she even gives us permission to feel sorry for Annie in the midst of her madness.
Anne Parillaud, LA FEMME NIKITA
Beautiful and savage, Parillaud is utterly convincing in both the emotional and the action scenes. This script was written for her, and if anyone has any doubts about how important she was to the film's success, all they need to do is check out POINT OF NO RETURN, John Badham's virtual shot-by-shot remake, where Bridget Fonda fails utterly in the role. It's not her fault, though; anyone would suffer by comparison.
Harrison Ford, PRESUMED INNOCENT
Mark it on your calendars: this was the last time Harrison Ford really mattered as a performer. Like his earlier misunderstood masterpiece THE MOSQUITO COAST, this is a film about a complicated character, someone we're never sure we like. It's not until his final shattering scene with Bonnie Bedelia that we truly glimpse the heart of Rusty Sabitch. It's his single finest moment as an actor. The movie was a box-office misfire, though, and he's phoned it in ever since, playing it safe. I'm not sure if I blame him or the audience more.
Julia Roberts, PRETTY WOMAN
I'm sure many of you just scrolled back up to double-check my "worst of" list. No mistake. I do indeed hate this movie, but I'm not going to pretend Julia Roberts was anything less than incandescent here. She was so possessed of whatever it is that makes up a movie star that she was able to generate enough goodwill to coast through SLEEPING WITH THE ENEMY, HOOK, DYING YOUNG, I LOVE TROUBLE, and MARY REILLY with the audience's love for her intact.
Bill Murray, QUICK CHANGE
"What the hell kind of clown are you?" asks Ray Elliot. Bill takes a beat, shrugs, and offers a deadpan, "The crying on the inside kind, I guess." He's at his sardonic best here as Grimm, and he makes no apologies for it. In many ways, this is his most angry performance. He has real fire in him, and generates heat with each person he encounters in the film. It's great that he gets to play as silly as he's ever been ("He said, 'Up your butt with a coconut'... but he had no coconut. There was no coconut to my knowledge.") and also move towards playing genuinely tender in scenes with Geena. It's a lovely piece of nuanced work.
Jeremy Irons, REVERSAL OF FORTUNE
His Klaus Von Bulow is one of the most convincing monsters of the decade, a stunning portrait of the way money can insulate someone from their morals. I still say he won his Oscar here because the Academy owed it to him for the far superior DEAD RINGERS, but this is great work, nonetheless. The movie around him may succumb to formula, but Irons elevates it all.
Tim Roth and Gary Oldman, ROSENCRANTZ AND GUILDENSTERN ARE DEAD
Tom Stoppard's play isn't just a challenge for actors; it's a dare. Oldman and Roth make it all seem easy here, a natural comedy team that keeps getting funnier and more fearless as the film unfolds.
Anjelica Huston, THE WITCHES
Both in makeup and out, Huston is terrifying here. Most actors would take a film like this as an opportunity to camp it up, but she plays it straight. As a result, even the moments where she's smiling and it's broad daylight manage to be creepy.
Sandra Bernhard, WITHOUT YOU I'M NOTHING
I was working at a theater when this came out, and I have a very special love for the film. It's the exact opposite of a love letter to the audience. It's more like an all-out assault. It's a canny piece of performance art about the relationship an audience has with an entertainer, and every single time it played, the most remarkable thing would happen: every single audience member would walk out. Not all at once, mind you, but one at a time, maybe in small groups. Eventually, though, the whole place would be empty. Almost no one ever made it to her nearly-nude performance of "Little Red Corvette," the single craziest closing number I have ever laid eyes one.
1991
This was the year I started breaking through, meeting people, and getting to watch the process from beginning to end. I learned a lot of respect for the simple act of will it takes to get a film onscreen in any form, much less as a great work of art, and I started to become more demanding as a result. It's not something anyone can do, even if there is a giant crew supporting you. It still comes down to a core group of artists making choices that affect that emotional experience we have seated in the dark. There were several films this year that ably rewarded me making the choice to spend that time with them.
1. JFK
Those who would damn this film for not being "true" miss the point. No film is true, especially not a film about an event as clouded in obfuscation as this one. Instead, this is an American RASHOMON, a film about the search for truth and the elusive nature of it. Oliver Stone illuminates every theory in the film visually, shows us possibility after possibility for how things might have happened. It's the finest work he's ever done as a filmmaker, and it should be taught in film schools for mise en scene, if nothing else. The giant, unruly supporting cast gives us glimmers of life in the strangest moments, and the overall effect of the picture is dizzying. I left the theater after my first viewing drunk on the potential of cinema. Any film that can still do that to me after all the movies I've seen is a classic.
2. TERMINATOR 2: JUDGMENT DAY
This is one of my very favorite pure action films. As much as I loved the original TERMINATOR when it came out, the low budget always nagged at me. I didn't hold it against the film, but other people would when I brought it up. One viewing of this amazing piece of eye candy would have to shut up even the most embittered critic, though. Groundbreaking upon release, the film still retains its power to amaze because of its energy. It never stops for the entire two hours-plus that it runs. Both Arnold as the original Terminator and Robert Patrick as the T-1000 are excellent, and Linda Hamilton's body sculpting for the film just might be the most amazing special effect on display.
3. THE FISHER KING
I have written thousands and thousands of words about my love of this film, and I think time will only continue to prove what a powerful piece it is. True, it's got about five endings too many, and true, it's overlong, but this film has life to it... real, messy life spilling over the edges of the frame. I didn't realize Terry Gilliam was such a humanist, but the way he gave life to Richard LaGravanese's script is wrenching. He managed to find every grace note, draw out every drop of emotion, and it all comes across as honest and raw. Even the laughs in the film are the kind that get caught before you can let them out, the kind that are tinged with hurt. It's a beautiful fable about responsibility and healing, and it manages to tower over all the gooey New Age hokum that was popular near the same time because it never once talks down to its audience. If nothing else, it is remarkable for the extended date sequence in which all four of the leads are given ample room to shine. There's a sense of the romantic here that is about real connection, and it's a miracle to see Williams turn "Lydia, The Tattooed Lady" into a moving love song. Then again, it's a film that's filled with miracles.
4. RUSH
Most people only know this film exists because Eric Clapton's "Tears In Heaven" was written for it, and that's a shame. The film easily matches the melancholy power of that song, and director Lili Fini Zanuck deserves credit for turning in an astonishing debut. Of all the Jennifer Jason Leigh performances in the '90s, this is still my favorite. I am torn apart by the relationship she and Jason Patric share in the film. The two of them seem to be having a contest to see who can deteriorate the furthest over the course of the film, and it's easy to get a sense of the real relationship that existed between these people. They destroyed one another, and they destroyed themselves. They both got so far into their jobs that they lost track of who they were and became the roles they were playing. In some ways, this is a cautionary tale for method actors, and I wonder what long-term effect it had on the leads. The rest of the cast, many of whom aren't normally actors, are memorable and achingly real. Another reason I love the film is that it has the balls to be honest about the drug scene. They paint a seductive picture at first. These people don't make the decision to destroy their lives... they are seduced into it. Like TRAINSPOTTING later in the decade, this film managed to play fair, never coming on like propaganda. It's a human story, one that anyone should be able to relate to, even if they've never come close to being burned themselves. Oh... and that Clapton song? Just one part of a phenomenal score, one that will break your heart.
5. DELICATESSEN
This was my introduction to the particular delights of Jeunet and Caro, a team of French filmmakers who have turned out two confident masterpieces this decade, with this being the first of them. This film is a very slight affair, a black little cannibalism joke, but what lifts it into high comic art is the details of the whole piece. Every single thing we see and hear is choreographed. The whole world dances around the characters, with everything coming together in a symphony of daily sounds. There's one sequence in particular in which an entire apartment building falls into synch, everything cueing everything else, that is such a superb self-contained moment that it actually served as the film's trailer in America. As much as I enjoy this film, it's the team's later effort that really knocked me out. Still, I celebrate anytime I glimpse a vision this original.
6. CITY OF HOPE
Speaking of original visions, this is another of John Sayles' perfect little films, a huge ensemble-driven portrait of the life of a modern American city. Photographed to breathtaking effect by Robert Richardson (between this and his two Stone collaborations this year, easily the best D.P. working at this particular moment), it's a searing story that covers many bases using members of Sayles' regular repertory group of actors. David Strathairn, Vincent Spano, Chris Cooper, Joe Morton, and even Sayles himself are all familiar faces, and he makes excellent use of other actors, like Tony Lo Bianco, Frankie Faison, Angela Bassett, Todd Graff, and Gina Gershon. The film weaves a number of storylines, some of them less political than others, but all of them commenting in some way on community and the sense that the larger cities get, the less together people are. The ending of the film has stuck with me all decade long: Asteroid, the homeless and possibly insane character played by Strathairn, hanging on a chain-link fence, shaking it, crying out with a ruined, desperate voice, the same one word over and over. "Help! Help! Help!" Having lived in Los Angeles this decade and having watched all its social turmoil firsthand, no image better cements the way I feel.
7. BARTON FINK
I don't think this is anywhere near the best film the Coen Bros. have made, but it's a great little art-house game, a winning, snarky look inside the mind of artists who are wrestling with their own creative gifts. As the Coens worked on their labyrinthine MILLER'S CROSSING script, they got stuck. This film was written as a way of breaking down that writer's block. In writing about the very subject of writer's block, they also got to explore the great writers of the jazz age who sold out their considerable gifts to Hollywood. Some got in and got back out, while others died slowly, like the grand old coot that John Mahoney gives such ripe and ribald life to. There's a lot of very good character work here, with Michael Lerner and Jon Polito making a very good comedy team, and with Judy Davis giving such great attitude, but the film never really engages. Instead, its surreal edge is something I can admire and enjoy greatly without feeling anything at all.
8. DOGFIGHT
As I was in the midst of working on this article, HBO happened to show this film in the middle of the night. I own it on laserdisc, and planned to take it out to watch it again before deciding where to place it, but there it was, out of the blue, and I watched it. It was after 3:00 in the morning, but I wasn't tired, and as I watched this film, I was hit by such a sense of loss, over and over, like waves. River Phoenix was such a tremendous presence, and he was just starting to really become a man onscreen, leaving behind that boyish awkwardness. It's in this film that we get the best picture of who he was about to become, and it's fitting that he plays the role he does. In the film, he's a boy playing at manhood, trying to prove something to himself, and we see him wrestling with this undeniable streak of decency that runs right through him. All around him, his friends are soldiers, roughnecks, master shittalkers. He isn't that, though, no matter how much he puts it on, and that's what makes the film work. The title and the set-up of the picture don't have much to do with where it eventually goes and what it eventually does, and I think a lot of people stayed away because Warner Bros. didn't quite know how to sell it. To my mind, the film makes a perfect double feature with BEFORE SUNRISE, the delicate Linklater film from a few years later. Both films manage to capture that moment we've all had where you meet someone and you connect and you have that one perfect conversation that lasts all night, the one where you talk about your past and your dreams and you make each other laugh and you just connect. Nancy Savoca orchestrates the whole thing with a feather touch, and the ending -- two simple words exchanged amid an embrace -- is like a sledgehammer wrapped in velvet, devastatingly gentle.
9. BEAUTY & THE BEAST
Gary Trousdale and Kirk Wise, along with Linda Woolverton, deserve credit for honing the Disney formula to a razor's edge with this picture, one of the last before the studio gave up every last bit of soul. This may be one of the finest fairy tales ever committed to film. I adore the hallucinatory power of Cocteau's version, and there's no denying that Disney has used that film to help guide many of their style choices, but this is one case where one can't fault the team artistically. The score is one of the finest that Disney has recorded, with several showstoppers. Gaston is a remarkable bad guy, entertaining and understandable. All the voice work in the film is solid, even if no one really stands out. In fact, there's no one part that makes this film work... it's just a case of everything working the way it should.
10. THE COMMITMENTS
I love Alan Parker when he's working with music. I think he's the absolute hands-down best living director of musicals. He's the only guy I can think of who knows how to handle them for film, no matter what the musical style or subject. I used to try and defend John Landis in the same way but he had to go and make that damn BB2000 and prove me wrong. So I'm left with Parker, and maybe that's enough. Here, he's taken Roddy Doyle's great little comic novel about an unlikely band of Irish youths who somehow, improbably, make great music together for one shining moment, and he's turned it into one of the most impassioned concert films I've ever seen. Of course, the fact that The Commitments aren't really a band doesn't matter a bit. They are when Parker shoots them. This movie makes you want to get up and move, and the choice of songs is always invigorating. The material away from the music is all handled well, and the cast is wonderful, but there's no doubt where the real magic in the film is.
RUNNERS-UP
1. HOMICIDE
Of all the films David Mamet has directed, this is far and away my favorite. I find it deeply disturbing, deeply sad, and I think it's got more on its mind than his other films. It's not content to the simple game-playing of HOUSE OF GAMES or THE SPANISH PRISONER. It's not bogged down by pretension like OLEANNA. It's nowhere near as cute as THINGS CHANGE. Instead, it cuts with incisive writing and simple, uncluttered direction. Each performance is simple, true. The ending of the film is one of those that seems to come up on you out of nowhere, but as you think about it, it's the only logical place for the film to end up. Just a crushing experience.
2. THE INDIAN RUNNER
This film is the reason I was willing to accept Sean Penn's retirement from acting. As long as he was still involved in filmmaking and turning out wrenching character dramas like this, I would be happy. Instead, it's directing he seems to flirt with, only making one other film this decade. A debut like this would be hard to live up to. He used a Bruce Springsteen song as his original inspiration for the script, but this is an original, and it's a clear indicator that Penn's is a vital, important voice.
3. GRAND CANYON
I'd been in Los Angeles for about a year and a half when this film came out, and it perfectly summed up my feelings about the city. Kasdan made a movie that seems prescient on this side of the riots, but which many people dismissed as overly negative at the time. It's a risky film, and it tries to say quite a bit. While I don't think it's entirely successful, I can't deny the power it had for me as a viewer. Walking out of the theater, with a helicopter buzzing by overhead, it was almost too much to take.
4. THE DOORS
It's no secret to anyone that has seen any of Oliver Stone's films that the man is absolutely 100% stuck in the '60s. There's a part of him that has never left the era behind, particularly the excesses of the times. With this film, Oliver was able to embrace that madness of that moment, wrap himself up in it, and get lost. He was able to put ILM to use capturing an acid trip. He was able to raise Jim Morrison from the dead for a few more massive Bacchanalian orgies, great golden copulations of sound and color. Are all the facts right? Is this the absolute truth about The Doors? No and no again. Doesn't matter, though... it feels right, and it sounds amazing. For a massive Morrison fan like me, that was more than enough.
5. DEFENDING YOUR LIFE
There's something truly profound about the idea of taking any single incident from your life and being judged based on that moment. In each thing we do, we have a choice to try and be our best, and frequently, we let the little moments go. Albert Brooks makes the case here that it's the sum total of those little moments, and not just the few big flashy moments where we did what we were supposed to, that make up the real character of someone's existence. Of course, he does it with razor-sharp sarcasm, a great sense of self-deprecation, and a surprisingly nimble romantic spirit in this great, great comedy. This is one of my favorite representations of the afterlife onscreen, right up there with Michael Powell's. Brooks has really thought about this, and for every comic point he scores, he also makes one that is poignant and honest. The film carries a real punch, and I'm surprised how involved I got in the unlikely relationship between he and Meryl Streep. This is one of the few Brooks films I would recommend to anyone, whether you're a fan of his work or not. Its appeal is that universal.
TWENTY HOURS I WANT BACK
1. NOTHING BUT TROUBLE
What the hell happened to Dan Aykroyd? Has he just gotten so strange as he's gotten older that he has left the mainstream behind forever? I mean, there's no getting around it... he's always been a web-toed mutant, but at least when Belushi was alive, Aykroyd was able to somehow communicate his bizarre comic ideas in a language that was genuinely funny and approachable. GHOSTBUSTERS is a great, great script by he and Ramis, and when I first heard about this film (back when it was called VALKENVANIA), it sounded like it was going to be another demented alternate reality that Aykroyd was summoning up. In a way, I guess it is. It's just that he forgot to make it even remotely funny. Instead, it's disgusting. I don't know what filthy image was less funny... the syphilitic judge's rotten nose socket, the penis shaped prosthetic nose he occasionally wears, the disgusting mutated twin brothers in diapers, or any of a dozen other "gags" in the film. Aykroyd plays several roles, but there's plenty of humiliation left over for the truly awful Chevy Chase, Demi Moore, John Candy, and Taylor Negron. It's this kind of film that gives SNL alumni a bad name.
2. REGARDING HENRY
Absolutely shameless. This film couldn't try any harder to make me cry if it reached out and poked me in the eye. Painfully manipulative, contrived, poorly-written, this is one of those films that makes you wonder if anyone actually reads scripts before they commit to things. Harrison Ford must have deeply regretted passing on BIG when he and Spielberg were considering doing it, because he digs into playing a child here. Once Henry's been shot in the head, Ford develops a blank stare and a sort of tight-mouthed way of talking that are supposed to signify that he's a little boy trapped in this man's body. Instead, they just point up how limited his range as an actor can be. Annette Bening is stranded as his wife here.
3. LIFE STINKS
Especially when you're Mel Brooks and you're suddenly just not funny anymore.
4. COOL AS ICE
This was director David Kellogg's first film. His second film was this year's INSPECTOR GADGET. Do we sense a trend here?
5. HOOK
This one's hard to be glib about. It was an important film for Steven Spielberg in many ways, and he blew it. Look at the film's central conceit: Peter Pan grew up and forgot how to be Peter Pan. For an aging wunderkind, especially one coming off a string of commercial failures, it must have struck close to home. Thanks to circumstance, I had a chance to be a fly on the wall for some of the filming of HOOK at the Sony lot, and it was a strange, tense, fascinating environment. There was a lot of pressure on Spielberg. He was spending a rumored $100 million on the film, one of his stars (Julia Roberts) was melting down under a tabloid microscope, and if he couldn't make this particular film work, then how could he be expected to make anything work? He was born to make this film. It's really no wonder he folded under the pressure. The script by Jim V. Hart, Nick Castle, and Malia Scotch Marmo is mawkish, obvious, and overly cute, and it never really gets to the heart of such a potent idea. It's a shame, too, since it's an inspired John Williams score, and the actual look of the film is at times almost breathtakingly pretty. This may have been the beginning of the end for Robin Williams, the first of his truly unbearable screen appearances.
6. POINT BREAK
I don't know what Kathryn Bigelow's beef is, but she's got this giant chip on her shoulder as a filmmaker, like she's got to prove that she's got more testosterone than any male action filmmaker alive, so she's going to make her films twice as loud, twice as ugly, and twice as stupid, just to prove she can. This is the hands-down funniest performance Keanu Reeves has ever given in the history of bad Keanu Reeves performances. "You're going down, Bodhi!" Hysterical. Swayze is his typically stiff self, Lori Petty is from Mars (as always), and one of the major action set pieces is ripped off almost shot for shot from RAISING ARIZONA. Absolutely numbing.
7. ROBIN HOOD: PRINCE OF THIEVES
Bad... so, so very bad. I sat through this film, having heard the supposed test screening buzz about it being "better than RAIDERS," and I kept waiting for something interesting or exciting to happen. Instead, images of every other Robin Hood from the history of film kept flashing by, each of them more interesting than anything onscreen. This is one of those nonmovies that leaves no impression upon passing by the rods and cones. It just scans and disappears. Kevin Reynolds is one of those guys who has been given chance after chance after chance on big studio action films, and he just hasn't proven any knack at all. Yes, WATERWORLD eventually turned a profit. Yes, this film was a monetary hit. But can anyone actually watch this dreck now from start to finish? Even Alan Rickman is adrift playing a preposterous villain. Without any redeeming qualities.
8. DEAD AGAIN
I can respect what Scott Frank's screenplay was trying to do here, and I'm sure that in another filmmaker's hands, it might have worked. Kenneth Branagh manages to strangle the subtlety from the piece, though, ladling on his overheated visual style until the film suffocates and dies. Emma Thompson is okay here, although I really think her best work was done away from Branagh as a director. As far as his acting goes, there's not enough scenery in the film for all the chewing he does. I know he fancies himself the modern Olivier, but Branagh has always come across more as the modern Shatner to me, Shakespearean in the worst sense. Andy Garcia's big gross-out moment with the hole in his trachea is almost worth giving the film a look, but only if you're a really, really big fan of bad old-age makeup.
9. CURLEY SUE
And as we make our way through the Museum of Ruined Careers, you'll notice on your left the movie that stopped John Hughes' directorial career in its tracks. Faced with a choice between making this film or HOME ALONE, he handed one script over to his protégé Chris Columbus and kept this one for himself. Ten years later, he's still feeling the sting. The film is your typical treacly retread of PAPER MOON with a con artist father/daughter team, but it's so overtly slick and hollow that even the people who made MRS. DOUBTFIRE a hit couldn't throw Hughes a bone. It's because of choices like this that Jim Belushi is making direct-to-video sequels to K-9 these days.
10. THE PRINCE OF TIDES
Even when a vanity project turns out well -- DANCES WITH WOLVES comes to mind -- there's something vaguely distasteful about it. When it goes spectacularly wrong, as in the case of Streisand's "masterpiece" here, there is a snuff film sort of appeal to the whole thing. Pat Conroy's novel may have been a southern gothic soap opera, but it was a rippingly told one, with some real meat to it. Streisand is completely out of her depth here as a director, and the attention she pays to herself is mind-boggling. On about the 200th close-up of her legs or her fingernails, I wanted to run screaming up the aisle and dive through the screen, just to make the voices in my head stop. That's the kind of endurance test this film is unless you're just completely in love with Barbra. If so, then have at it; better you than me.
PERFORMANCES
John Turturro and John Goodman, BARTON FINK
Goodman's performance in this film only works if Turturro's does. Much like FIGHT CLUB this year, this film deals with a fractured psyche, with each actor giving voice to one part of a complex whole. These two spend the whole film wrestling, both verbally and physically, and the disparity between them in size as well as volume and intensity pays off with some rich, surreal imagery.
Robert De Niro, CAPE FEAR
I may not be nuts about this remake -- way too overheated for my tastes -- but there's no denying that De Niro is a wickedly funny Big Bad Wolf in the film. He is the reason Juliette Lewis looks so good in her one big moment, and he literally blows Nick Nolte off the screen in every single moment they have together. His attack on Illeana Douglas is still one of the most horrific acts of the decade, and Max Cady deserves to loom large in nightmares for years to come.
Andrew Strong, THE COMMITMENTS
I remember when this film came out; all the buzz was about this amazing fat Joe Cocker-looking dude who could just sing his ass off. I remember hearing mumblings about him getting a recording contract. Mainly, I remember having to pick my jaw up off the floor when I finally saw the film and got a load of what should have been just as big a star-making performance as Julia Roberts' turn in PRETTY WOMAN. This guy was amazing. He was Belushi in some ways, but his Cocker wasn't just an impression. He had pipes. He summons thunder in this film as Deco. If time has muted the quality of this performance for you, do yourself the favor... go back and check it out. You'll be glad you did.
Albert Brooks and Rip Torn, DEFENDING YOUR LIFE
Albert Brooks is one of the funniest wielders of sarcasm ever, but he meets his match here in Rip Torn, who seems to have been reborn with this role. Torn grounds the movie's most absurd moments with his solid, no-bullshit sensibility, and he manages to exasperate Brooks in ways that no one has ever accomplished. Their give and take elevates this film from very funny to comic perfection.
Dominique Pinon, DELICATESSEN
Roberto Benigni wishes he was this guy, and he wishes he'd given this performance. This is the single best piece of silent film comedy captured onscreen this decade, with Lee Evans in FUNNY BONES coming in a close second. Pinon manages grace and pathos amidst the belly laughs, and makes the distasteful seem charming.
River Phoenix and Lili Taylor, DOGFIGHT
Anytime I've included more than one actor from a film on the performances list, it's because of the way they worked together. In this case, these two had the difficult job of starting as far apart as possible and convincing us that they somehow forge a real and lasting bond over the course of one night. Phoenix may have been coming into his own in this film, but for Taylor, it was a coming out, an introduction, and she's wonderful here. She has to endure the least flattering costuming I can imagine, but she is so real, so centered, and so passionate that she shines through. There's one lovely moment in a coffee house when she sings for Phoenix that is just piercing. In that moment, you can imagine him suddenly seeing past her outside, straight into her soul, and falling in love.
Val Kilmer, THE DOORS
What actor wouldn't want to immerse themselves in the decadence of a Jim Morrison? Kilmer took the opportunity and ran with it, transforming so completely that I've never been able to look at him the same since. He's alternately childish, profound, riotously funny, and cruel, and he somehow remains charismatic throughout. By the time he shows up in that tub in Paris, it feels like a genuine loss to say goodbye to this Morrison.
Robin Williams, Jeff Bridges, Mercedes Reuhl, Amanda Plummer, and Michael Jeter, THE FISHER KING
I don't have any idea how Terry Gilliam and Richard LaGravanese did it, but they somehow inspired all five of these actors to the best work of their careers. Robin Williams finally finds the perfect dramatic context for his rapid-style free association: schizophrenia. His mania