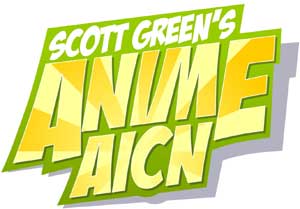 Logo handmade by Bannister
Column by Scott Green

Mark Twain said that "to a man with a hammer everything looks like a nail."
I try to avoid that trap and, as such, I've been slow to use this site to comment about the March 11 9.0-magnitude earthquake that occurred near the coast of Japan. I don't believe that Ain't It Cool News is the most productive venue for raising more awareness or for provoking helpful reactions in this sort of truly consequential, media unrelated matter.

That said, I would implore people to read about the crisis in Japan. Not just the back and forth on whether the Fukushima nuclear power plant situation is overblown or covered up, or all of those articles about how disasters have informed Japanese pop media. Read about the desperate situation in the shelters in areas like the hard hit Miyagi Prefecture.
For all its faults, the internet offers excellent opportunities to get informed. There's less excuse than ever to be ignorant or rely on reductive thinking. The NHK's English service is an excellent place to track the news, but following multiple sources is recommended.

I hope that now, with some time passed from the event, with the effects being seen, I can encourage AICN readers to do something to help out.

There is no shortage of charities contributions to which will assist in helping Japan.

If something media related would help with the little push needed to make a contribution, here are a few suggestions. I'm hoping not to make this ignorable in its over complexity, so, this is by no means an exhaustive list of the heartfelt work being made by many.

New York's Japan Society has organized an Earthquake Relief Fund. - Read Otaku USA editor-in-chief Patrick Macias' endorsement here.


*



Anime Fans Give Back To Japan has organized a 24 hour benefit podcast, to run Saturday, March 19th at 6:00PM EST to Sunday, March 20th at 6:00PM EST.
Guests include anime industry figures

Steven Jay Blum
Terri Doty
Crispin Freeman
Stephen Hoff
Reuben Langdon
Michelle Ruff
Stephanie Sheh
Micah Solsoud
J. Michael Tatum

And from the anime and Internet community:

Zac Bertchy
Todd Cochrane
Scott "KaiserNeko" Frerichs
LittleKuriboh
Justin Sevakis
Ed Sizemore
Tony Yao
The effort has already raised over $7,500 through Global Giving.


*



Giant Robot, an institution in the coverage of Asian and Asian American culture, will present Water Works - Fundraiser for the Devastation in Japan at Giant Robot Los Angeles (GR2) Saturday, March 19 · 6:30pm - 10:00pm
Contributions will be made to U.S. Fund for UNICEF.


The U.S. Fund for UNICEF (USF) is raising funds to help children in Japan impacted by the March 11 earthquake and tsunami. This is an unusual decision, as Japan is a donor to UNICEF, not a recipient of its assistance. However, due to the unprecedented nature of the epic disaster and its impact on children, resources are going to be critical in helping provide for the very unique needs of children. These may include health, development, and protection and other needs that may have been compromised or disrupted in the wake of the catastrophe. Giant Robot is proud to join the effort, and have asked many of our talented friends to create water-themed art to raise funds to support the efforts of UNICEF.

In addition to raising money by selling artwork, Giant Robot will be donating the following to UNICEF:

1. Proceeds from the sale of water bottles featuring labels created by artists and signed by celebrities.
2. Fifty percent of proceeds from Giant Robot's small restaurant, gr/eats, on Saturday, March 19.
3. A percentage of all sales at Giant Robot, GR2, and GRSF during the weekend of March 18-20.
4. Raffles for donated merchandise including designer- and artist-signed items, GR gear, horseback rides, and other items.
5. Cash donations accepted for UNICEF.

Contributors include the following:

Andrice Arp
Gary Baseman
Chris Bettig
Bigfoot
Jude Buffum
Chris Buzelli
Louise Chen
David Choe
Luke Chueh
Jesse Fillingham
Renee French
Ayako Fujitani
Matt Furie
Rodney Greenblat
Katherine Guillen
Joe Hahn
Clement Hanami
David Horvath
Mari Inukai
James Jean kozyndan
Jesse LeDoux
Lisa Ling
Barry McGee
Ryan McGinness
Jeff McMillan
Junko Mizuno
Megan Mullally
Gary Musgrave
Mark Nagata
Saelee Oh
Bryan Lee O'Malley
Nathan Ota
Mu Pan
Albert Reyes
Jay Ryan
Rob Sato
Ryan Jacob Smith
Deth P. Sun
Jillian Tamaki
Katsuya Terada
Edwin Ushiro
Esther Pearl Watson
Daniel Wu
Yoskay Yamamoto
Kohei Yamashita



*



Japan Cinema has hosted a week long Blogathon with CinemaFanatic - collecting contribution through Donate with Paypal

A number of the most prominent voices in English language, online anime/manga talk have organized Anime and Manga Bloggers for Japan to help assist Doctors Without Borders and Shelterbox.


*



Finally, please don't forget other charities. If you can give, and especially if you can give regularly, see what you can do for a worthy cause.