Hola all. Massawyrm here.
Few directors in the industry have the clout and juice of gargantuan successes to be able to bully past the brain trust that often has a hard time wrapping itself around truly inspired efforts. When Christopher Nolan set out to make INCEPTION, many of the suits didn't get it, but they gave Nolan carte blanche in hopes that he would return to make back any losses - and then some - with a third Batman film. The result was one of the most original big budget films in years. After the PIRATES trilogy and THE RING, Gore Verbinski managed a similar amount of pull to make the single most original, striking and fascinatingly bizarre animated family film in years. RANGO is its own thing, a mature, brilliant, wildly entertaining masterpiece of modern animation that is both a 4th wall breaking pop culture medley and a perfectly executed family western at the same time.
And best of all? It's just plain weird.
RANGO isn't afraid to be its own movie. While it is riffing at several points on a number of classics – all through visual cues rather than the typical "doyougetitdoyougetitdoyougetit?" comedy prevalent in most modern animated films – it spends as much time possible creating its own, delicious little wild west world populated with classic western tropes ported beautifully into anthropomorphic wildlife. Taking this film to the next level is that it isn't a mere cartoon. It is a western. And that means characters die. Good guys, bad guys – everyone is up for grabs. And once you realize that in the movies early action/comedy sequence, it becomes something you've never quite seen before.
Johnny Depp is RANGO, the titular stranger who wanders into a small, western town only to find himself in the middle of mutant crossbreed of the classic fairy tale THE BRAVE LITTLE TAILOR (which you might know best as SEVEN WITH ONE BLOW) and the cinematic masterpiece CHINATOWN. Depp once again creates something really special, his voice and speech pattern almost entirely unrecognizable as he crafts a truly memorable character out of this tiny, little lizard. And Depp isn't alone – most of the cast is hard to pick out from their characters. While Verbinski certainly went out of his way to populate the film with name talents, he did so to get talented voice actors, not just animated versions of staple stock characters these actors play – as is often the case. The result is a rich tapestry of characters that you'll fall in love with – both good and bad.
We in the adverb loving review press have a fondness for the word Unique – so much so, that we feel the need to modify it with truly, very, wildly or even remarkably…often when we mean to call something simply different. This? This is unique. It is a film that will send you out of the theater wondering how it ever managed to get made. You've never seen anything like it, and no matter how well it does, you are unlikely to see anything ever quite like it again. It is its own beast, a strange brew of comedy, action, heart and the occasional irreverent shattering of the 4th wall. It's almost as if Quentin Tarantino made a family film and managed to curtail his use of F-bombs. Despite being a CG family film, it is the spiritual cousin of KILL BILL more than it is anything else – a collection of influences that gel together into a perfect example of what it is trying to emulate rather than a simple imitation of it.
I've said it before and I'll keep saying it: Gore Verbinski is this generation's Spielberg. He understands family filmmaking in a way that can only be compared to theworks of Amblin; while simultaneously able to conquer any and every other genre he sets his mind to. Every time he sets out to enter a new genre, he redefines it for its era. And this very well may be his best film yet.
Oh, and his decision to fight the studio on up-converting to 3D was a masterstroke. The film is lush, gorgeous and would have been destroyed by trying to squeeze an extra few dollars out of families. Keeping it 2D was a boss move.
I cannot stress enough how badly you need to see this film as soon as possible. If you have kids, take them twice. This delighted me in ways no animated film has of late and is the very best thing you'll see this season. Weird, wonderful and the very best thing in theaters right now, this comes HIGHLY RECOMMENDED.
Until next time friends, Massawyrm
Got something for the Wyrm? Mail it here.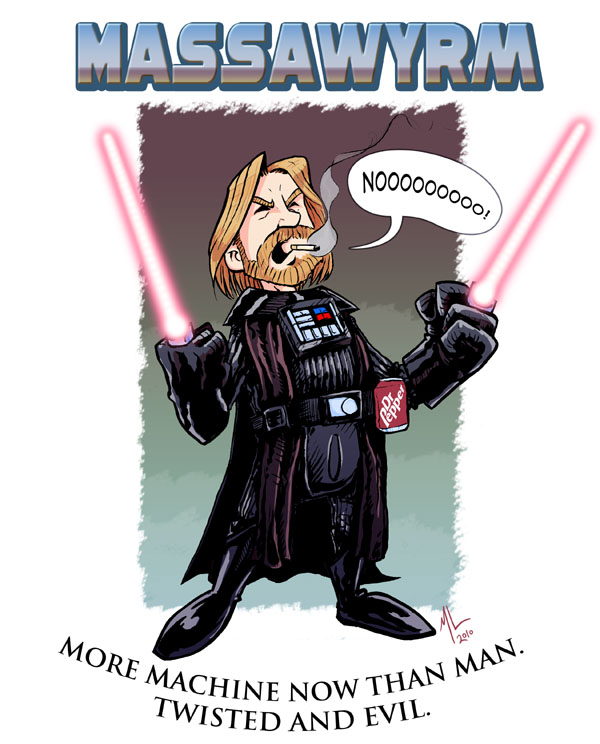 Or follow my further zany adventures on Twitter.