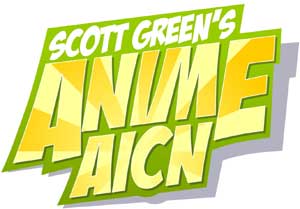 Logo handmade by Bannister
Column by Scott Green
Upcoming in Japan

Promos

X-Men


Cast includes
Cyclops: Toshiyuki Morikawa
Wolverine: Rikiya Koyama
Professor X: Katsunosuke Hori
Storm: Aya Hisakawa
Emma Frost: Kaori Yamagata
Yui Sasaki: Yoshiko Sakakibara
Jean Grey: Yurika Hino
Hisako Ichiki: Yukari Tamura
Beast: Hideyuki Tanaka

Fuminori Kizaki (Afro Samurai) will direct the Madhouse production, which will air in the US on G4

Leiji Matsumoto's Millennia Legend - Snow Kunoichi

Blue Exorcist

Ano Hi Mita Hana no Namae o Boku-tachi wa Mada Shiranai - from the makers of Toradora

Fafner Heaven and Earth

Princess Resurrection OAD


Onigamiden

Nichijou


Onigamiden


Shima Kosaku


Tiger and Bunny


Yozakura Quartet OAD 2


Tiger and Bunny

Noboru Iguchi's (Robo Geisha) Karate Robo Zaborgar


Bunny Drop (Live Action, there's also an upcoming Production I.G anime series)


Anime

Production I.G announced Jin-Roh director Hiroyuki Okiura is returning after a decade absence to direct A Letter to Momo (original title: Momo e no Tegami)


Story
Momo is a young girl who grew up in a big city.
However, following the premature loss of her father, she has to move with her mother to the old family house on a remote island. Here, time seems to have stopped: old wooden buildings, holy shrines surrounded by trees, fields painstakingly carved out from steep hills... and no shopping mall.

Needless to say, Momo is not too overenthusiastic about this new environment.
Most of all, her heart is still feeling uneasy about an unfinished letter left by her father. A letter that contained only two words: "Dear Momo..."

What was dad going to say?

One day, exploring the attic of her new big house, Momo finds a dusty and worn out book.
And from that moment, something really unexpected starts happening around her...


Main Staff
Director / Screenplay / Storyboard: Hiroyuki Okiura (Jin-Roh)
Key Animation Supervisor: Masashi Ando (Princess Mononoke, Spirited Away)
Key Animators: Toshiyuki Inoue (Tokyo Godfathers), Ei Inoue (The Cat Returns), Takeshi Honda (Evangelion: 2.22 You Can (Not) Advance), Tetsuya Nishio (The Sky Crawlers), Hiroyuki Aoyama (Summer Wars)
Background Art: Hiroshi Ono (Kiki's Delivery Service)
Animation: Production I.G (Ghost in the Shell, Jin-Roh)



*



A K-on! movie, based on the schoolgirl rockband anime/manga, will hit Japanese theatres December 3rd.



*



Japanese novelist Genichiro Takahashi (Sayonara, Gangsters) has twittered some hints about Hayao Miyazaki's next work, saying that the subject is a secret, but, it might become Miyazaki's finest masterpiece.



*



Tsutomu Mizushima will be directing the Production I.G. TV adaptation of supernatural comedy/mystery Azazel-san



*



Revolutionary Girl Utena's Kunihiko Ikuhara's new anime series will hit Japanese TV in 2011



*



Action eating Shonen Jump series Toriko and One Piece will be crossing over in an anime special, scheduled for Sunday, April 3.



*



Toei will be marking the 25th anniversary of fight series Saint Seiya with a CG movie


A second Fairy Tale ODA will be packaged with volume 26 of the manga.



*



Detective Opera Milky Holmes will be getting a new anime special this summer.



*



Some announcement, presumed to be more anime, related to Ika Musume/Squid Girl is on the way



*



Cute guy Shinsen Gumi samurai series Hakuouki is getter an OVA follow-up



*



Sanrio/Sega manga girl title Jewelpet will be getting new series Jewelpet Sunshine in April



*



A limited edition of volume 43 of Oh! My Goddess will will packaged with an OAD anime episode



*



One of the two new Kämpfer für die Liebe gender swap action comedy will not air on the Japanese TBS. Instead, the two will be screening during an event at Odaiba Cinema Mediage theater in Tokyo on March 6



*



A new Hamtaro anime will hit TV Tokyo April 2nd.



*



A bonus episode of video game based historical action Sengoku Basara will be released with the final volume of its second season's DVD release.



*



Takahiro Omori will be directing a Brains Base produced third season of Natsume's Book of Friends. An adaptation of Yuki Midorikawa's Hotarubi no Mori e is also in the works.



*



A Metal Fight Beyblade 4D anime series will replace the current Metal Fight Beyblade Baku



*



Two Pokemon movies related to Black and White will both open in Japan on July 16th.



*



Ben-To, a light novel series about a poor student's stuggles to nad discount boxed launches, will be getting an anime adaptation.



*



The new Gintama alternate history action/comedy will premiere April 4th



*



Aquarian Evol, a continuation to Shoji Kawamori's 2005 mecha series has been greenlit



*



Romeo Tanaka's Jinrui wa Suitai Shimashita light novel series about a work in which fairies have largely replaced humans as a dominant species, will be adapted into anime.



*




Kenji Kamiyama is directing a NTT Docomo phone tie-in short title Xi Avant to go with the stereoscopic 3D processed version of Ghost in the Shell: Stand Alone Complex: Solid State Society



*



It's not Japanese anime, but gekiga (a more adult alterntative to manga) pioneer Yoshihiro Tatsumi's autobiography A Drifting Life will be adapted into an animated feature by Singaporean filmmaker Eric Khoo.



Manga
Hideo Yamamoto's (Ichi the Killer) Homunculus is ending in Weekly Big Comic Spirits. The 15th and final collection is due in April.

Yamamoto recently chatted with Korean director Jang Chul-soo (Bedevilled) in Big Comic Spirit, leaving open the possibility of a movie adaptation



*



Fullmetal Alchemist creator Hiromu Arakawa will launch a new manga series in this year's 19th issue of Shogakukan's Weekly Shonen Sunday magazine on April 6.



*





Rumiko Takashi will have a Rumiko Theater new one-shot run in Big Comic Original



*



Takuya Mitsuda (Major) will launch a boxing manga in March 16.



*



Five Star Stories: Reboot will revive the Mamoru Nagano's elegant mecha series



*



Yokinobu Hoshino (2001 Nights) will be adapting James P. Hogan's Inherit the Stars for Big Comic




*



Masasumi Kakizaki, author of the post war prison based Rainbow has written a short manga about Roman gladiator for Shonen Sunday



*



90's magical girl comedy Akazukin Cha Cha has gotten a new one shot in Cookie




*



Mamoru Oshii and Tetsuya Nishio will be collaborating on a one shot about in the history of the Meiji Restoration, told with dogs, to be published in Comic Ryu



*



Yoshiyuki Sadamoto's Evangelion manga, begun in 1995 and on hiatus for the last year, will resume in the next issue of Young Ace.



*



Saint Seiya: Episode G will be back from its hiatus in the April issue of Champion RED



*



The Steel Ball Run chapter of the Jojo's Bizarre Adventure dynastic action series is ending in Ultra Jump



*



Manga creators Peach-Pit will be ending Zombie-Loan in the March issue of G Fantasy. The 13th volume will be collected in the Spring.




*



Toronto-born artist, known for work on Marvle's Spider-Man Loves Mary Jane, Uncanny X-Men and Runaways moved to Japan, where his debut manga Lost Planet: Bound Raven is being published

Live Action
Eita (Nodame Cantabile) will star in the lead of a new adaptation of rebel police biker manga Wild 7 - previously adapted into a 70's TV series and an anime OVA.



*



Ishinomri's tokusatsu heros Kikaider, Inazuman and Zubat will the Kamen Rider 40th anniversary movie - "OOO Den-O All Riders: Let's Go Kamen Rider" premieres on April 1, 2011




*



Yoshimasa Ishibashi, creator of Vermilion Pleasure Night sketch show that spawns Oh! Mikey (aka The Fuccon Family) is returning with new movie Milocrorze




*



A new 3d Ring horror movie is in the works with a new story by author Koji Suzuki.

Also on the slate is a Takeshi Furusawa of Yukito Ayatsuji's also to be anime adapted horror novel Another and Yojiro Takita adaptation of Tow Ubukata's Tenchi Meisatsu

Prose

The 22nd volume of Zero no Tsukaima (The Familiar of Zero), due for a 2012 release, will be the light novel fantasy series' last.



*



A new series of Yoshinobu Akita's fantasy Sorcerous Stabber Orphen, previously adapting into anime, manga and video games, will launch in April.



*



Nagaru Tanigawa's next Haruhi Suzumiya light novel, Suzumiya Haruhi no Kyogaku (The Surprise of Haruhi Suzumiya) will ship May 25th, with a special booklet containing a short story and a 64 page color booklet featuring illustrations by novel artist Noizi Ito, contributions by artists Gaku Tsugano (The Melancholy of Haruhi Suzumiya manga) and Puyo (The Melancholy of Suzumiya Haruhi chan), and a behind-the-scenes account by the original editor of the light novel series.



*



The Sneaker, magazine that serializes light novels inluding The Melancholy of Haruhi Suzumiya will cease publication as of its April issue.



Upcoming in North America


The Studio 4C animated Thundercats, due to hit Cartoon Network


Bandai Entertainment

Gundam Unicorn 3




The Girl Who Leapt Through Time Blu-ray is due to be released April 12th

Dark Horse
In an interview with MTV Geek, Dark Horse's Michael Gombos mentioned plans to release new editions of CLAMP's Tokyo Babylon and Angelic Layer

AVATAR: THE LAST AIRBENDER—THE LOST ADVENTURES
Aaron Ehasz (W), Josh Hamilton (W), Tim Hedrick (W), Dave Roman (W), J. Torres (W), Joaquim Dos Santos (A), Elsa Garagarza (A), Gurihiru (A), Corey Lewis (A), Johane Matte (W/A), Ethan Spaulding (A), and others
On sale July 13
FC, 240 pages
$14.99
TPB, 6" x 9"


CARDCAPTOR SAKURA OMNIBUS BOOK 2
CLAMP (W/A)
On sale July 27
b&w, 576 pages
$19.99
TPB, 5 3/4" x 8 1/4"

MAGIC KNIGHT RAYEARTH OMNIBUS EDITION
CLAMP (W/A)
On sale July 6
b&w, 656 pages
$19.99
TPB, 5 1/8" x 7 1/4"

USAGI YOJIMBO VOLUME 25: FOX HUNT
Stan Sakai (W/A)
On sale July 6
b&w, 192 pages
$16.99
TPB, 6" x 9"
On sale July 27
b&w, 192 pages
$59.99
Ltd. HC, 6" x 9"
The warrior's path is fraught with peril as Miyamoto Usagi takes to the road with his bounty-hunter friend Gen. Traveling the countryside, the samurai odd couple must put bickering over money and shortcuts aside as they encounter a series of dangers, including trickster foxes, a gambler who is master of the bullwhip, and several factions of treacherous ninja. The stakes are raised even higher when the pair go their separate ways, as Usagi falls in with a clan on a suicide mission and Gen pursues a killer who isn't what he appears, in adventures that will test each friend's honor—and bravery!

Discotek Media
The Galaxy Express 999 and Adieu Galaxy Express 999 movies will be out on DVD June 28th 2011

the 3rd Fist of the North Star box in July. The 4th box is scheduled for September or October.

The next titles released will be:

4/19/11

Aquarian Age Juvenile Orion live action movie (English subbed)

Princess Blade live action (will be 16:9 for the first time in the US, English sub and dub)

5/17/11

Project A-ko (remastered, English subbed and dubbed)

Dead or Alive (Takashi Miike's awesome live action movie! English subbed)

Funimation
Funimation has licensed the third season of alien invasion comedy Sgt Frog.

FUNimation Entertainment announced that it has licensed the home entertainment, broadcast, digital rights and merchandise rights for the sci-fi original video anime "TO" from Showgate, Inc.

The OVA is directed by Fumihiko Sori ("Appleseed," Vexille" and the upcoming Dragon Age role-playing video game based anime film being produced by BioWare and FUNimation) .

In "TO," Sori has adapted two stories from Yukinobu Hoshino's 2001 Nights manga. "Elliptical Orbit" and "Symbiotic Planet" are part of Hoshino's centuries-long storyline about mankind's voyages into space.

FUNimation will release the OVA on DVD and Blu-ray this summer.



The manga was reviewed here.

FUNimation Entertainment also announced the main English dub cast of the 13 episode supernatural action anime series "Baka and Test - Summon the Beasts":

AIKO Trina Nishimura
AKIHISA Josh Grelle
AKIRA Carli Mosier
FUKUHARA Anthony Bowling
HASEGAWA Ian Sinclair
HAZUKI Lindsay Seidel
HIDEYOSHI Brina Palencia
HIRAGA Micah Solusod
HIROMI Anastasia Munoz
KOUTA Greg Ayres
KUBO Joel McDonald
MIHARU Kristi Bingham
MIHO Tia Ballard
MINAMI Leah Clark
MIZUKI Alexis Tipton
NEMOTO Todd Haberkorn
NISHIMURA Kent Williams
SHOUKO Jamie Marchi
SUGAWA Chris Burnett
TAKAHASHI Colleen Clinkenbeard
TOUDOU Wendy Powell
YOSHIKO Ryan Reynolds
YUUJI Scott Freeman
YUUKO Brina Palencia

The ADR Director is Terri Doty.


FUNimation Entertainment will release the series on DVD and Blu-ray this summer.

About Baka and Test -- Summon the Beasts


When a fight breaks out at Fumizuki Academy, nobody throws a single punch. Instead, the students utilize the school's technology to summon Avatars, pint-sized stand-ins with battle powers based on academic ability. That "academic ability" part is bad news for Yoshii - because Yoshii's an idiot, stuck in lowly Class F with the slackers. If these misfits want to escape their dump of a classroom and earn some respect, they'll have to fight their way up the ranks and take on Class A, the Academy's brightest students. It's going to be tough, that's for sure. But once the underachievers of Class F get motivated, they don't give up - and Yoshii can't even spell surrender!


Noir: The Complete Collection has been delayed from April 26th to July 19t

BECK: Mongolian Chop Squad is going out of print, though, the license is still held and a new release is being held out as a possibility

Kodansha
Summer releases include

Animal Land 1
by: Raiku Makoto
PUB. DATE: 08/23/2011

Bloody Monday 1
by: Ryumon Ryou
PUB. DATE: 08/23/2011

Cage of Eden 1
by: Yoshinobu Yamada
PUB. DATE: 08/23/2011

Mardock Scramble 1
by: Tow Ubukata
PUB. DATE: 08/23/2011

Sayonara, Zetsubou-Sensei 10 : The Power of Negative Thinking
by: Koji Kumeta
PUB. DATE: 08/23/2011

Air Gear 19
by: Oh! Great
PUB. DATE: 08/16/2011

Monster Hunter Orage 2
by: Hiro Mashima, CAPCOM (Created by)
PUB. DATE: 08/16/2011

Gon 1
by: Masashi Tanaka

Phoenix Wright 2
by: Kenji Kuroda
PUB. DATE: 08/09/2011

Deltora Quest 1
by: Emily Rodda
PUB. DATE: 07/26/2011

I Am Here! 2
by: Ema Toyama
PUB. DATE: 07/26/2011

Until the Full Moon 1
by: Sanami Matoh
PUB. DATE: 07/19/2011

Negima! 30 : Magister Negi Magi
by: Ken Akamatsu
PUB. DATE: 07/19/2011

Arisa 3
by: Natsumi Ando
PUB. DATE: 07/12/2011

Fairy Tail 14
by: Hiro Mashima
PUB. DATE: 07/12/2011

Ninja Girls 6
by: Hosana Tanaka
PUB. DATE: 07/12/2011

Shugo Chara! 11
by: Peach-Pit
PUB. DATE: 07/12/2011

Yakuza Moon : The True Story of a Gangster's Daughter (The Manga Edition)
by: Shoko Tendo, Sean Michael Wilson, Michiru Morikawa (Illustrator)
PUB. DATE: 07/01/2011

Monster Hunter Orage 1
by: Hiro Mashima
PUB. DATE: 06/28/2011

Sayonara, Zetsubou-Sensei 9 : The Power of Negative Thinking
by: Koji Kumeta
PUB. DATE: 06/21/2011

The Wallflower 25
by: Tomoko Hayakawa
PUB. DATE: 06/21/2011

Air Gear 18
by: Oh!Great
PUB. DATE: 06/14/2011

Negima! Omnibus 1 : Magister Negi Magi
by: Ken Akamatsu
PUB. DATE: 06/14/2011

Negima!? Neo 7
by: Ken Akamatsu
PUB. DATE: 06/14/2011

Phoenix Wright 1
by: Kenji Kuroda
PUB. DATE: 06/07/2011

The Ghost in the Shell : Stand Alone Complex 1
by: Yu Kinutani
PUB. DATE: 05/24/2011

Ninja Girls 5
by: Hosana Tanaka
PUB. DATE: 05/24/2011

Arisa 2
by: Natsumi Ando
PUB. DATE: 05/17/2011

Negima! 29 : Magister Negi Magi
by: Ken Akamatsu
PUB. DATE: 05/17/2011

Fairy Tail 13
by: Hiro Mashima
PUB. DATE: 05/10/2011

Rave Master 33/34/35
by: Hiro Mashima
PUB. DATE: 05/10/2011

Shugo Chara! 10
by: Peach-Pit
PUB. DATE: 05/10/2011

Akira Volume 6
by: Katsuhiro Otomo
PUB. DATE: 04/12/2011

Akira Volume 5
by: Katsuhiro Otomo
PUB. DATE: 03/01/2011


Manga Video
Ghost in the Shell: Stand Alone Complex Laughing Man, Individual 11 and Solid State Society will be released on Blu-ray June 21st

MVM
In English, but outside the US, the live action adaptation of Death Notice: Ikigami is getting a UK release by MVM March 7th. The original manga about a distopian society in which the government randomly kills indivuals so that the rest value life, is released in North America by Viz.




NIS America
Our Home's Fox Deity Volume 2 has been released. The Premium Edition will come with 12 episodes on 2 DVDs, a special bonus footage disc, and a family-photo-album-style artbook in a collectable hard case


Kugen meets its sibling, Gyokuyo, for the first time in centuries during the joyful clamor of the Culture Festival at Akagi. Though Kugen thought nothing of the time it remained sealed, Gyokuyo saw things differently. Swearing revenge on the humans who harmed its only kin, Gyokuyo plots various schemes. Not only that, more trouble comes to the Takagami brothers involving gods, werewolves, and the lost clan of the oni


Section23

GHOST SWEEPER MIKAMI COLLECTION 4
Published by: Sentai Filmworks
Distributed by: Section23 Films
Run Time: 275 min.
Street Date: 5/3/2011
Format: DVD
Language: Japanese with English Subtitles
SRP: $49.98

SYNOPSIS: Yes, despite all common logic or sense of self preservation, the Mikami Detective agency continues to ply their occult trade, dousing spirits, vaporizing vapors and generally not giving the supernatural a ghost of a chance. Of course, once you've gotten into this profession, it's really hard to get out, since you're actually busiest when your business is dying. And it further complicates things when some of your staff is officially waaaay past their sell-by date themselves. (That's referring to Okinu, not Tado, who's really still alive; it's just his chances of scoring with Reiko that are dead.) Get ready for yet another set of insane adventures among the Flatlinners and Office Zombies that infest modern Japan as our immortally challenged team of professional spook-chasers take on the most dangerous people no longer alive in the frantic and frenetic fourth collection of GHOST SWEEPER MIKAMI!

COFFEE SAMURAI / HOSHIZORA KISEKI
Published by: Sentai Filmworks
Distributed by: Section23 Films
Run Time: 60 min.
Street Date: 5/10/2011
Format: DVD
Language: Japanese with English Subtitles
SRP: $19.98

SYNOPSIS: CoMix Wave, the studio behind Voices of a Distant Star and the Place Promised in Our Early Days, returns to the twin themes of love and human relationships with a startling new pair of stories that could only be told through the medium of animation. In Hoshizora Kiseki (Starry-Sky Miracle) Kozue, a young girl who loves astronomy encounters Ginga, a boy with a mysterious ability to understand the stars that is being exploited by others. As her friendship with Ginga grows, Kozue realizes that she must help him learn to make his own decisions, but that do that, he must remove the protective suit he always wears. For Hemi, the heroine of Coffee Samurai, however, a boyfriend in a protective suit would be an easy thing to deal with compared to her own problem: she's in love with a Coffee Vending machine! Of course, it all makes perfect sense once you realize that he's actually an ancient Samurai who wished to be reborn into an indestructible steel body. But it certainly makes the dates uncomfortable and somewhat prone to scalding! Twin tales, twin couples, twin conundrums - it's twice the magic in a single package in Coffee Samurai / Hoshizora Kiseki!

ALLISON & LILLIA GENERATION 1
Published by: Sentai Filmworks
Distributed by: Section23 Films
Run Time: 325 min.
Street Date: 5/17/2011
Format: DVD
Language: Japanese with English Subtitles
SRP: $49.98

SYNOPSIS: On a world where the single massive continent has been literally cut in two by mountains and rivers since the dawn of time, the ongoing wars between those on the opposing sides have continued for so long that the memory of when they first started has long been forgotten. But now, as the war between the alliances of Roxche and Sou Beil extends the conflict into its 130th year, a chance encounter and a hastily staged rescue attempt launches fighter pilot Allison and marksman and bibliophile Will on an incredible journey. A journey that could possibly end the wars once and for all! And that's just the beginning of what's about to happen to this unlikely set of young heroes. Get ready for an amazing set of epic adventures that will span two generations in the first spectacular collection of ALLISON & LILLIA!

SHIN KOIHIME MUSO: OTOME TAIRAN
Published by: Sentai Filmworks
Distributed by: Section23 Films
Run Time: 325 min.
Street Date: 5/24/2011
Format: DVD
Language: Japanese with English Subtitles
SRP: $49.98

SYNOPSIS: When there's trouble afoot in ancient China, it's up to the Sisterhood of Steel to set things right once again. So, when a spell is cast on Kashin, the beautiful Han official, that begins to slowly turn her into a cat, it's up to Ryubi and the others to go forth and find the exotic ingredients to undo the enchantment before the felinization is finalized. And there'll be no time for pussyfooting around; at least Kashin certainly hopes there won't be, because this is just the beginning of an even greater plot launched by a band of evil eunuchs. (Though, given what they are, it's not as if they have much to do besides plot, and who can blame them for being a little ticked off?) Get ready for the wildest epic fantasy to ever combine panties, cat girls and elephant belly button lint in the same storyline as the ferociously all-female force from Koihime†Mus? and Shin Koihime†Mus? returns in their usual fine fighting form in Shin Koihime†Mus? : Otome Tairan!

GUIN SAGA COLLECTION 2
Published by: Sentai Filmworks
Distributed by: Section23 Films
Run Time: 325 min.
Street Date: 5/31/2011
Format: DVD
Language: English & Japanese with English Subtitles
SRP: $59.98

SYNOPSIS: Is Guin suffering under some curse? Or is the leopard-headed gladiator actually the human incarnation of the evil god Doal? Many rulers in this strange land of sorcerers and warriors have their ideas. From the scheming battle princess Lady Amnelis to the mysterious Duke Norisse, ruthless players move across the chess board of war to take over the Middle Country, while Guin and his young friends are caught in the middle. But when Guin at last finds the strange young Shidoh, it seems all will be revealed. But neither Guin-nor you-will believe what horrible secret Shidoh is hiding inside. Don't miss the epic conclusion to anime's most exciting, swashbuckling sword and sorcery epic!

Shout Factory
Shout Factory has released ReBoot Seasons 1 and 2


Since early 1990s, DOT MATRIX, ENZO, GUARDIAN BOB and thousands of BINOMES from REBOOT have thrust into battles with corrupt forces of MEGABYTES and HEXADECIMAL to stop their relentless pursuit of chaos and destruction of the high-tech city MAINFRAME. REBOOT made history for being the first fully computer-generated animated TV series when it debuted on U.S and Canadian television in 1994. The series ran four successful seasons and was seen in over 70 countries around the world, boasting a large fan base of loyal followers in kids and adult gamers alike. The show's unique setting inside a computer allows the characters and storylines to mine the references to computers and video games for all they're worth, giving the show its humorous edge. The innovative animation, insider humor and high octane action combine to give viewers a lot of binary bang for their buck.


This collectible 4-DVD set features all 23 episodes from the first and second seasons, along with special commentary by producer Christopher Brough, designer and storyboard artist Blair Peters and animator Zeke Norton. REBOOT: SEASONS 1 & 2 DVD set is priced at $29.93 SRP.




Viz Media
VIZ Media has begun releasing Izumi Tsubaki's (THE MAGIC TOUCH) manga series, ORESAMA TEACHER The new title will be published under the Shojo Beat imprint, is rated 'T' for Teens, and will carry an MSRP of $9.99 U.S. / $12.99 CAN.

Mafuyu is the no-nonsense, take-charge and hard-hitting leader of her high school gang. But when she gets expelled for being a delinquent, her mother, fed up with her daughter's wayward ways, sends Mafuyu to an isolated school far off in the country. Determined to make the best of the situation and make her mother proud, Mafuyu decides to turn over a new, feminine, well-behaved leaf. But her fighting spirit can't be kept down, and the night before school starts she finds herself defending some guy who's getting beaten up. One slip wouldn't have been a problem, except the guy is…her teacher?! How can Mafuyu learn to be a good girl if her teacher won't let her forget her wicked past?


ORESAMA TEACHER © Izumi Tsubaki 2008/HAKUSENSHA, Inc.


The Business

Prominent Japanese publisher Kodansha and Dai Nippon Printing have respectively acquired 46.7% and 46.0% of North American publishers of translated material, including manga, Vertical (Black Jack, Chi's Sweet Home, 7 Billion Needles).

Vertical representative Ed Chavez reports that more than half of Vertical's books in its 2012 lineup will come from companies besides Kodansha. "We're working on our Spring 2012 list, and that should have around 2-4 Kodansha series & around 5-7 from other [publishers]."

an interview with Ed Chavez on the subject

Kodansha also announced on Wednesday that its 42-year-old chief operating officer, Yoshinobu Noma, will replace 67-year-old Sawako Noma as the company's president in the middle of April.



*



Funimation parent company Navarre has expanded its board of directors , appointing Bradley J. Shisler and Richard Willis as independent members. Shisler and Willis will serve as directors until the Company's next annual shareholders' meeting, at which time they will stand for election by the shareholders.


"We welcome Brad and Richard to the board and look forward to working with them," said Eric H. Paulson, chairman of Navarre Corporation. "They bring tremendous industry expertise, corporate finance, M&A and operational experience to our organization. We are confident that their contributions to Navarre's board will assist us in guiding the execution of our strategic plan.

"Our focus on increasing shareholder value is aligned with our multi-faceted strategic plan to leverage our highly sophisticated systems and logistics capabilities, expand our products and services beyond digitally downloadable products, provide back-end logistics solutions and fulfillment capabilities to our customers, and expand our direct-to-consumer fulfillment business. With the additions of Brad and Richard to the Board, we have the right team in place to execute this strategy and build upon the momentum we have generated over the past couple of quarters," continued Paulson.




*



Imagi, who produced the CG AstroBoy and who is developing a Gatchman has paid up to HK$1.05 billion ($130 million) to buy Toon Express, brand-manager of Pleasant Goat and Big Big Wolf, a Chinese TV and animated movie franchise. Imagi close its own animation studios after AstroBoy's disappointing box office returns.



*



"Team Shanghai Alice," the creator of the Touhou Project dojin (self-published) game series which has spawn numerous other doujin project have published new usage guidelines, including what platforms it can be published and the nature of content for fan and commercial works.



*



A financial critique of FUNimation parent company Navarre



*



A Tokyopop editor seeks to explain to fans why the publisher puts manga on hiatus.

In response, retailer Christopher Butcher took them to task for selective communication with fans/buyers



*



Summer Wars broke $80,000 in the box office take of its North American run



*



The week following the above comments, manga publisher Tokyopop laid of a number employees, including long time editors Lillian Diaz-Przybyl and Troy Lewter and managing editor Asako Suzuki, who previously worked at CMX.

Brigid Alverson has presented a thorough examination of the subject



*



Dark Horse publisher Mike Richardson spoke to ICV2 on subjects including manga


Well the shojo in the book stores really fired up that whole trend. The increase in graphic novel sales was largely due to shojo sales in book stores and it created more room on the racks, it created a lot of attention to graphic novels and particularly manga. And I think it was great for the industry for a while. A lot of publishers got in trying ride that wave, some were here, some were trying to cash in on it. Publishers outside the comic book industry got involved and some of the Japanese companies even came over here to start publishing here.

I have my own theory of what went on. First of all, they appeal to a certain age group that may have moved on in their reading habits. I think the financial problems at the book stores have caused them to be a little more conservative in the number of books they purchase and the number of titles. And I think like with any big surge in sales, it comes back down to earth after a certain period of time. All of those factors have flattened out sales in the manga area. For us, our books are doing well. We're really excited. We've been less affected by it because we weren't so dependent on the shojo.




*



Funimation's consumer survey lists Blu-ray player ownership has increased from 44% to 59% in the past year.

Female demo increased from 34% to 38% compared to a year ago.

Age- 12% 13-17, 42% 18-24, 21% 25-29, 11% 30-34, 14% 35+.



*



ALC Publishing's Erica Friedman on The Advantages and Disadvantages of Self-Publishing Your Manga



*



In the wake of recent efforts to protect IP related to his name made by estate of JRR Tolkien, print service Zazzle has removed "While you were reading Tolkien, I was watching Evangelion".
Steven Maier, partner at the Oxford law firm of Manches LLP, told Boing Bong "Zazzle has confirmed that it took down the link of its own accord, because its content management department came across the product and deemed it to be potentially infringing."
Awards and Recognition


Ghibi's Arrietty won the Animation of the Year award at the 34th Japan Academy Prizes. Confessions was picture of the year.



*



The Tokyo International Anime Fair (TAF) winners included

Animation of the Year - Arrietty the Borrower (Karigurashi no Arrietty)

Television Category - K-ON!! / The Tatami Galaxy

Domestic Feature Film Category - Arrietty the Borrower

International Feature Film Category - Toy Story 3

Original Video Anime Category - Mobile Suit Gundam UC

Best Director - Hiromasa Yonebayashi for Arrietty the Borrower

Best Screenplay - Miho Maruo for Colorful

Best Art Direction - Youji Takeshige, Noboru Yoshida for Arrietty the Borrower

Best Character Design - Yoshihiko Umakoshi for Heartcatch Precure!

Best Voice Actor/Actress - Aki Toyosaki for K-ON!! (Yui Hirasawa)

Best Music - Cécile Corbel for Arrietty the Borrower

The winners of this year's awards in the open categories are as follows:

Grand Prix: Alice Dieudonne (Trois Petits Points)
Award of Excellence (General): Ryan Woodward (Thought of You)
Award of Excellence (General): Kiminori Tagami (Fruity Samurai)
Award of Excellence (Student): Huang Jian le (Hong)
Award of Excellence (Student): Verena Fels (Mobile)
Special Award: Masaki Okuda (Kuchao)
Cortoons Italia 2011: Takuya Okada (Children)
Winner: Yosuke Omomo (farm music)
Winner: Mariko Tokunaga (Utopian)






*



5th Annual Seiyu (voice actor) Award Winners winner included

Special Merit Award
Award for a late seiyu who contributed to many genres, especially foreign works
Nachi Nozawa (1938-2010)
Agency: Office PAC
Roles: Alain Delon and Al Pacino's dubbing, Star Wars' C-3P0, Space Adventure Cobra's Cobra

Merit Awards
Award for the seiyu who have contributed to many genres, especially foreign works, over the years
Isao Sasaki
Agency: One Pair
Roles: Elvis Presley and Sylvester Stallone's dubbing, Science Ninja Team Gatchaman franchise's Joe Asakura the Condor

Hiroko Suzuki
Agency: Ken Production
Roles: Elizabeth Taylor and Sigourney Weaver's dubbing, Glass Mask's Utako Himekawa

Masaaki Yajima
Freelance
Roles: William Shatner and Robert Vaughn's dubbing, Astro Boy/Mighty Atom's Higeoyaji (1st), Humanoid Monster Bem's narrator

Kei Tomiyama Award
Award for the person who broadens the profession of voice acting in every form of media
Rikiya Koyama
Agency: Haiyuza
Roles: Dubbing for many foreign works, especially the works of Kiefer Sutherland (24's Jack Bauer)

Kazue Takahashi Award
Award for the female performer who broadens the profession of voice acting in every form of media
Mayumi Tanaka

Kids/Family Award
Award selected from the point of view of children
Junko Takeuchi

Synergy Award
Award for maximizing the appeal of voice-acting in a work as a whole
Detective Conan - Minami Takayama

Overseas Fans Choice Award
Award selected from the point of view of overseas fans
Miyuki Sawashiro




*



The Asahi Shimbun announced the nominees for 15th Annual Tezuka Osamu Cultural Prize


Oma ga Hashi by Yoko Kondo

Shigurui by Takayuki Yamaguchi (the anime of which was released in North America by Funimation)

Jin by Motoka Murakami

Takemitsuzamurai by Issei Eifuku abd Taiyo Matsumoto


Chushun Komawari-kun by Tatsuhiko Yamagami


Tentai Senshi Sunred by Makoto Kubota

Fullmetal Alchemist by Hiromu Arakawa

Fantasium by Ami Sugimoto



*



In its annual Gem Award, specialty comic shop distributor Diamond named Dark Horse Comics 2010 Manga Publisher of the Year and the Yen Press release of Twilight, 2010 Manga of the Year