Hola all. Massawyrm here.
I do believe that Adam Sandler's films are getting progressively worse. At this point I find it hard to tell; like that kid who gets his ass kicked on the playground every god damned day and doesn't know for sure whether the beating was worse yesterday or the day before. What I do know is that something broke inside of Adam Sandler and somewhere along the line he stopped trying to be a comedian and just began coasting as one. It is one thing if someone's trying and you just don't find them funny; it is something else entirely when they spend years just phoning it in.
You've seen JUST GO WITH IT before. And I'm not just talking about the plot or execution. This is the classic "a bunch of famous friends on vacation" movie that is so appealing to make because you get a fat check to sit on an exotic beach for two months and half ass your way through a scene or two a day. I'm sure this was a hell of a lot of fun to make, but it is fucking miserable to watch. It is an endless stream of ham-fisted gags that feel like they were half baked on the page to begin with before being handed to a cast that just didn't give a shit enough to try to sell it.
Based upon a classic French farce, Walter Matthau fans will know it best as a remake of CACTUS FLOWER, the 1969 comedy with Ingrid Bergman and an incredibly young Goldie Hawn (for which she won the Best Supporting Actress Oscar.) The story revolves around a guy (Sandler) who discovers that the easiest way for him to get laid is to fake being married, that mysteriously forgets his long running winning streak when he meets a 23 year old super vixen (Brooklyn Decker) only to fumble the ball when she discovers the bogus wedding ring in his jeans pocket. Rather than come clean or construct a much more plausible lie, Sandler invents a fake wife and cons his nurse (Jennifer Aniston) into playing the role in order to convince the vixen that a divorce between the two is imminent. When she subsequently drops the ball and reveals that she has kids, Sandler cops to being a father and everyone has to go on vacation together in order to keep the stupid little charade going.
The lies begin getting so deep and convoluted that the audience has a hard time keeping up – or even caring – so when the story's big twist comes around, it feels awkward and unbelievable, even by the movie's own standards. Worst of all, the film doesn't seem to care much about its own conclusion. Despite spending two hours setting up uncomfortable situation after uncomfortable situation, it checks right the fuck out when things are about to get interesting, wrapping up by explaining the climax in voice over. It knows exactly what its ending is supposed to be, despite not bothering to set up anything plausible to even support it. So it just goes there.
To its credit, JUST GO WITH IT is occasionally funny – but not by design. Every joke that works feels like a bit of ad lib. If you put comedians in front of a camera, they will eventually be funny. Ordinarily, that would be enough for me to shrug this off – but when this film isn't scoring with ad lib, it is failing miserably with its written gags. There are bits of comedy so bad here that it will tighten your sphincter and drop your head squarely into your hands as you watch them so painfully play out. You will squirm in your seat as each unfunny scripted gag dies before your very eyes, like watching Lennie and that puppy in OF MICE AND MEN.
There is nothing even remotely redeeming about this film; it feels less like a real movie and more like an extended parody meant to flesh out his FUNNY PEOPLE universe. I hope everyone who worked on it had a great time in Hawaii – because they've no doubt earned themselves a little time in hell for what they've done to comedy. Fuck this movie.
Until next time friends, Massawyrm
Got something for the Wyrm? Mail it here.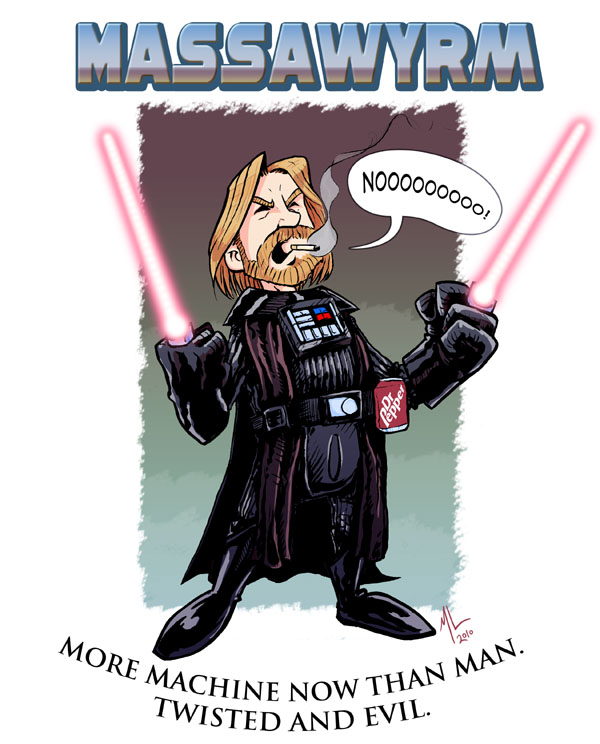 Or follow my further zany adventures on Twitter.