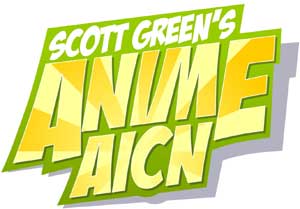 Logo handmade by Bannister
Column by Scott Green
Upcoming in North America (and Other English Speaking Territories)

Gareth Edwards, creator of the indie road trip/creature movie Monsters, has been tapped to direct the new Legendary Pictures Godzilla production



*




Deadline reports that Shane Black (Kiss Kiss Bang Bang, Lethal Weapon) has been tapped by Warner Bros. to direct an adaptation of Death Note, written by Anthony Bagarozzi and Charles Mondry



*



Frank Marshall Tweeted that the English voice cast of Arrietty the Borrower will include

Bridgit Mendler as Arrietty
David Henrie and Carol Burnett as the human "beans"
Amy Poehler and Will Arnett as Arrietty's parents
Marshall also confirms the film will have a North American theatrical run but no dates are set.



*



At 11pm pm January 25th, Syfy: Ani-Monday will air a Dead Space: Declassified event featuring a
- Screening of Dead Space: Downfall
- Behind the Scenes Footage of Dead Space: Aftermath
- Sneak Preview of Dead Space: Aftermath
- Sneak peek of Dead Space 2 the game with behind the scenes footage

Dead Space: Aftermath hits DVD and Blu-ray on Janurary 25th



*



Trailer for the live action adaptation of Priest

Dark Horse

NEON GENESIS EVANGELION: CAMPUS APOCALYPSE VOLUME 4
Mingming
On sale June 22
b&w, 160 pages
$10.99
TPB, 5 1/8" x 7 1/4"


OH MY GODDESS! VOLUME 18
Kosuke Fujishima (W/A)
On sale June 29
b&w, 232 pages
$11.99
TPB, 5 1/8" by 7 3/16"


FUNimation

The Quicktime Evangelion 2.0 trailer





Ga-Rei Zero and Eden of the East Movie 1: King of Eden will be released as DVD/Blu-ray sets rather than separate DVD and Blu-ray releases

A number of Funimation releases have been delayed
Chrono Crusade Complete Collection DVD Boxed Set - Feb 8th to Feb 22nd
Sgt Frog (Keroro Gunso) Season 1 Complete DVD Boxed Set (Eps #1-26) - Feb 15th to Mar 29th
Sgt Frog (Keroro Gunso) Season 2 Complete DVD Boxed Set (Eps #27-51) - Mar 29th to Apr 26th
Samurai Champloo Complete DVD Boxed Set (Eps #1-26) (Classics Collection) - Mar 1st to Mar 29th
Samurai Champloo Complete DVD Boxed Set (Eps #1-26) (BLURAY) (Classics Collection) - Mar 1st to Mar 29th
Soul Eater Collection Season 1 Complete DVD Box (Eps #1-26) - Mar 15th to Apr 12th
Soul Eater Collection Season 1 Complete DVD Box (Eps #1-26) (BLURAY) - Mar 15th to Apr 12th
Darker Than Black Complete Collection DVD Boxed Set (Eps # 1-26) (Classics Collection) - Mar 22nd to Apr 19th
Shigurui: Death Frenzy Complete DVD Boxed Set (Eps #1-12) (Classics Collection) - Mar 22nd to May 10th
Shigurui: Death Frenzy Complete DVD Boxed Set (Eps #1-12) (Classics Collection) (BLURAY) - Mar 22nd to May 10th



Media Blasters
April releases include Kashimashi: Girl Meets Girl Vocal Collection ($24.98) and Moribito: Guardian of the Sacred Spirit Part 2 Blu-ray

Gothic Psycho Lolita will be released in the Tokyo Shock line in May

Right Stuf
Right Stuf, Inc. and its Nozomi Entertainment division announced that ANTIQUE BAKERY DVD Collection will be available on April 5, 2011 for $49.99.

The Antique Bakery DVD Collection will feature the complete, 12-episode television series in a single DVD box set with Japanese audio and English-language subtitles. It will be housed in a collectors' art box, and its on-disc extras will include the clean opening and closing, live event coverage, and an interview with AKB48 member Tomomi Kasai, who voices a supporting role in the series. Additionally, the set will include a booklet that contains character bios, quick facts, featured desserts, and two interviews with all four lead voice actors, as well as manga creator Fumi Yoshinaga (Ooku: The Inner Chambers, Not Love But Delicious Foods Make Me So Happy!).

About ANTIQUE BAKERY
In food and in life, one must taste what is bitter to appreciate what is sweet… Troubled that memories of the past continue to invade his dreams of the present, Keiichiro Tachibana stuns all who know him by abruptly quitting his ordinary office job to open a bakery. He envisions a predominantly feminine clientele and a wait staff of cute girls. Instead, his employees include a playboy pâtissier who's been fired from every job he's ever had, an ex-boxer with an insatiable sweet tooth, and an absent-minded childhood friend and family servant. Can this unlikely quartet overcome personal tragedies, learn to work together, and discover a recipe for culinary success? The complete 12-episode series!

© Fumi Yoshinaga / SHINSHOKAN
© Fumi Yoshinaga / SHINSHOKAN / Antique Committee

Section23

KOIHIME MUSO COMPLETE COLLECTION
Running Time: 325 min.
Age Rating: TV MA (V,D)
Language: Japanese with English Subtitles
CAT: SF-KH100
UPC: 814131010216
Published by: Sentai Filmworks
Distributed by: Section23 Films
Format: DVD
SRP: $49.98

SYNOPSIS: Before Hua Mulan, before Wu Zetian, China bore another great hero, one whose true name was lost to history… until now. Swearing vengeance after bandits destroy her family and village, a girl named Aisha takes the name Kan'u and sets forth on a journey that will take her across the ruins of a great nation, living not as a woman "should," but by the strength of her own sword and the steel of her own will. And as she travels, her courage and example become a beacon to other kindred souls: women who dare to shatter the shackles of their own traditions and take up arms, to become a force for change. Now, as a new world begins to emerge from the embers of the old, the face of evil must confront its ultimate nemesis, a girl who has become the soul of a new people. An epic battle for the fate of a nation will be unleashed in the complete epic collection of Koihime†Muso!


11 EYES COMPLETE COLLECTION
Running Time: 325 min.
Age Rating: TV 14 (V)
Language: Japanese with English Subtitles
CAT: SF-EE100
UPC: 814131010315
Published by: Sentai Filmworks
Distributed by: Section23 Films
Format: DVD
SRP: $49.98

SYNOPSIS: Raised in an orphanage after witnessing his sister's suicide, Satsuki Kakeru's life has already been dark and cruel enough. However, when he and his friend Yuka are thrown into a alternate dimension called the Red Night, it takes a gruesome turn from bad to horrific. Now, trapped flickering between our world and the Red, Kakeru quickly discovers that he and Yuka are not alone, and that, together with the other so-called "fragments," they must defeat the malevolent entities known as the Black Knights. Facing monsters from beyond imagination, at the center of a deadly hunt, Kakeru's only chance of saving their lives now hinges on finding the power buried within himself and unraveling the mystery of his own origins and family. If he can survive long enough to do it! The horrors of the Red Night are just the beginning of the nightmare as shocking truths are exhumed in 11 Eyes - The Complete Collection!


Shout Factory
The 26 episode first season of Captain Planet will be release in a four DVD set on April 19th.

This season features voice acting from David Coburn (Captain Planet), James Coburn (Looten Plunder), LeVar Burton (Kwame), Joey Dedio (Wheeler), Whoopi Goldberg (Gaia), Janice Kawaye (Gi), Scott Menville (Mai-Ti), Frank Welker (Suchi), Meg Ryan (Dr. Blight), Martin Sheen (Sly Sludge), Kath Soucie (Linka), Dean Stockwell (Duke Nukem), Jeff Goldblum (Verminous Skum), Sting (Zarm), among others.

The first two seasons of video game inspired CG animated Reboot will be released on March 1 for $29.99. This collectible 4-DVD set features all 23 episodes from the first and second seasons, along with special commentary by producer Christopher Brough, designer and storyboard artist Blair Peters and animator Zeke Norton.

a REBOOT: THE DEFINITIVE MAINFRAME EDITION Complete Series DVD box is also planned. The 9-DVD box set also features a special 24-page collectible book and a limited-edition lenticular collectors card of Dot's diner.
REBOOT: THE DEFINITIVE MAINFRAME EDITION arrives exclusively to Shout Factory's official online store ShoutFactoryStore.com and the official fan site ReBoot.com on March 2011, months before this 9-DVD box set hits the retail shelves nationwide later this year. Loyal fans can now preorder REBOOT: THE DEFINITIVE MAINFRAME EDITION Complete Series DVD set today at shoutfactorystore.com or at ReBoot.com.



Siren Visual
Australia's Siren Visual will be releasing

Welcome to Irabu's Office on February 18


Masaaki Yuasa (Mindgame, Kaiba, Welcome to the Space Show) and Madhouse Studios' (Summer Wars, Tokyo Godfathers, Highschool of the Dead) Tatami Galaxy on 3/18/11


A Box set of Studio 4C's Genius Party short collections was released in December.

FUNimation streamed Tatami Galaxy. none of these anime works have been released on DVD in North America

Top Shelf

Ax (Vol 2): A Collection of Alternative Manga is scheduled for released in November 11

Also of note, Kagan McLeod's Infinite Kung Fu will be released in July


Infinite Kung Fu walks you through familiar corridors in the house of martial mayhem, but still smashes your face through walls of wonder and into rooms where kung fu is afraid to go.

The Martial World is ruled by a mysterious emperor whose five armies are each headed by a cruel and highly skilled kung fu master. Lei Kung, a soldier in one of these armies, grows tired of his master's evil ways and seeks enlightenment elsewhere. However, he soon finds that he's been chosen as the one who will put an end to the emperor's tyrannical rule, personally! Allegiances are blurred as techniques are perfected, and Lei Kung becomes less certain who's friend and who's foe in each chapter!

Fists fly, limbs are lost and blood vessels burst in this tale of furious rivals, supernatural masters, walking corpses, and above all, raging kung fu! -- a 432-page deluxe flexi-cover graphic novel, 6.75" x 9.5


Tokyopop
The cover for Priest Purgatory, the bridge between the Priest manhwa and the upcoming Paul Bettany movie

VIZ Media

VIZ Media has announced the release of the 56th and final installment of Rumiko Takahashi's longtime bestselling manga (graphic novel) series, INUYASHA,



Kagome, a modern-day high school girl, is pulled into Japan's ancient past! There, her destiny is linked to a dog-eared half demon named Inuyasha. Together, they battle evil demons who seek to acquire the shards of the legendary Shikon Jewel and wield its incredible power. But can Kagome and Inuyasha stop feuding with each other long enough to save the feudal or modern world--let alone both?

In the climactic showdown, the demon Naraku's true intentions are finally revealed! Then, Kagome is swallowed up by the Meido. Is she finally beyond her friends' reach? And will the final battle over the Shikon Jewel draw Inuyasha and Kagome together...or pull them apart forever?! Find out in the exciting concluding volume!


POKÉMON™: ARCEUS AND THE JEWEL OF LIFE on DVD and its manga ad February 1st (both under the VIZ Kids imprint). The feature film DVD is rated 'A' for All Ages with a MSRP of $19.97 U.S. / $28.99 CAN; the manga adaptation is rated 'A' for All Ages, with a MSRP of $7.99 U.S. / $9.99 CAN.

The second collection of Mitsuru Adachi's buzzed about CROSS GAME Vol. 2 has hit stores.


CROSS GAME (C) 2005 Mitsuru ADACHI/Shogakukan

Miyuki Miyabe's ICO: Castle of the Mist novel, based on the video game, is listed by Viz distributor Simon and Schuster



Digital Distrobution News

Lone Wolf and Cub will be the first manga offered on Dark Horse's digital comic service

Dark Horse is giving away their annual digital library to a subscriber to their comic service news letter



*



Yen Press has launched an iOS manga reader

Love Hona/Negima creator Ken Akamatsu 's digital manga distributor J-Comiwill be working with Google on an ad supported comic service



*



Fuji Television's popular noitaminaA block continues in the U.S. as FUNimation Entertainment announced it will partner with Fuji for the exclusive online simulcast of its new series "Fractale." Episodes will stream on Thursdays

"Fractale" is an 11-episode original series produced by A-1 Pictures and Ordet and directed by Yutaka Yamamoto ("Kannagi," "Haruhi Suzumiya").

The story was developed by otaku scholar Hiroki Azuma with the screenplay written by Mari Okada ("Toradora!") and original character design by Hidari.


Fractale is set on an island at the far reaches of a continent where its fractale system is on the brink of collapse. A young boy rescues a shrine maiden from falling off a cliff and falls in love with her but he is left only with her pendant when she disappears the next day. With the help of the maiden's avatar that he finds withiin her pendant, he will search the island for the lost maiden and the answers to why their world is falling apart.


FUNimation Entertainment and Toei Animation Co., Ltd. have entered into an agreement giving the American anime leader exclusive rights to the U.S. and Canadian online streaming of the studios' signature animated series "Dragon Ball Z."

Starting Saturday, January 15th at 7:30 PM CDT preceding the One Piece simulcast at 8:00 PM CDT, FUNimation will stream the series from its beginning via the official Dragon Ball Z website www.dragonballz.com in addition to www.dragonballzkai.com , www.funimation.com and FUNimation partner site www.hulu.com.

FUNimation will offer its professionally-produced, uncut, English-tracked and English-subtitled adaptations of the hugely successful series beginning with the first episode as well as other chapters of the Dragon Ball franchise: Dragon Ball, Dragon Ball GT and Dragon Ball Z Kai.

FUNimation is offering the first episode FLCL on iTunes for the next couple of days

Japanese audio version of Mahiro Maeda/Gonzo's distinctive Count of Monte Cristo: Gankutsuou now on YouTube



*



VIZAnime.com and HULU will stream for FREE episodes 1-5 of MÄR (subtitled). Two additional FREE new episodes will launch each Monday.


New Viz iTunes offerings include BUSO RENKIN, based on the Nobuhiro Watsuki (Ruruoni Kenshin) manga, and VAMPIRE KNIGHT GUILTY, the second season of the title. To celebrate the debuts, you can download the first full episode of both series for free from now thru February 1st. All subsequent episodes are available to rent for only $0.99 each, or to own for only $1.99 each.



*



Anime about anime production is streaming on Anime News Network Animation Runner Kuromi



*



Xam'd is on Hulu



*



Mamoru Oshii's live action Assault Girls is on iTines



*



New series streaming on Crunchroll include
GOSICK from publisher-producer Kadokawa. Based off of Kazuki Sakubara's hit light novels of the same name and headlined by the voice-acting talents of recent breakout star Takuya Eguchi in the lead role of Kazuya Kujo, title is animated by the world-renowned anime studio BONES.

Cardfight!! Vanguard from TMS ENTERTAINMENT, LTD. Title stars current voice acting personality Tsubasa Yonaga in the lead role of Aichi Sendo, and features the highly anticipated single, "Vanguard" by the legendary JAM Project as its opening song. More information is available at http://www.crunchyroll.com/vanguard.

Dragon Crisis! from Yomiuri Telecasting Corporation. Based on the light novel series by Kaya Kizaki originally published by Shueisha, Dragon Crisis! features Hiro Shimono as the lead character of Ryuji Kisaragi.

Rio – Rainbow Gate! from Pony Canyon, Inc. Based on the smash-hit Japanese pachislo (slot machine) character Rio, Rio – Rainbow Gate! features a gamut of voluptuous character designs by Hisashi Shimura and seductive voice-acting by Marina Inoue as the lead character, Rio.

Beelzebub - Animated by the legendary Studio Pierrot and based on the Shueisha manga of the same name by Ryuhei Tamura syndicated in Weekly Shonen Jump, Beelzebub features lead character voice-acting by big name stars Katsuyuki Konishi and Sawashiro.

Saint Seiya: The Lost Canvas from TMS ENTERTAINMENT, LTD. Featuring an all-start cast of Aya Hirano as Sasha, Hiro Shimono as Alone, Tetsuya Kakihara as Pegasus Tenma and Nana Mizuki as Pandora, Saint Seiya: The Lost Canvas is based off of the manga of the same name illustrated by Shiori Teshirogi with story by the legendary manga creator Masami Kurumada.

Hourou Musuko from transgendered. the anime adaptation of Takako Shimura's manga of the same name chronicling the transgendered transformation of two Japanese high school students, one hour after airing on Fuji Television's noitaminA programming block. - the manga will be released in North America as Wandering Son

Level E , the anime adaptation of the manga of the same name by Yoshihiro Togashi. Featuring animation production by Studio Pierrot and David Production, Level E highlights the vocal talents of tier one video game and anime voice actor Daisuke Namikawa atop an all-star cast and an opening theme song by Western favorite Chiaki Kuriyama.

Mitsudomoe season 2 - Directed by anime veteran Masahiko Ota with a screenplay adapted by Takashi Aoshima from Norio Sakurai's weekly manga series

Kore wa Zombie Desu ka?from publisher-producer Kadokawa. Based off of Shinichi Kimura's light novels of the same name and featuring the voice-acting talents of Crunchyroll favorite Iori Nomizu of Sora no Otoshimono Forte fame, title is animated by Studio DEEN


Upcoming in Japan

Promos


Fullmetal Alchemist: Milos no Sei-Naru Hoshi


Gainax x Subaru's Hokago no Pleiades


Saiyuki Gaiden OVA

Freezing

Hellsing Ultimate 7

Sengoku Basara movie

Kenji Nakamura's [C] Control

High School Debut (live action)

Gaku - Minna no Yama (live action)

s Kimi to Boku (live action)

Anime

The first part of project to re-adapt popular horror/fantasy Berserk into anime will be a movie, scheduled to hit Japan theatrs in mid 2011




*



Fuji TV's Noitamina block will be airing a Production I.G adaptation of Yumi Unita's josei manga Bunny Drop, about a 30 year man who adopts his deceased grandfather's illegitimate, 6 year old daughter.

That, and No. 6 will debute in July.



*



Sayonara Zetsubou Sensei creator Koji Kumeta's earlier manga Katteni Kaizo will be adapted into an anime series by director and studio SHAFT, the people behind the Sayonara, Zetsubou-Sensei's anime adaptation.


Blu-ray sets of Sayonara Zetsubou Sensei has also been announced



*



Studio Ghibli's five year plans includes a "Showa (themed) Trilogy" (Showa being the period between 1926 and 1989)

Toshio Suzuki smentioned" Ghibli returns to the old ways. Ghibli's Showa Sanbusaku (Showa Trilogy). We will do it next year [Ed: Kokuriko is set in Showa 38 (1963/1964)], and then the next film is set in a little older Japan (than Kokuriko)."



*



Gonzo will be returning to anime TV series production with an adaptation of yukiusa's vampire cat indie manga The Gothic World of Nyanpire



*



The May, Japanese release of Lucky Star on Blu-ray will feature English language subtitles and an English audio track



*



Lilo will return in in upcoming episode of the upcoming third Stich anime series, Stitch! ~Zutto Saiko no Tomodachi~. Previously, the character was not featured onscreen in the Madhouse produced anime series.



*



A Pokemon Diamond & Pearl two-part special, airing on February 3rd will features Hikari/Dawn & Takeshi/Brock's stories after their journey with Satoshi/Ash ended



*



The Idolm@ster game series will be getting an anime adaptation



*



The 19th volume of CLAMP's xxxHoLiC will be published with a XXXHOLiC Rou OAD



*



NHK will be airing CuriouScope produced Otona Joshi no Anime Time, an anime aimed at adult women. The first episode, "Kawamo o Suberu Kaze" (A Wind Skimming the River's Surface, adapts Yamu Tsuki by Naoki Prize-winning author Kei Yuikawa

Hiroshi Kawamata (Soreike! Anpanman: Baikinman vs Baikinman!?, Gargoyles animator) is directing the project at The Answer Studio. Reiko Yoshida (K-ON!, Bakuman., The Cat Returns) wrote the script, and pianist Mine Kawakami (Morizo and Kiccoro) composed the music.

Manga

The March issue of Bessatsu Shonen Magazine will feature the final chapter of the xxxHOLiC: Ro manga



*



Saint Seiya Episode G will be returning to Champion RED in February



*



The second part of mahjong political parody The Legend of Koizumi will begin this spring.



*



Iryu: Team Medical Dragon will be ending its Big Comic Superior run this month



*



Takashi Morita (Mobile Suit Gundam Climax U.C., Mobile Suit Gundam ZZ Side Story: Zeon no Genyo) will be producing a manga adaptation of Maurice Leblanc's novels about a gentleman thief Lupin novels - known to anime/manga fans for inspiring Monkey Punch's Lupin III

Live Action

Satoshi Ohno will return to the role of the Prince of Monster Land in a a 3D adaptation of Fujiko Fujio A's Kaibutsu-kun, budgeted for 2 billion yet



*



Aoi Miyazaki and Masato Sakai will star in Kiyoshi Sasabe in Kiyoshi Sasabe's adaptation of Tenten Hosokawa's manga concerning her relationship with her depressed husband, Tsure ga Utsu ni Narimashite



*



Yoshimi Tokui of comedy pair Tutorial will be starring on Kazuyoshi Kumakiri's ("Freesia," "Kaitanshi Jokei") adaptation of Hiroshi Tanaka's "Bakugyaku Kazoku" manga. The film will also feature a supporting cast of Kento Hayashi, Sadao Abe, Tetsuji Tamayama, Nao Omori, Kazuki Kitamura, ARATA, and Mitsuko Baisho.

Misc

Mamoru Oshii has a new novel based on his police robot Patlabor series coming up. Bankuruwase: Keishi-cho Keibi-bu Tokushu Sharyo Ni-ka (Shocking Upset: Metropolitan Police Special Vehicles Section 2) will be released later this month

The print version of Anime Style will be relaunching in May with an issue that will spotlight animator Yoshihiko Umakoshi (chief animation director on Casshern Sins, Mushi-Shi). The issue will also have contributions by Mamoru Hosoda (director, The Girl Who Leapt Through Time), Hiroyuki Imaishi (director, Gurren Lagann), Ayumu Watanabe (storyboard, Doraemon), Tetsuya Nishio (key animator, FLCL and character designer, Naruto), and others.

Ain't It Cool News Animation RSS Feed