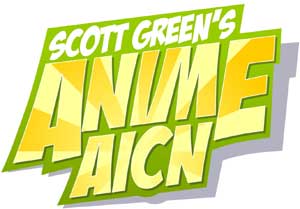 Logo handmade by Bannister Column by Scott Green
On January 11th, FUNimation will be releasing a half-season set of horror anime Black Butler. (Part two is scheduled for 3/8/11).

Ciel Phantomhive is the most powerful boy in all of England, but he bears the scars of unspeakable suffering. Forced to watch as his beloved parents were brutally murdered, Ciel was subsequently abducted and violently tortured. Desperate to end his suffering, the boy traded his own soul for a chance at vengeance, casting his lot with the one person on whom he could depend: Sebastian, a demon Butler summoned from the very pits of hell. Together, they'll prowl the darkest alleys of London on a mission to snuff out those who would do evil. They're a rare sight, these two: the Butler who dismembers with dazzling cutlery – and the Young Master who carries the devil's marking. Rest assured that wherever they may be headed, it'll be one hell of a ride.

Like many anime works, Black Butler is an adaptation of manga. Categorization maniacs that geeks are, it's worth noting that Yana Toboso's original manga Kuroshitsuji (it's released in North America by Yen Press) ran in Square Enix's Monthly GFantasy. Though this is ostensibly a shonen publication (for male audiences), it is marked by works that cross over in their gender appeal. There's the manga versions of intriguing urban mystery Durarara!! and rural horror mystery Higurashi: When They Cry. And, GFantasy features works that drift into more evident female appeal. Saiyuki is the Journey to the West epic with cute guys. Nabari no Ou is ninja manga, simularly marked by the appearence of its male cast.

Black Butler concerns a Faustian bargain. Set in Victorian London, there's Jack the Ripper, ugly international trade dealings, dark legacies, Machiavellian plotting and revenge. It occasionally has fun with this, such as its anachronistic introduction of a chainsaw into the mix, and, it occasionally takes it quite seriously. But, ultimately, as is said of its demonic butler, Black Bulter's concern with aesthetic is paramount.

Solid super robot shows will typically have the robot's name in the title and afford those who enjoy watching colorful machines throwing colorful attacks plenty of exciting opportunities to see just that. By the same token, Black Butler describes its star in its title and similarly affords fans of the material plenty of opportunities to watch gothic, aristocratic figures. It's the kind of anime that will, sooner or later, come to validate your immediate impression.

If watching a handsomely dressed, handsome featured demon butler execute his duties perfectly and occasionally decapitate a foe with thrown dinnerware sounds of interest, this is anime to seek out. And, if Black Butler sounds like it its to your tastes, you'll really love the prize pack that Ain't It Cool News will be giving away.

One winner will receive

1 signed 8x10 Black Butler autograph signed by J. Michael Tatum (Voices Sebastian) and Brina Palencia (voices Ciel)
1 signed 8x10 Becca autograph (musician for Black Butler ending theme "I'm Alive" )
1 Phantomhive Emblem Pendant
1 Ciel and Sebastian metal keychain
1 Sebastian notebook
1 Phantomhive Emblem Notebook
1 Black Butler deck of playing cards
1 Black Butler Wallet
1 Metal Sebastian cell phone charm
3 Tshirts (various design)
1 Black Butler Tote Bag
1 Black Butler temp tattoo

To win one of a Black Butler prize pack, send an e-mail, along with your postal address, and the subject line "Black Butler" to animecontest@gmail.com by Midnight, January 4, 2011. US residents/mailing addresses only please. (Sorry, for the restriction.)

To follow other FUNimation happenings, be sure to check out their newsletter.