I am – Hercules!! Perhaps because they were hoping we'd forget about it, Comedy Central is running (and not on its regular night) the last new episode of "Futurama" nearly three months after it aired the prior new episode, Sept. 2's "The Mutants Are Revolting." Comedy Central says of tonight's installment, titled "The Futurama Holiday Spectacular":

In this festive three-part episode, the Planet Express crew races to preserve the traditional practices of the classic holidays of Xmas, Robanukah and Kwanzaa. Along the way, they encounter the murderous Kringlebot, Al Gore's Head-In-A-Jar, mutated pine trees, droidls, fembot wrestling, albino humping worms, Kwanzaabot and giant space bees, all while learning the true meaning behind the holidays…with an occasional song thrown in for good measure.

Clips:
Futurama
Preview - Petroleum Oil Wrestling
Futurama
Preview - Oxygen-Producing Pine Trees
"Boardwalk Empire": 9 p.m. Sunday. HBO. "The Walking Dead": 10 p.m. Sunday. AMC. "Futurama": 10 p.m. Sunday. Comedy Central. "The Venture Bros.": 11:30 p.m. Sunday. Cartoon Network.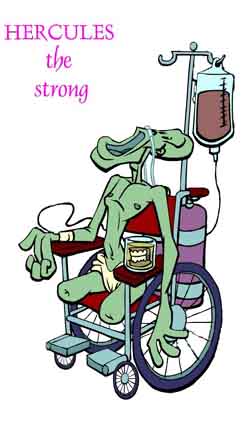 Follow Herc on Twitter!!
Follow Evil Herc on Twitter!!
12.50 In Hardback, Bossth!!
289 Blu-rays Under $10!!